Have you visited our store? Click here.
It was 2008. I was at my local card shop sitting at the table in the back half of the shop. A dad and his son had a case of 1999 Topps Traded. Now mind you I was in B-School at the time and had no interaction with baseball news so I was out of the loop with trending events. On this day, I learned that a player by the name of Josh Hamilton was trending heavily, which probably had something to do with his elegant performance during the 2008 Home Run Derby. In fact, some say it was the greatest performance of its kind of all time. I learned this that day too.
They were in search of the Josh Hamilton 1999 Topps Traded AU. I sat there and watched them open set after set while discussing Josh Hamilton and sharing excitement around the possibility of pulling the desired card. The son would say things like, "Watch, on the next set, we'll pull the Hamilton," or "Wouldn't it be amazing if the Hamilton was pulled from the last set opened?" It was a fun day to be at the shop.
Unfortunately, this particular case of 1999 Topps Traded didn't return a Josh Hamilton AU. They did pull AUs of guys like Adam Dunn, Alfonso Soriano, and C.C. Sabathia, however. A case consists of 30 sets with each set containing an autograph, and with just 75 cards in the autographed set, there's ample opportunity to pull some of the better cards in the set. However, on this day, Josh Hamilton wasn't in attendance.
This memory has stayed with me all these years. I still think about it from time to time. Two collectors who bought a case of product at arguably its peak in value only to come up short on pulling the desired card. That's gotta be disappointing. In any case, I've wanted this card since then and finally got an example in August 2021, just 13 years later.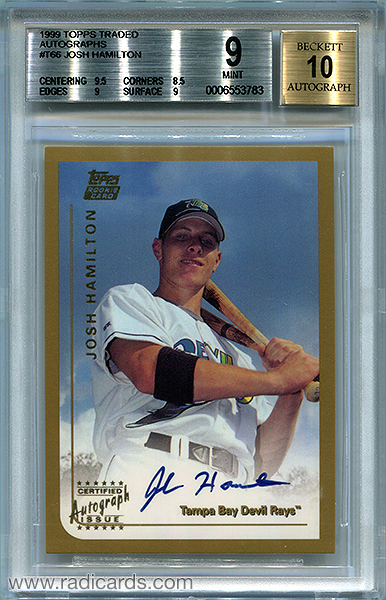 To see the current eBay auctions for the 1999 Topps Traded Josh Hamilton, click here.
If interested, here's Josh Hamilton's famous 2008 Home Run Derby run:
Source: YouTube