Have you visited our store? Click here.
There are some sets that, through extremely limited distribution, many collectors don't learn about until years, sometimes decades later. The 1968 Topps 3-D set sits comfortably in this ultra elusive category.
1968 Topps 3-D baseball cards are exceptionally rare. They have a minimal print run with small and limited distribution, which makes them highly uncommon. The upside to sellers is these cards, even the commons, command strong premiums. It's a small 12-card set with the prize key being the Roberto Clemente.
The cards were available through Topps in limited quantities. Their dimensions are slightly smaller than standard-issued cards and measure 2-1/4″ x 3-1/4″. Topps would later produce similar cards for Kellogg's.
The standard 12-card set is organized alphabetically and features two Hall of Famers: Tony Perez and Roberto (Bob) Clemente. The cards are blank-backed and unnumbered. A variety of variations exist with ultra rare to mythical scarcity i.e., missing player or team names, background variations, photo cropping, etc. A near impossible test card exists of Brooks Robinson that features only the team name across the top reminisce of something similar to the 1967 Topps Baseball design.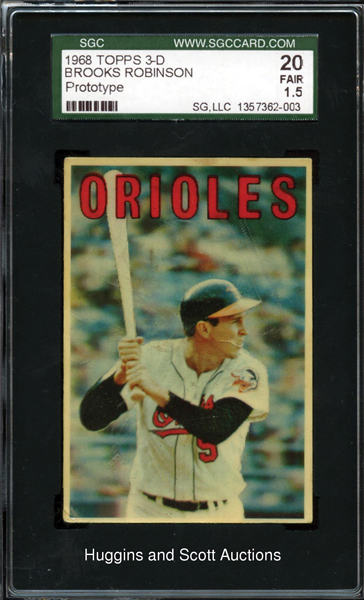 Cards from the 1968 Topps 3-D set are commonly found on eBay but due to their resale premiums, auction houses are common sale mediums. For those of us that can't afford originals, Topps has re-introduced the design in the following sets, which feature vintage and modern players alike:
If you have the buying power and want to add something completely different to your vintage roster, keep an eye out for singles from the 1968 Topps 3-D set both in the wild and online. The intrigue and rarity of these cards presents challenges to set and type collectors alike.
To see what's currently on eBay from 1968 Topps 3-D, click here.
---
Checklist:
| Card # | Player(s) | Card # | Player(s) |
| --- | --- | --- | --- |
| 1 | Roberto Alomar | 10 | Rusty Staub |
| 2 | Willie Davis | 11 | Mel Stottlemyre |
| 3 | Ron Fairly | 12 | Ron Swoboda |
| 4 | Curt Flood | – | Tommy Davis (Prototype) |
| 5 | Jim Lonborg | – | Sam McDowell (Prototype) |
| 6 | Jim Maloney | – | Rick Monday (Prototype) |
| 7 | Tony Perez | – | John O'Donoghue (Prototype) |
| 8 | Boog Powell | – | Brooks Robinson (Prototype) |
| 9 | Bill Robinson | | |
1968 Topps 3-D