Have you visited our store? Click here.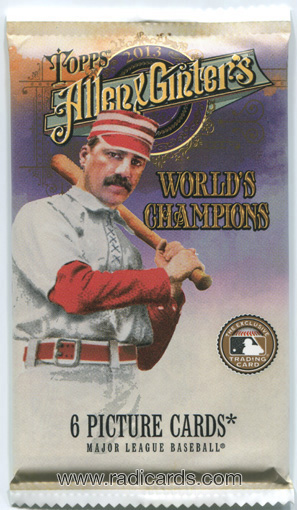 In this segment, we're talking about 2013 Topps Allen & Ginter
. This is a set that commemorates a classic design and features modern, veteran, and retired players. When I purchased this pack, I was attracted to the flat but colorful photograph on the front. I liked the purple gradient in the background. The guy with the collared shirt, striped cap, and buckle to the side helps capture a different time.
Something else that provides a vintage feel to the packaging here are the words, 6 Picture Cards*.? These days we call them baseball cards but I suppose in the past, they were called picture cards. This is kind of a nice throwback to the early years of sports card marketing.
2013 Topps Allen & Ginter
is made up of 350 different cards. Some of the currently notable rookie cards include: Yasiel Puig, Dylan Bundy, Manny Machado, Jurickson Profar, and Jose Fernandez. Much like many of the products released in today's market, you can also pull autographs and other game used memorabilia.
While I didn't pull any from this pack, many of the autographed cards from this released feature different color signatures with varying degrees of scarcity, and framed borders.
Let's flip the pack over and look at the list of insertion ratios.

There are some pretty tough cards in that list. The Framed Mini DNA Relics are 1:184,000. I'm a little suspicious when I see the acronym, DNA? being used in any insert title. Whenever I think of DNA, I think of blood. I'm not too sure I want blood on my baseball cards, even it it's from a superstar. I'm confident, however, that this term is likely used to reference an autograph since that is the typical designation assigned during most authentication processes. But then again I've never seen one so I cannot say with any degree of certainty what, in fact, the term DNA is used here to refer to specifically. At any rate, I do appreciate it when the pack features a list of odds.
The Base Design: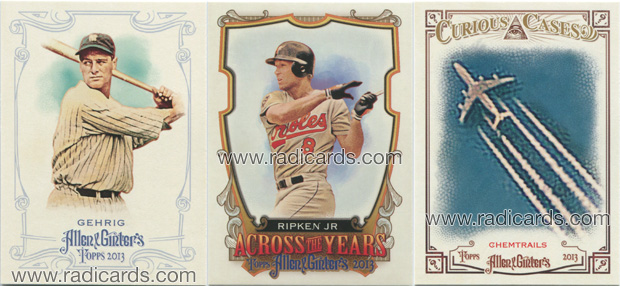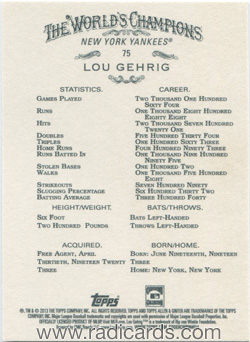 I really like the minimal but classic design of this set. The framing on the base card (left) has a somewhat intricate design sequence. This is showcased again on the Across The Years insert set (middle). Something else about Allen & Ginter is that it features cards with educational facts on non-sports related topics. Some of these facts are featured in the Curious Cases insert set (right). It was fun flipping this card over and learning about something I wouldn't have otherwise thought about; Chemtrails.
Mini cards have been a hit for many years. Allen & Ginter brings them back year after year and 2013 was no exception. There are several different styles with various backs carrying different levels of scarcity. The set is great for the casual set collector but can be a mad house for the completest. I pulled one black border mini from this pack. If you're collecting the mini's to any degree, I highly recommend grabbing a box of Ultra Pro 15-Pocket Pages
. These are perfect for keeping your mini's organized.
Final Thoughts:
2013 Topps Allen & Ginter
is a decent product. It features a great design, lots of inserts, and a number of rookie cards. A sealed Box can be had for just north of $50, which means that you don't have to break the bank to enjoy this product. All in all, this is a fun product that I'd recommend to the novice or advanced collector.
To see what's currently on eBay from 2013 Topps Allen & Ginter, click here.