Have you visited our store? Click here.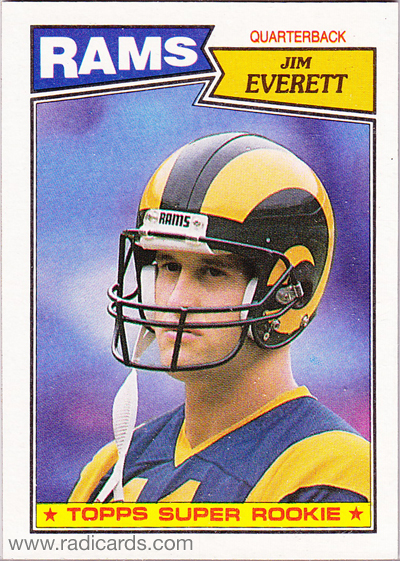 I know I usually talk about baseball cards but there are a lot of releases from all of the other sports that I really enjoy as well and that's pretty much anything vintage circa '80's. There's something about the classic designs that Topps toyed with for that decade. Really great use of bright poppy colors paired with vintage layout styles. Just classic really!
I can remember '87 Topps football being a massive success due to the extensive rookie roster. To name a few, this set hosts the rookies of: Flutie, Walker, Cunningham, Byars, Everett and Kelly leading the pack in terms of value. Over the years, the values have dropped quite a bit on many of these rookies but I'm still fond of them simply for the quality memories. I can remember, for example, this Jim Everett 1987 Topps #145
being worth quite a bit of money back int 1987. I remember hearing about this guy back in those days. I also remember seeing collectors with stacks of the Jim Kelly and the Jim Everett.
To see what's currently on eBay from 1987 Topps, click here.
Speaking of Jim Everett, here's the famous interview with Jim Rome back on April 6, 1994. You think after that many warnings, Rome would've listened.[1]Jim Rome interview with Jim Everett. www.youtube.com