Have you visited our store? Click here.
2012 National Sports Collectors Convention
Baltimore, MD
8-3-2012 Day 3:
All right. Here we are; another day into this massive show. Today, we started the day off much like the morning prior, digging through the boxes at the booth where we left the show the evening before. We dug for about an hour. I purchased a few 1990s inserts, and a 1931 W517 #37 Mickey Cochrane for a cool $20. It was a random pickup but one that caught my eye. There's something about the emotionless pictures from those early baseball cards that really strikes me as something special. More importantly, however facetiously speaking, I purchased a complete set of 1987 Donruss Rookies for just $1. Not bad.
I finished that booth and moved on. We found a few dollar bins and spent a good few hours digging through those. I grabbed a bunch of '80s Tiffany, some '70s and early '80s OPC, and various '90s inserts. All in all, a good time, and I picked up roughly 50 cards for another $20. I spent a long time at these booths. Here are a few of the more notables.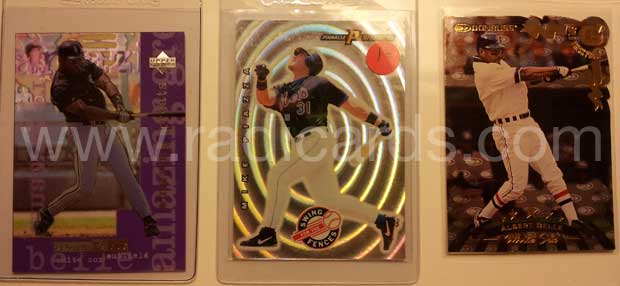 1998 Pinnacle Performers Swing for the Fences Prize Card Mike Piazza: Paid $0.50 (middle card)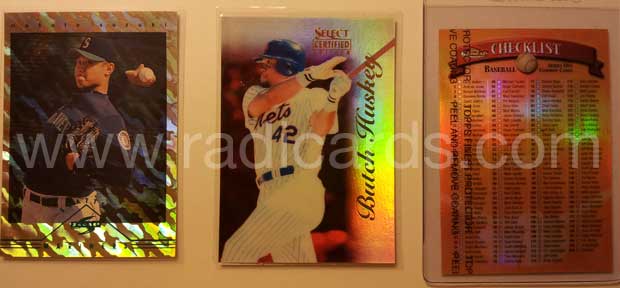 Refractor checklist: Paid $0.50
1997 Score Premier Club: Paid $0.50
1996 Select Certified Mirror Red: Paid $0.50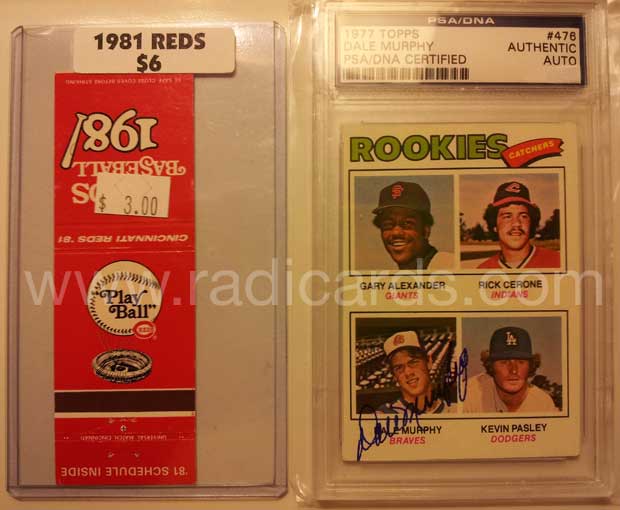 You are probably wondering how the scavenger hunt is going. Let's get to it. I have found everything in bold italics. The list so far is below.
2012 National Sports Collectors Convention Scavenger Hunt update: I have now found 12 out of 18 cards.
Baseball player holding non-baseball sporting equipment
Cheapest, oldest card (any sport)
Best facial hair (any sport)
The fattest baseball player
Player with funkiest non-uniform clothing
Player wearing hat backwards (can't be Griffey, and can't be a catcher)
Player holding a broken bat
Pitcher in the batting position (at the plate)
Best card purchased for under $1 (Derek's discretion)
Older player (must be active, and can't be a manager; any sport)
Any 1998 Ryan Leaf RC
Any 1989 Fleer Bill Ripken Obscenity card (black box included)
1987 Topps #18 Dick Howser card
Any card that is serial numbered first or last in the print run (ex. 001/250 or 250/250)
Any card showing a star Quarterback getting sacked
Any card showing an obscene gesture (not Bill Ripken)
1990 Leaf Kevin Maas RC
Any Howard Johnson card from the 1980's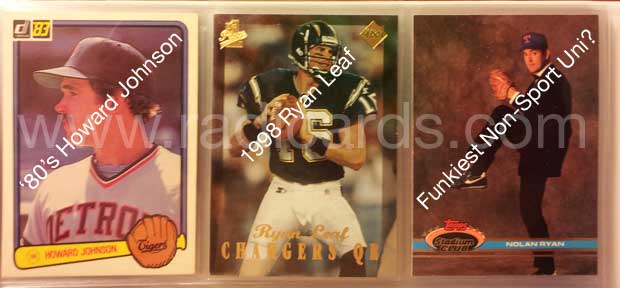 With the addition of these three cards, that puts me at a total of 12/18. Can I get the last 6? We'll see. Something tells me that nobody at the show is going to have that 1987 Topps #18 Dick Howser card. But then again;
Dear readers, I need your advice. Please post your comments to help me decide on the following purchase.
After spending a good two to three more hours digging through bins of forgotten cards, I wanted to step it up a bit so I started to actually look at what dealers had in their showcases. I know, I know, I should have been doing this the whole time but to be honest, I don't really invest in prospects, and with the exception of Frank Thomas, I always stay away from any and all game used cards. That seems to be the type of composure at a lot of tables at the show, which is why I can typically be found at the dollar bins instead. As I said, however, I am thinking of a bigger purchase. After walking the showroom for the next few hours, looking at the showcases, I did find a signed copy of the 1981 Rochester Cal Ripken minor league card. That struck my eye. I had to give it some thought though, and let it marinate in my brain so to speak. I figured if I can find something that unique at a show this big, there has got to be other gems at other tables, so I walked around with my thoughts. As I was walking, I figured I would look for that same card at another table. After two hours, I didn't see a single copy. What I did find while walking, however, were signed copies of both the 1954 Topps Al Kaline (RC), and the 1955 Topps Harmon Killebrew (RC). I thought, Oh great, now I'm in big trouble! I want all three of these card but can only afford one. So I consulted with my group, and various dealers on my newly found dilemma. What should I buy? I even spoke with Chris Olds of Beckett Media about this. He thinks I should go with the Ripken due to its uniqueness. I thinking likewise. Note that none of the three cards are authenticated but all of the dealers promised to refund me in full if they don't pass authentication.
The three cards in question:
Signed copy of the 1954 Topps Al Kaline RC
Signed copy of the 1955 Topps Harmon Killebrew RC
Signed copy of the 1981 Rochester Minor League Cal Ripken
I will only buy one card. Which card should I buy?