Have you visited our store? Click here.

And then the dealer got defensive and yelled at me… We'll get to this in a moment.
Real quick before we jump into the content here, I have to hand it to the Delta Hotel Watters Creek Convention Center for providing free parking. I can't thank them enough for this. Their parking structure is safe and convenient for convention attendees. Back when I lived in L.A., daily and sometimes hourly parking rates would start at $20!
---
It all started with a Joe DiMaggio card:
The January 2021 installment of the Dallas Card Show made for yet another amazing weekend. As soon as I entered the show floor on Friday, I found a dealer with a very attractive Joe DiMaggio 1993 Pinnacle AU. It was sitting in a carrying case on a table behind the display cases. Long story short, it took a while to get the pricing on this card and by the time I finally did, it was sold. While I was already aware of their existence, I'd never seen one of these in the wild. Given this was a first appearance for me, it was kind of a big deal.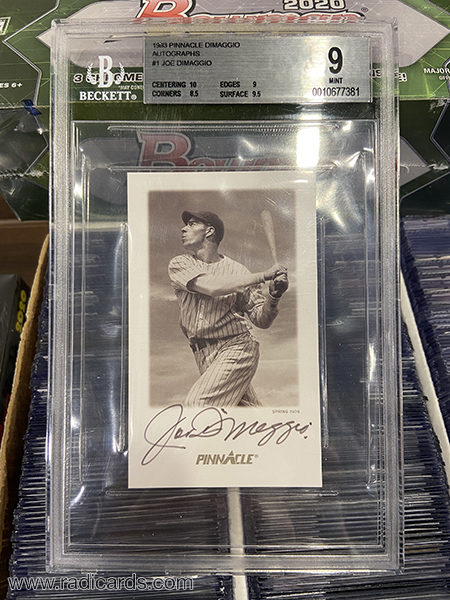 To see the current eBay auctions for the 1993 Pinnacle Joe DiMaggio, click here.
Bargain Bin Finds:
My bargain bin dives were fruitful as usual but junk wax keys are getting harder to find in bargain bins. They've come up in value and often relocated to showcases, or $5 and $10 sections of associated bins. I do what I can but the days of $2 Ken Griffey Jr. RCs appear to be in the background. I did, however, manage to grab a 120-card brick of 1987 Topps Will Clark RCs for <$20, which was, if nothing else, entertaining. The image below depicts category highlights with bigger keys shown under the glare. Overall, I think I did pretty well in the Junk Wax RCs category.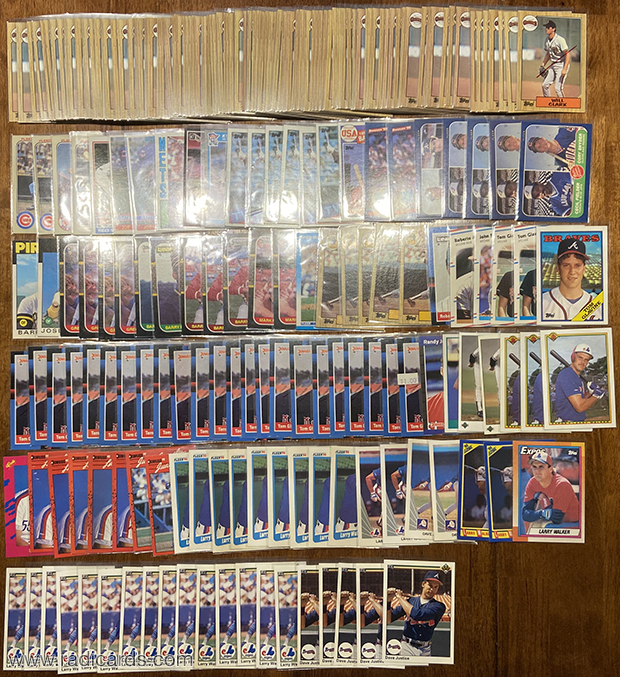 As for raw vintage pickups, I found a variety of Nolan Ryan's from the 1970s and a Carlton Fisk rookie for $2, which was a nice little perk.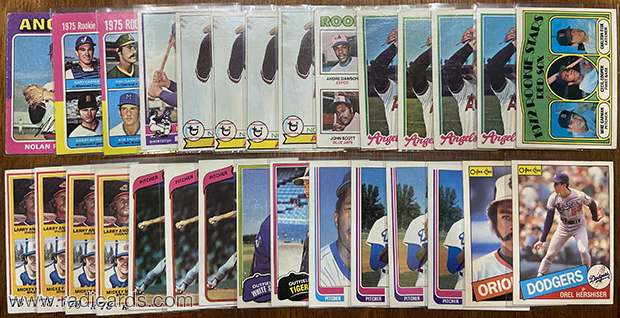 I've been getting more into junk wax rookies from the football category so I cherry picked the following. The Joe Montana and Ronnie Lott RCs were $1/ea., which I'll pay all day long.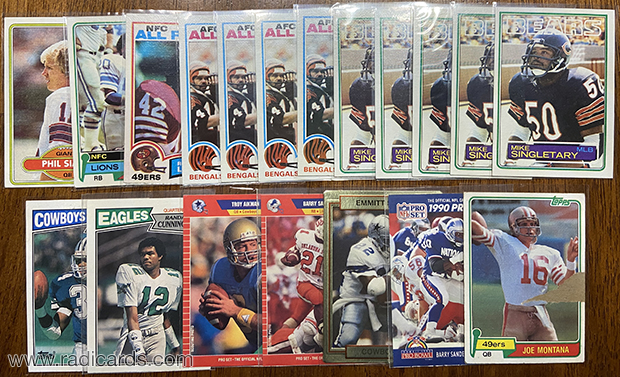 One seller had a 2-row shoe box full of 1990s stars from baseball and football. After going through the baseball row, I ended up buying the entire box, which included a complete set of 1995 Flair Ripken. Below are highlights from that box as well as other category cherries found at the show. A few cards in this photo were eBay buys but I threw them in for good measure.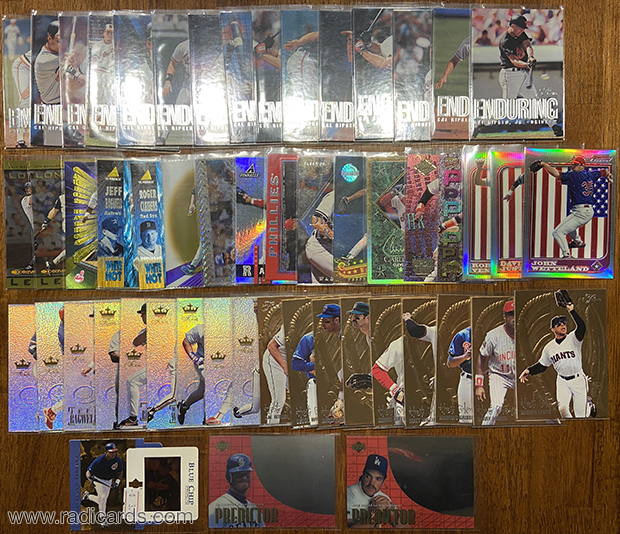 Here are two notable cards found in $1 bins at this show. It pays to look at card backs. I never thought I'd see that Ken Griffey Jr. Predictor card and yet here we are. Welcome to the family.

---
I informed a dealer of something in their showcase. Here's how the dealer responded:
One dealer had two overpriced 1990 Topps Tiffany cards in their showcase. I took a really close look at the surface of these cards from the showcase glass. Just out of curiosity, however, I requested and was granted permission to retrieve one of the cards from the showcase for an even closer review. Upon direct inspection, I noticed the surface of the card wasn't glossy; it was just the standard card stock, which means the card wasn't a Tiffany parallel. Now if you aren't already aware, the defining characteristic of Topps/Bowman Tiffany parallels is their glossy finish. If there's no glossy finish, it's not a Tiffany parallel, period.
Whether the misrepresentation was deliberate or accidental was outside the scope of my knowledge. That said and out to due diligent, I notified the seller that this particular card wasn't a Tiffany but just a base card. I indicated the glossy finish is the defining characteristic of Tiffany parallels and this particular card, which was being marketed as a Tiffany, didn't possess the glossy finish.
The seller then asked, "What are you, the expert on Tiffany parallels?" Now at that moment I could've said yes but I knew that wouldn't have helped the situation. I was just making a very simple observation about something in his showcase and that the document he was using to identify Tiffany parallels may be incorrect. He wasn't having any part of it. He told me he didn't want my business and I should shop elsewhere.
Lesson for collectors: Know everything you can about what you buy, don't be afraid to ask questions, and no matter what – keep your cool.
---
Graded Card Pickups:
Here are the three most interesting graded cards I acquired at this show.
Dennis Rodman 1988 Fleer RC PSA 8: I always said if I PC'd a basketball player it'd be Dennis Rodman or Shaquille O'Neal. I've always loved their personalities and they both played during an era with excellent sets. Alas, I don't have the bandwidth to PC them so I just hand pick a card here and there.
If you know anything about 1988 Fleer Basketball, you're probably aware it suffers from centering issues. This Dennis Rodman 1988 Fleer RC has excellent centering. I wanted this card for its eye appeal, price, and because I'm curious to see how well it performs throughout Q1 and beyond. The card market has exploded beyond anything I could have ever imagined so it'll be fun to track the value of this card over time.
To see the current eBay auctions for the 1988 Fleer Dennis Rodman, click here.
Adrian Beltre 2000 Finest #223 Gold Refractor BGS 9.5: This card was purchased with the Rodman RC as a pair. I'd seen it earlier in the day and when I discovered the Joe DiMaggio AU was no longer on the table, I decided to grab these two instead. My intent wasn't to buy these in the event the other deal wasn't available because I wanted all cards in question. I just took the information of the DiMaggio sale as a signal to pursue these two cards. The Beltre could qualify as an impulse buy because while it's from an era I collect, it's not a player I PC or a rookie card. But sometimes things outside of the core catch my eye and influence purchasing decisions. This card fits well into my collection if for no other reason than I just plain like it.
To view the current eBay auctions for 2000 Finest Gold Refractors, click here.
David Justice 1990 Donruss #704 2001 Donruss Anniversary Originals BGS 8: The slab is pretty scuffed up. It's almost as if it's been shuffled around in a box for the past 20 years. I can live with it though. This was in a $5 bin but after some negotiation, I got it for $3.75. So here's the deal with these 2001 Donruss Anniversary Originals: To celebrate the 20th year of business in 2001, Donruss bought back a series of popular Donruss cards made over the years and slabbed them with flips indicating the anniversary. Some are autographed with low print runs; others are just standard base cards. The only thing that differentiates this 1990 Donruss David Justice RC is its housing.
To view the current eBay auctions for 2001 Donruss Anniversary Originals, click here.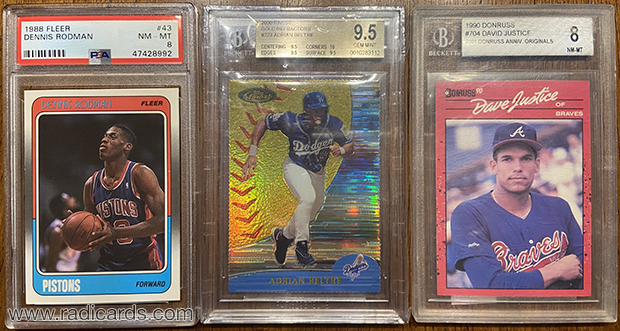 Did any card featured in this article stand out to you? Please share your thoughts in the comments area.