Have you visited our store? Click here.
Correction in Dialogue: At 7:27, I talk about the frequency with which Topps has used the dual image design on its cards. Topps also used this design in the 1984 Topps set but given its proximity to the 1983 Topps set, we'll just qualify it as part of the associated era. So the dual image design has been used about every 20 years since 1963.
---
As with other Arlington installments of the Dallas Card Show, I only attended Saturday. It's far and I can usually clear the whole room in a single day with time to spare so I don't really have a reason to drive all the way back for a second day even though it's such a fun event.
---
Pickups: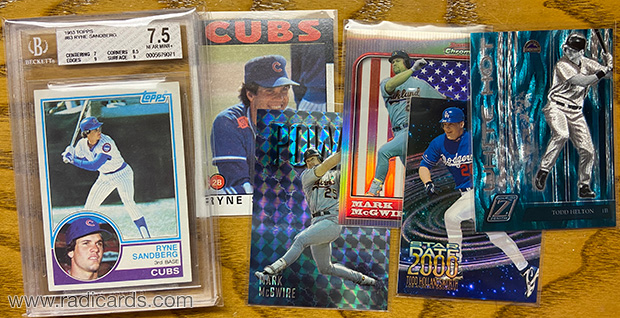 I bought a little stack of cards at this show but only care to cover these 6. The 1983 Topps Ryne Sandberg RC was purchased late Saturday evening just before the show closed for the day. I actually saw it a couple hours earlier and thought about it while covering the rest of the room. The seller also had a PSA 8 example of the 1983 Topps Tony Gwynn, which I intended on buying but by the time I returned it had already sold so I grabbed the Sandberg instead.
You're probably thinking, why the heck is he featuring a 1986 Topps Ryne Sandberg? This is one of 10 copies of this card I got in a $0.10 bin at this show and this one is the absolute worst of the bunch. It's off centered, off registry, off color, has a huge pink print spot and a nice big crease. It's got everything! When I was a kid, my older brother got an example of this card in a similar bin at a convention and every time I see it, I'm taken right back to that memory. Sometimes all that's needed to enjoy a card is a memory.
To view the current eBay auctions for Ryne Sandberg baseball cards, click here.
The two Mark McGwire's were purchased from the same dealer. I've built rapport with this seller and he knows what I collect so he gave me a good deal on these two, which was nice since I needed each for the two sets as I've been casually building them for the past 10+ years. These are such attractive sets. I really like the flags in the backgrounds of the 1997 Bowman Chrome International parallels. The refractors make these cards really stand out. Additionally, the technology used on the 1997 Finest Embossed Refractors is still one to be appreciated. 1997 was a great year for cards.
To view the current eBay auctions for Mark McGwire baseball cards, click here.
The 1997 E-X2000 Star Date 2000 Todd Hollandsworth was another bargain bin find. This is a beautiful set and the pic doesn't accurately showcase the stunning design qualities of these cards. I was happy to grab this for <$1. These were inserted into packs of 1997 E-X2000 at a rate of 1:9.
The 2005 Zenith White Hot Todd Helton is another one I found in the bargain bins. I like that it's reminisce of the release of the same title from Pinnacle just 10 years prior. The 2005 installment, however, comes with relic parallels, which was a common theme during that time. These were inserted into packs of 2005 Zenith at a rate of 1:65.
To see what's currently on eBay from 1997 E-X2000 Star Date 2000, click here.
---
In Conclusion:
Last month I published an article chronicling the venue history of all National Conventions and learned that the Arlington Convention Center (Arlington Expo Center) hosted The National in the late 1980s and early 1990s. Learning this gave me a bit of perspective as I walked through the show this time. It's interesting to learn how much The National has grown since then. This also makes me think of how much the Dallas Card Show has grown since late 2020 and its potential moving forward. I expect it to continue growing.