Have you visited our store? Click here.
---
The October 2021 edition of the Dallas Card Show provided for yet another excellent weekend. These shows just keep getting better with each passing date. It's great to see new and familiar faces and it's always nice to check the pulse on market trends. While I'm not a prospect for most of the stuff everyone else goes after, I do like seeing what people are buying.
As usual, I spent this show digging around the bargain bins and pitching my business to prospects. After a few pitches on Saturday morning, my voice checked out for the weekend. As such, I didn't record any at-event content. That's okay though because I picked up some really great stuff at this show. Let's have a look.
---
Vintage:
I did well in the vintage category. I was surprised to grab a low grade example of the 1959 Topps Frank Robinson for $1 then noticed a guy nearby with the same card in slightly better shape for $60. I just kept on walking. If you're patient and willing to spend the time going through tons of whatever at big shows and are accepting of lower grade conditions, you'll find great cards with equally great price tags. That's really all I do at shows. It's the way I've always done it and I guess some things never change. Notable pickups include a 1962 Topps Willie Mays, a 1961 Topps Ron Santo RC, and a 1976 Topps Dennis Eckersley RC.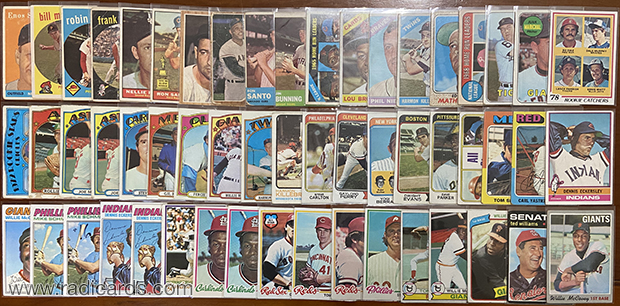 Junk Wax:
Okay, so this image contains only a portion of what I acquired in the Junk Wax category. In addition to what you see here, I added tons of random HOF veteran cards. Even without their visual attendance, however, this block arrived in stellar fashion. It would appear collectors give less than $0.10 for John Smoltz RCs because I added 20 copies of his 1989 Donruss RC for <$0.10/ea. Mind you, he's a HOFer but his RCs are from 1989 and he's on the lower end of RCs chased that year so I suppose those facts justify throwing his stuff in the ultra bargain bins. I'm certainly not complaining. Randy Johnson RCs require a little more finesse but I'm successful in my attempts to add them for <$1/ea. even when the asking price is relatively higher. Gone or exceedingly rare are the days when I could add 10+ Cal Ripken Jr. RCs at a show. The pandy spike is likely to thank for that. I added just one this time.

A dealer gave me an opened set of 1991 Fleer Baseball. I'm not even sure if it's complete but it doesn't matter; it displays well.
1990s Inserts & Other:
I bought my first Juan Soto at this show and threw it in this photo. See if you can locate it. Speaking of John Smoltz, I found a 1997 Circa Rave /150 in the $0.10 bin, which was a pleasant surprise. That same $0.10-bin yielded a 2017 Topps Fire Magenta /25 Stephen Strasburg. Albert Pujols stuff appears to be pretty affordable as I acquired his 2003 Fleer Box Score First Edition /150 for $1. A really nice lady gifted me a free card after I bought two from her so I added the Mike Piazza 1996 Finest Refractor, which is a card I later discovered I already had but I'll take another one. This is a fun category for me since I collected heavily when a lot of this stuff was released so it's always nice to see what I pull together at shows.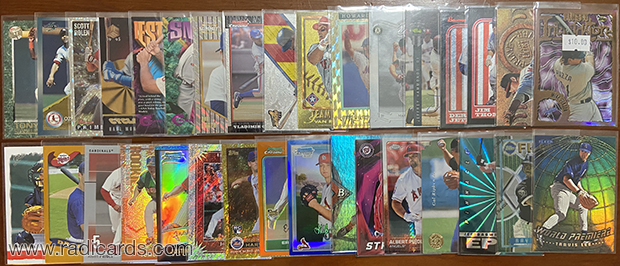 Here's a closeup of the bargain bin highlights from this category. Cost for the following three cards together as a lot: $1.20.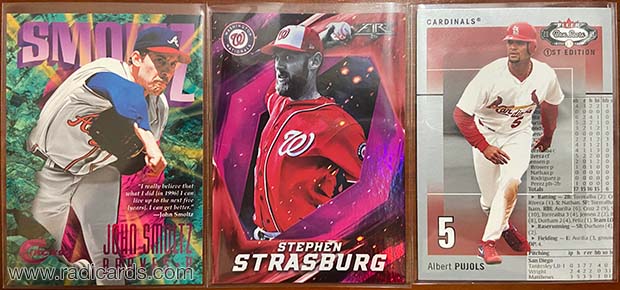 To view the current eBay auctions for 1997 Circa Raves, click here.
Graded:
1987 Topps Tiffany and 2005 Topps Chrome Black Refractors have about as much in common as apples and chairs. Today, they come together like ethics and Enron. This lot was acquired coincidentally over a couple purchases. The Harvey Kuenn RC was added randomly at the Saturday trade night where I met a guy trying to move two 3″ binders full of stuff most of us would otherwise donate, for $75. Laughable would be a compliment. I took that as a signal to walk to my car and drive home. Have fun!

To view the current eBay auctions for 2005 Topps Chrome Black Refractors, click here.
Basketball & Football:
I found the 1998-99 Fleer Brilliants Gold Jason Kidd on Friday, noted its price and location and bought it on Saturday. I couldn't really believe it was still available. A card of this caliber shouldn't exist in the open market for more than a few short minutes. Alas, a full day passed between my finding it and buying it. The price was just too good and when I paid, the guy who took my money couldn't believe what I had found. For a moment, I could almost sense a subtle degree of envy but I think it was more of a congratulatory expression than anything. I was shocked too! I've always wanted the 1995 Select Certified Mirror Gold Warren Sapp and found one for $5 at this show. Warren Sapp gave a talk on social media at The Gravity Summit back in 2012, which was a marketing event my department at UCLA sponsored way back when I worked there. If you look closely, you'll notice that 1994 Topps Special Effects Troy Aikman card features the same box matrix design used on 1996 Bowman's Best Atomic Refractors. This is where I'd queue the The More You Know logo.
To see what's currently on eBay from 1998-99 Fleer Brilliants, click here.
---
In Conclusion:
It was a busy weekend. I've never been a morning person but found myself eager to get up and go each of the early-scheduled days. While it's become predictable, I'm always a little bummed when I see tons of dealers not even bother with Sunday. The last day of the show is always a bit thinned out and thins further throughout the day. This same thing happens at The National. I suppose this is understandable for those with strict work schedules. However, for attendees who pay to be there the whole weekend only to get a partial experience on the final day, it can be a bit of a let down. This is all the more reason to hustle as much as you can before Sunday rolls around so you don't feel like you missed anything. Focus on the goal; you have to focus on the goal.
---
Image Gallery:
Here's a gallery of interesting pieces I saw at the show. Have a look.