Have you visited our store? Click here.
1992 Classic Four Sport transaction segment film credit: Bruce Parker
---
Above is an image of the ballroom that possesses additional dealer tables. This space is essentially another show in itself but in this case, it's carry over to the large convention hall. This show is really quite something and keeps growing in popularity. I've enjoyed building new relationships and am starting to know people on a name basis, which is of considerable value during negotiations; the matter of which isn't abused but nor is it neglected. We're all just people.
I found amazing deals at this particular show. While I can't say with certainty, I think part of it could possibly be attributed to dealers trying to recover funds spent at The National.
My grab bag typically includes a variety of pieces from four categories as depicted below. I often come out with a small stack of who cares graded cards but this time acquired two examples with significant conversational value.
I put a little more effort into the Junk Wax category this time due to my discovery of a couple solid $0.10 bins. I can't seem to get enough of this stuff. I acquired about a third of a shoe box but only the highlights have been pulled for discussion.
In addition to cleaning house in the Junk Wax department, I really shined in the vintage area as well and to the tone of paying just $3 for a 1959 Topps Mickey Mantle. We'll get to this in a bit.
---
Vintage:
You know that feeling when you pass on a card only to want it that night and come back the next day to grab it only to learn it's been sold? Yea, that was me with a 1976 Topps Brooks Robinson in a dollar bin. I mean, it's not at all a rare card and I think I already have one but for a buck?! Please. Of course I'm gonna grab another. I just needed a double take.
In an effort to make up for it, I went ahead and grabbed the remaining HOFers from that set I passed on the previous day, which included guys like Willie McCovey, Carlton Fisk, and Rollie Fingers. This issue haunts me at every show and it's something I've come to accept as part of the show experience. Every decision can't be the best but I can at least try.

Junk Wax:
At $0.10/ea. I can afford to broaden my scope a bit to include mid-career cards of guys like Rickey Henderson, Nolan Ryan, Mike Schmidt, and Cal Ripken Jr. Among the nearly third of a shoe box of Junk Wax era cards I pulled at this show, here are the highlights.
If you look closely, you'll notice a signed example of the 1985 Donruss Danny Tartabull (top right), which is one of my favorite cards from the set. I'm always reminded of that Seinfeld episode where he's seen cutting a glazed donut with a fork and a knife. Haha!
To see the current eBay auctions for the 1985 Donruss Danny Tartabull, click here.
While I've previously focused exclusively on the 1985 Topps Mark McGwire, I've begun to pay additional attention to his 1987 stuff. While these aren't technically RCs, they are Rookie Year cards, which is close enough and they're such classics.
The 1983 Topps Tony Gwynn is getting harder to find at good prices so I work with what I can but as it stands, the current asking prices for this card are way north of where they used to be just two years ago. I acquired just one example this time.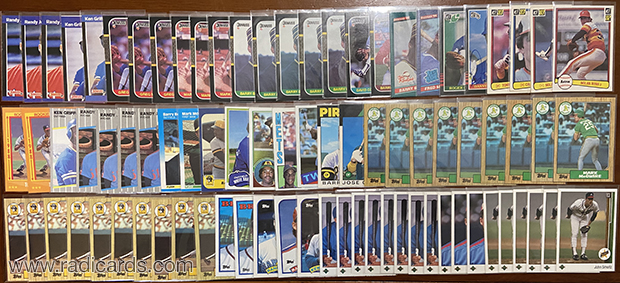 1990s Inserts & Other:
I think I did pretty well in this category. I added my first two 1993 Topps Micro Derek Jeter RCs at this show. These little things are so cool but require careful handling; they are almost too small.
Let's talk about strategy for a minute.
One seller had a very intriguing bargain box full of 1990s inserts. In it, I found two cards from the 1996 Select Certified Certified Blue parallel set, neither of which were of notable players but one was priced at $15. Now, mind you, my valuation of this card was much less, closer to $2. While it's not a big deal, it's worth noting that it's okay to stand firm on your position during negotiations. I quoted a price and the seller responded like, "What?!" So I just told him that if he thinks he can get his asking price, he's welcome to put the card back in his box and wait it out but I'm willing to pay him what I feel is a fair price right now. That pretty much settled it but I knew managing his reaction would require some finesse so after he accepted my offer and I paid, I chatted with him a bit about cards and the hobby to soften the tension. This helped considerably.
Another dealer had a bargain bin with a pricing structure just as amazing as the associated inventory itself. In it, I found a 2006 Bowman Chrome Red Refractor of an unknown player but for a card with a print run of just 5 examples, I had to grab it. Plus those Red Refractors look so nice. Cost: $1.
While it's difficult to see, the first card on the right in the second row is a Nomar Garciaparra 1998 Topps Tek Diffractor, which was discovered in a dollar bin. I can't remember the last time I saw a Diffractor in person; this might be the first.
It felt great to finally add some cards from the 1992 Ultra Gwynn set for just $0.10/ea. I can remember excitedly wanting to pull one of those back in 1992 but never did. I now have a few.
To see what's currently on eBay from 1992 Ultra Gwynn, click here.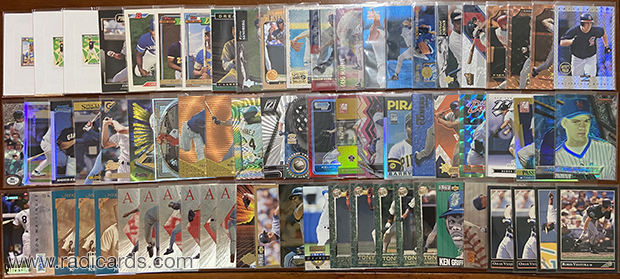 Graded:
Here are the two graded cards I purchased. Coincidentally, both cards fall into the multi-sport category. This wasn't intentional but when I'm intrigued by something, I pay attention.
I've always wanted this 1992 Classic 4 Sport AU featuring Shaquille O'Neal so was glad to finally add it. The seller had 3 examples, this one being the highest grade and possesses the boldest autographs. It's just an awesome card and I'm still surprised it doesn't sell for more than it does. Although I don't think it'll ever sell for as low as I paid for it. I'm very grateful.
To see the current eBay auctions for the 1992 Classic 4 Sport AU, click here.
The 1994 Upper Deck Minors Gold Michael Jordan was priced really well. When I saw it, I had to take a pic and run it by some friends before grabbing it the following day. I just wanted to get some other opinions and everyone appeared to be as enthusiastic as I was. Back in 1994, I was gifted this and the base silver and remember being floored by these cards. I was mesmerized by Michael Jordan's brief stint in baseball and it was made even better by the fact that he was affiliated with the same team as Frank Thomas albeit at the farm level. I'm still dazzled by this little piece of history.
Interesting side note: The day I found this PSA 9 Jordan and almost immediately after and nearly right next to the seller, I found another dealer with a raw example of the same card and grabbed it for $5. Just to be clear, as I'm considering a PSA 9 example of a card, I find a lesser grade raw example of it within minutes. I don't believe in signs but what a curious coincidence.
To view the current eBay auctions for Michael Jordan baseball cards, click here.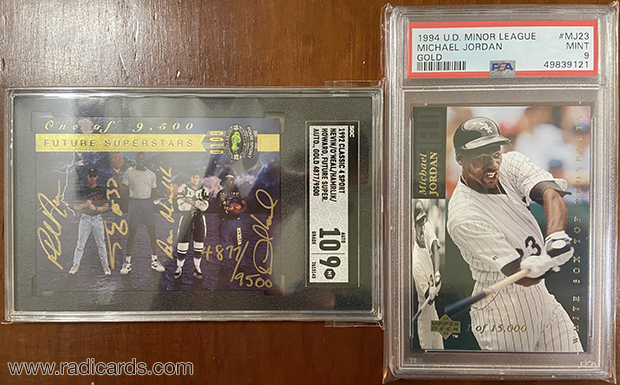 Basketball, Football, and Hockey:
I rarely pickup hockey cards but when I do, I go where I'm familiar but the Bobby Orr was a new addition. Not sure if these 2015 Zion Williamson high school cards are a thing but I grabbed four for good measure. At $1/ea., why not? I'm always drawn to anything 1992 Topps Gold and the basketball cards are just as cool as the baseball. It was nice to find a Christian Laettner, another Latrell Sprewell, and two more Alonzo Mournings.
Notable Pickups:
Okay, so here's where the conversation gets interesting.
I've made some really good deals over the decades but I'm not sure if I've acquired multiple important cards at the same show for what would be considered by most to be record low prices. We're talking record low.
I found a 1984 Topps Dan Marino in a dollar box. That's right; I paid just $1 for this iconic rookie card and the condition is about as nice as anyone could ever hope for.
It gets better. Ready?
I pulled a 1959 Topps Mickey Mantle out of a $3 row in a bargain box. The condition is acceptable; a passable 2 or 3. $3 for a 3 is something out of bizzaro world, which appears to be a place where amazing baseball cards are sold at impossibly low prices.
I came across a completely hammered Killebrew/Powell/Mantle 1965 Topps Leaders card. This card is totaled; there's just no other way to describe it. It's been enjoyed and enjoyed again and it shows. As such, the price was just one dollar. I'll take it.
Here's where things go from Wow to Holy Crap!…
On Saturday, I found a dealer who had a pretty decent 3200ct box of this, that, and the other. I began pulling stuff and noticed prices were all over the board. A pricing sign existed and indicated something like $5 and up. So what about cards without prices?
Not too long into going through the box, the seller said pretty much everything in the box was a couple bucks/ea. I noted it so when I found a 1959 Topps Brooks Robinson and a 1955 Topps Ernie Banks without prices, I asked the seller the price on the two cards. The seller looked at the two cards, then looked at me, then looked back at the two cards. I could sense a disinterest, almost an avoidance, to the two cards. He quoted me a couple bucks each but then made it a point to tell me he doesn't deal in the stuff in the box I was going through; his only concern was the stuff in the showcase.
Now, this is information most buyers would consider a prompt to just outright buy the whole box. As a severely picky collector with a laser focus on some very specific categories, I took this information as a signal to be as aggressive as possible both with acquisition variety and offer price.
Here's how it went down:
As soon as I heard that, I began combing through the entire box for literally every. single. card. of notable and relevant significance. I pulled 64 cards in total, which included a pile of RCs of guys like Bo Jackson, Randy Johnson, Tom Glavine, Barry Bonds, and Ken Griffey Jr., a mess of 1990s inserts, a Frank Thomas Jumbo card I didn't already have, and both the 1959 Topps Brooks Robinson and 1955 Topps Ernie Banks.
I took the stack up to the seller and asked what he wanted for the stack. The Banks was on top, front and center. The seller didn't even bother to look through the stack, he just looked at me and requested a number. Essentially, he wanted me to tell him what I was willing to pay. Mind you, I was just going off the information I was provided earlier.
I asked if $25 was too low and the seller was ever so eager to take my money.
His immediate response prompted my curiosity about the quality of my offer and if I could've done even better. Alas, I accepted my success and became the new owner of a very clean raw example of the 1955 Topps Ernie Banks. Even with centering imperfections, this is one of the nicest raw copies of this card I've ever seen in the wild.
Closing sales of raw copies of this second-year Banks in comparable condition are currently trending at $100-200.
$25 for a lot of 64 cards means I paid just $0.39 for this card. Beat that!
To see the current eBay auctions for the 1955 Topps Ernie Banks, click here.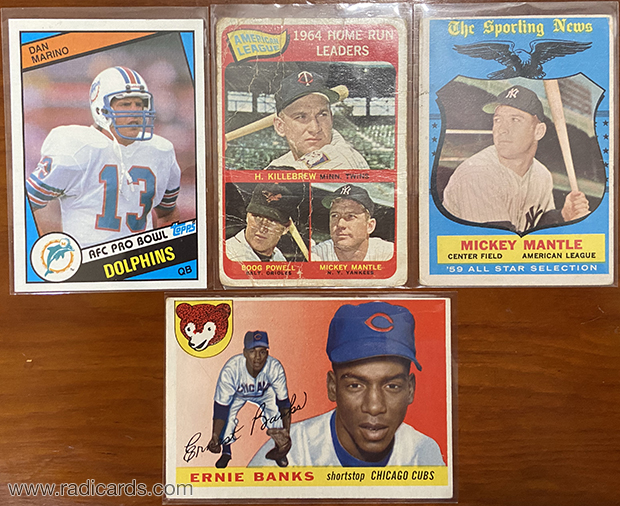 ---
In Conclusion:
Another Dallas Card Show is in the books and it was one of my favorites. I got a late start on Saturday but made up for it with the closing of some remarkable deals. I spent more time enjoying Junk Wax stuff this time and opened my focus up a bit in this area to include more HOF veterans. I really dig the Michael Jordan Minors card since it represents a much different but cherished time in history. Even though a part of me thinks I could've done even better on the 1955 Topps Ernie Banks, it goes down as one of the best buys in my collecting history.
Have a favorite card I purchased? Share your thoughts in the comments area below.
---
Image Gallery:
Here's a gallery of interesting pieces I saw at the show. Have a look.