Have you visited our store? Click here.
Because this video is over two hours long, the following time stamps and associated discussion points are provided for easy navigation if you need to watch this video in segments over the course of a few sessions.
0:05: Introduction and Tuesday Night Chat
7:00: Day 1 and 2 Review: Derek Jeter 1993 SP, VIP Reception, Gary Vaynerchuk, Stephen Strasburg 2014 Finest Refractor, Trevor May 2010 Bowman Chrome Prospects Superfractor, 2019 NSCC Promos
41:54: Day 3 Review: Frank Thomas 1997 Leaf Fractal Matrix Die Cut, Torii Hunter 2005 Artifacts Rainbow Platinum, Flash Gordon, Show Floor Food Prices, Mark McGwire 1998 Bowman Chrome Golden Anniversary Refractor, The Additional Red Carpet Area
1:06:50: Day 4 Review: Shaquille O'Neal 1992-93 Topps Gold, Stephen Strasburg 2010 Bowman Prospects Orange, Ichiro 2001 Topps Chrome Traded Retrofractor, Mickey Mantle 1953 Bowman Color, Mickey Mantle 1954 Bowman
1:34:41: Day 5 Review: Cliff Floyd, Junk Wax RCs, Carlos Baerga 1990 Leaf
---
This is the 2019 National Convention Written Review.
2019 National Sports Collectors Convention
Donald E. Stephens Convention Center
Chicago, IL | July 31 – August 4, 2019
The team behind The National Convention organized yet another incredible week for trading card collectors.
I've learned the trek to Illinois from New Mexico is a lengthy one and since I fly Southwest, I arrive at Midway and have to take the Orange and Blue lines to get to Rosemont. That said, beginning last year, I now add an additional day on both ends of the convention dates to give myself time to rest and plan. Doing this adds to the hotel bill but it also helps reduce stress, which I value.
Our Samples Make it to the VIP Bags
As soon as I walked into the convention hall lobby on Wednesday, I retrieved my VIP bag and carefully went through it. This year, JP Cohen of Memory Lane, Inc. invited me to include product samples in 2500 VIP packs. I immediately jumped on the opportunity by shipping that amount of our Adhesive Box Label Covers to his office. It was cool to open my VIP bag and see our sample placed there.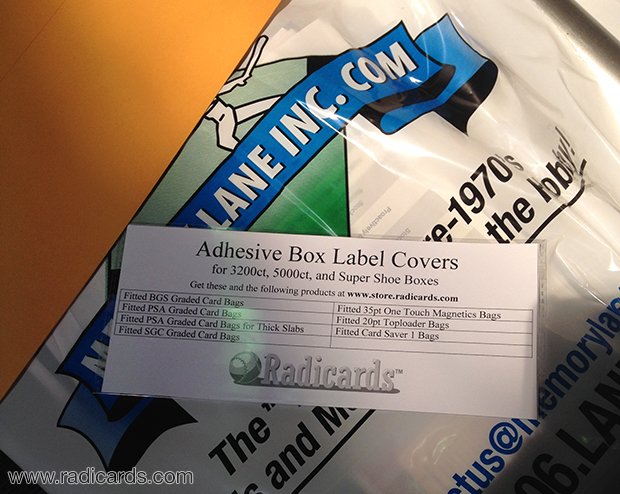 Other Items in the VIP Bags
VIP bags are always packed with all sorts of promotional items, catalogues, redemption info, free products, etc. Sometimes PSA also includes slabbed promotional cards. This year, they released a batch of promos featuring artistic renditions of some of baseballs most historical players. It's my understanding that each VIP bag included at least one of these cards. I acquired two; here they are:
To see the current eBay listings for 2019 National Convention promos, click here.
Gary Vaynerchuk is One of the Guys
After noting all the info, redemption, and raffle information, I proceeded to stand in line for the VIP Reception, which was scheduled from 2-330p. I always appreciate that free food is offered at this reception every year. The event featured a panel with Internet entrepreneur, best selling author, keynote speaker, trading card collector, and all around good dude – Gary Vaynerchuk. As someone who's followed his career since early 2010, it was really cool to see him in action and even better to meet him in person. He's just as passionate as I'd imaged. He setup at booth 309 so I made it a point to stop by, see his display cases, and say hello. His collection is as impressive as you'd expect. Someone I know purchased a Pelé AU from him.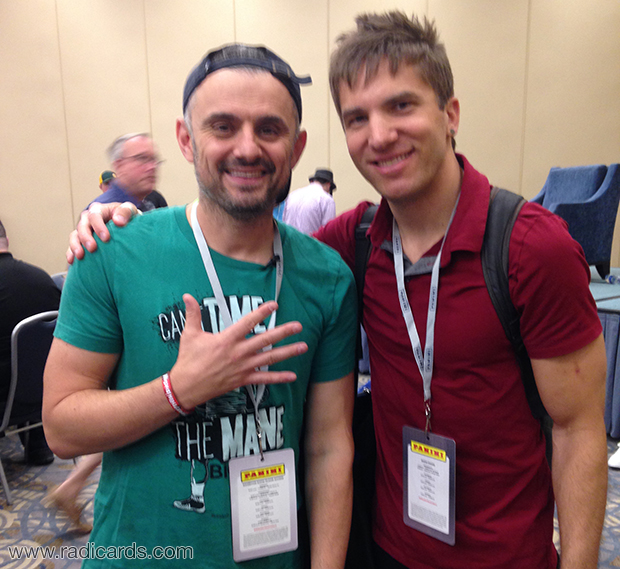 I have to give a shoutout to Jared Kavlie and his team at Pristine Auction for doing such a great job with the raffle at the VIP Reception and for giving away another round of excellent branded t-shirts this year. I also really dig their use of a mascot.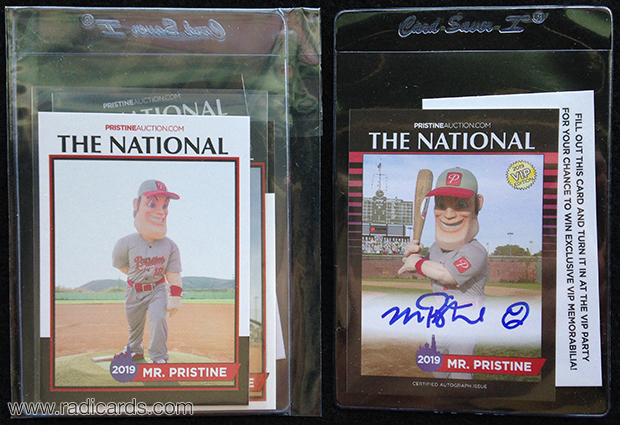 My Quest for the SP Jeter (which ended quickly)
Once the VIP Reception concluded, we entered the show floor. I had one goal in mind for this entire show – buy a 1993 SP Derek Jeter RC, a feat which was accomplished on day 1. All other pickups were just cherries on top. My journey to the SP Jeter went like this – I very quickly found a dealer who had a BGS Raw Card Review 8.5 for $550 but after some discussion he came down to $425, which was tempting. However, much like the notion of not marrying the first girl you date, don't buy the first Jeter you see. So I told him I'd hold for now and kept walking. When I got to the next isle over, I found another dealer with SP Jeters. This seller had a BGS 8.5 and a raw example. I carefully inspected both and decided to go with the raw example given the condition and overall cost savings. He originally asked $325 but after some negotiation we settled at $250. This thing is a beauty and by far the cleanest example I saw the entire week. Nearly all other dealers I found who had raw examples priced them at $500+ and each example featured common corner and surface issues. I was repeatedly reminded how good a deal I got for mine. I'm so glad to finally knock this card off the list. While I haven't decided which grading company to go with, I'll eventually have this card graded. For those not already aware of the value discrepancy between BGS and PSA, it's drastically weighted in favor of PSA.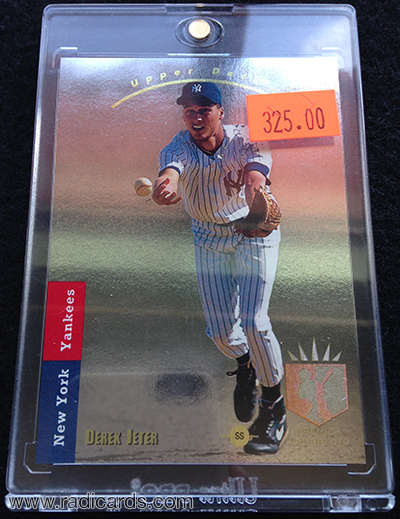 To see the current eBay listings for the 1993 SP Derek Jeter, click here.
The event organizers removed a partition at the far end of the hall this year so there was an additional huge room for vendors. This room had excellent red carpeting so it made the shopping experience while in that area feel more like one of the hotel ballroom shows many of us enjoyed in the 1990s. I really liked that.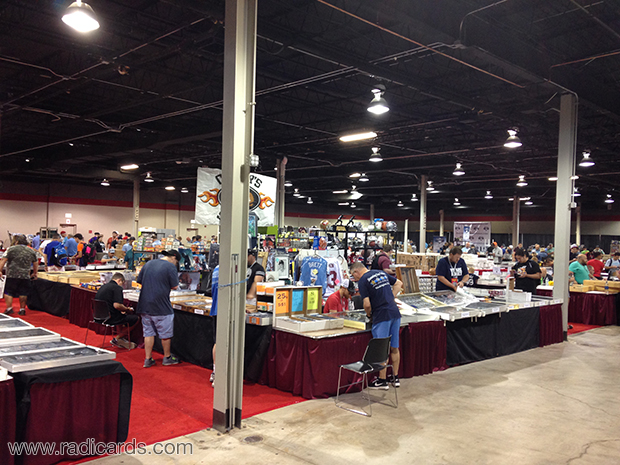 The Stuff I Usually Buy at The National
After I accomplished my one goal, I blasted my way through each isle in typical serpentine fashion. I wasn't looking for anything in particular other than great deals on my normal routine favorites. With the exception of the occasional modern add, this is pretty much all I buy:
Bargain Vintage
Junk Wax Era RCs
1990s-2000s Inserts
Frank Thomas
Vintage cards dominated the show this year. They seemed to be everywhere. I cherry picked a few here and there from bargain bins and $1 boxes. I mainly stuck to my rookie card focus but some prices were just too good not to branch out. I also found some excellent super low grade cards of HOFers. Here's my haul: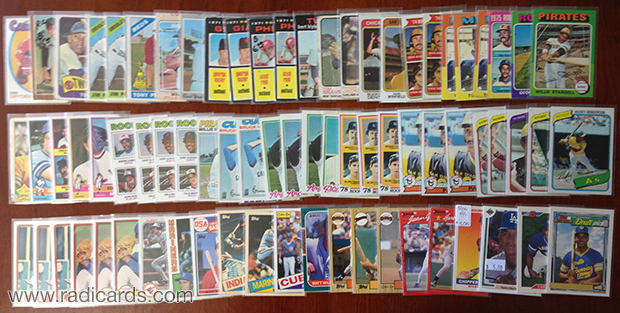 Here's a closer look at a few of my low grade favorites: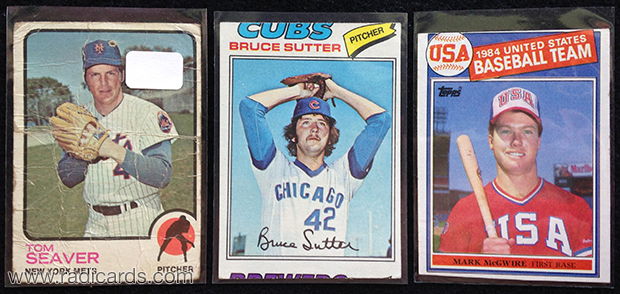 Here's a closer look at my high grade favorites:

This year presented some new challenges with regard to Junk Wax Era RCs:
Junk Wax Era RCs weren't nearly as abundant as years past and when I did find them, they were mostly priced above my usual price point.
Many sellers didn't allow for much negotiation room. For example, they would ask $4-5 on typically $1-2 cards and with minimal allowance for negotiation even on bulk buys. This was the first year I had to pass on multiple deals for Junk Wax Era RCs because we couldn't agree on price.
Sellers have begun catching on to the growth in interest in Junk Wax Era RCs. I saw way less 1987 Topps Barry Bonds RCs this year but much more of his 1987 Donruss RC, which I bought instead. I also saw a lot less 1985 Topps Mark McGwire RCs and pretty much anything 1989 Ken Griffey Jr. was sparse at best. I did pickup some of this stuff when I found it for reasonable prices.
I did really well with the following three cards this year:
Fred McGriff 1986 Donruss & Leaf RCs: I bought every example I saw and came out with 43 copies.
Greg Maddux 1987 Donruss & Leaf RCs: Number of copies acquired: 37
Barry Bonds 1987 Donruss & Leaf RCs: Number of copies acquired: 36
I did what I could with other cards from this era but had no reason to overpay for any of them since I can get all of this stuff on eBay for numbers closer to my preferred price points.
To see what's currently on eBay from the Junk Wax Era, click here.
The 1990s inserts chase is always a fun one as it takes me back to a special place in the memory bank. I always find really good stuff in the trenches. This year, I came out with a variety of low value but really cool inserts from one of the most interesting decades in the hobby. My 1990s haul is mixed in with a variety of exceptional modern inserts. Have a look; you'll recognize some of them.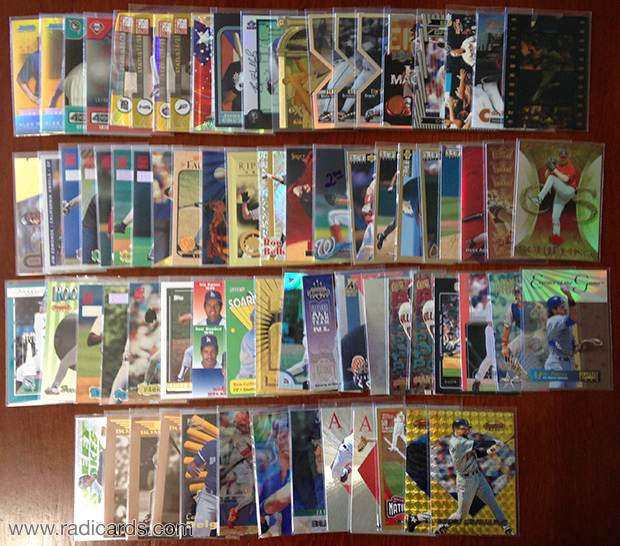 With regard to Frank Thomas cards I didn't already have, I hustled my way through a variety of $1 bins and found a few cards from the infamous 2008 Topps Moments & Milestones set. Other than that, all Thomas pickups were of cards I already had but figured I'd grab them for the various asking prices which with the exception of one card were all no more than a $1 but often times less. The one card I did get this year that while I already had was a PSA 9 example of the 1997 Leaf Fractal Matrix Die Cut, which I love and was sold to me for $50 by the guys at Trading Card Co-Op. They use our Fitted PSA Graded Card Bags.
To order our Fitted PSA Graded Card Bags, visit our store.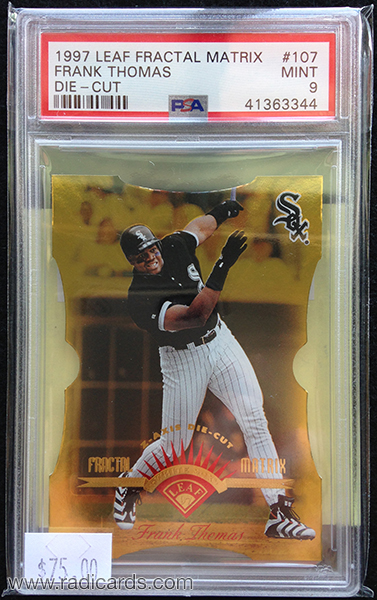 Because these cards aren't serial numbered, they don't get the same attention but I feel like this parallel set has a lot of potential to grow in popularity over the years. I have no interest in selling; I'm just sharing an opinion.
Gems from the Trenches
The quality of the bargain bins and $1 boxes at The National is unmatched anywhere else. If you like digging, this is the place to do it. I make it a point to spend several hours doing this every time I attend this show and I always come out on top. This year, I found a cache of excellent bargain boxes at one dealer's booth. These boxes were choice; we're talking tons or rare pieces at fair prices. Thing is there was so much of it, I had to be incredibly selective. Otherwise I'd have spent my entire budget at this table on the first pass. These boxes contained tons of rare parallels from the 1990s to 2000s. Nothing huge but still lots of nice low value pieces. I spent a few hours there and came back a number of times for more throughout the week. I cherry picked a few cards from these boxes but one particular piece that caught my eye was a 2005 Topps Black Flash Gordon. I remember filing his 1989 Donruss RC back in 1989 so seeing this card immediately reminded me of that time in my life. It also hadn't occurred to me that he played this long. After looking more into it, he had a 21-year career that completed in 2009, which was just two years before his son, Dee Gordon, made his MLB debut.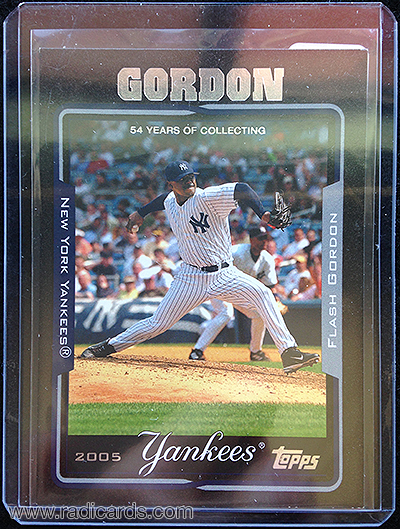 You know that feeling when you find something in a bargain bin that when it was released pulled serious money? Okay, okay, I know serious is a relative term but seriously. Think back to 1990. Who were the players who weren't Frank Thomas or Ken Griffey Jr. whose rookie cards drew attention in the price guides? If guys like David Justice, John Olerud, and Juan Gonzalez come to mind, you're on the right track. I grabbed this 1990 Leaf Carlos Baerga for all of $5, which to me is an excellent price for this card in this grade.
While walking to the exit on one of the concluding evenings, I came across a table with a couple of single row boxes of graded cards all priced at $5 each. Think back to 1992 when this card would've brought healthy returns. This was the card to get in the 1992-93 Topps Gold set. Even in the trenches, I rarely see these. I've only seen one other example in the wild and it too resides in my collection. At $5 for this SGC example, it was a no brainer. Enter the 1992-93 Topps Gold Shaquille O'Neal RC.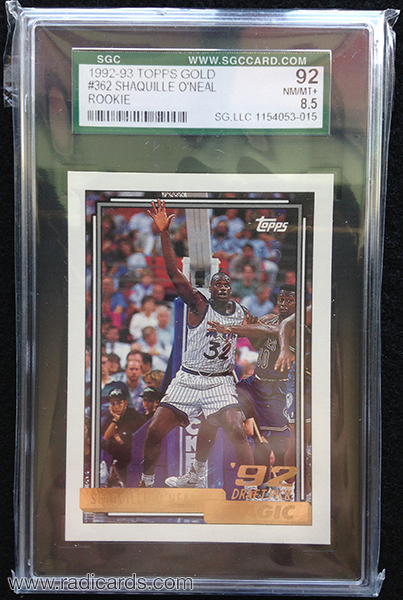 Notable Stephen Strasburg Additions
Now fast forward to 2010. Who was the hottest prospect to hit the hobby? That's right, Stephen Strasburg. I don't think the hobby reached that level of hype for any single player prior to 2010 and it hasn't been achieved since. Here we are, 9 years later and still I find Strasburg stuff loosely peppered about showcases at The National. I found this 2010 Bowman Prospect Orange Stephen Strasburg hidden underneath another Strasburg card and decided to grab it for $25. I figured for what it is with the Orange border and a pop of just 7, it would make for a nice addition to the archive. I can remember seeing a raw example of this card in a showcase at a show during the summer of 2010 with a $100 price tag. Here I am, getting a Gem Mint example for a quarter of that amount. To be fair, had this been slabbed by PSA, I think it would have achieved a 9. Either way, I'm happy to add this example of one of my all-time favorite baseball cards. Believe it or not, I actually walked away before returning to hand over the cash. For some reason, I wanted to see what the pop report was on this card. Not like it matters; at $25, it's a bargain.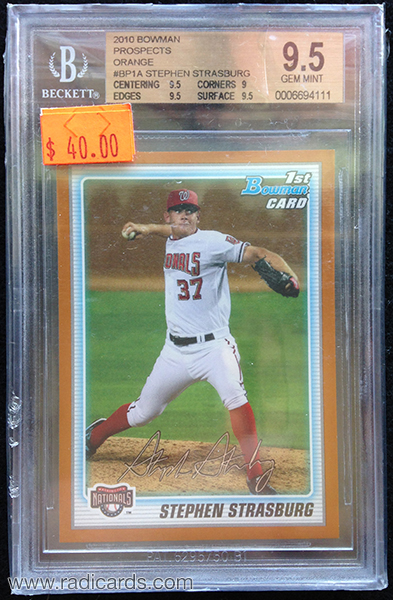 From the eBay Watch List to the Show Floor
I watch a lot of stuff on eBay. Some I consider buying and some I just consider. While The National attracts many dealers, it's statistically unlikely but not completely improbable to find some of the stuff on my watch list on the show floor. One dealer had a standing showcase with a PSA10 example of the 2014 Finest 94 Finest Refractor Stephen Strasburg. This card has a print run of 25 and I had been watching it on eBay for some months but thought the $100 asking price was a bit out of my range. When I saw it in person, I offered, he countered, and we agreed on $60, which may or may not have been market but I didn't really care. This card's absolutely gorgeous.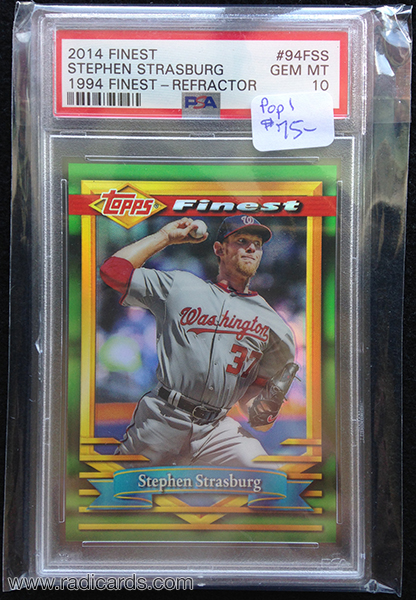 Speaking of stuff on my watch list, and due to my strong preference for the set, I keep a pretty close eye on the market for 2010 Bowman Chrome stuff. I'd seen the Trevor May Superfractor list and sell and be relisted several times with rotating $149 and $249 BINs over the past four years. Knowing those prices are way above market, I couldn't justify hitting the BIN so the card remained on eBay. As I made my way through one of the back areas of the show floor, I found a young dealer. As I looked at the contents of his showcase, I noticed the Trevor May Superfractor sitting in the far back of it as if it had been forgotten but was at least good enough to be put out due to its 1/1 status. $80 later, it enters my collection.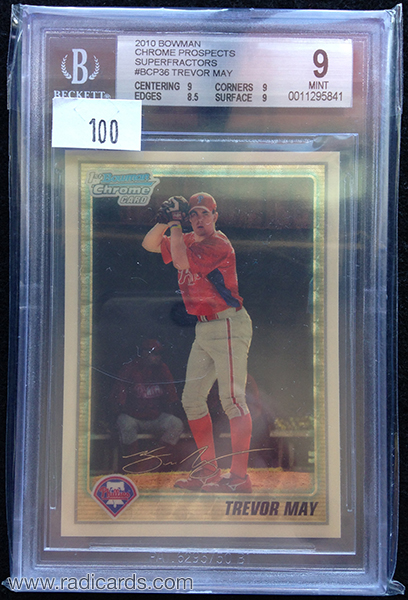 Speaking of 1/1s
You know that feeling when you see a card in a showcase and it and the price tag grabs your attention as fiercely as grocery shopping when you're hungry? Yea, that's what happened here. I saw this card and at first glance it looked like an Albert Pujols 1/1 but with a $40 price tag? No possible way. Once I asked to have a closer look, it was instead Torii Hunter, which made more sense. Still a star but no Pujols. Given the rarity and the overall aesthetic appeal of the 2005 Artifacts set, I walked away with this for $35. This is one of those instances where haggle room was at a bare minimum. Even at $35, with my reasonable $30 counter there wasn't any wiggle room. This was common place at this show. Nonetheless, I'm happy to now own this card.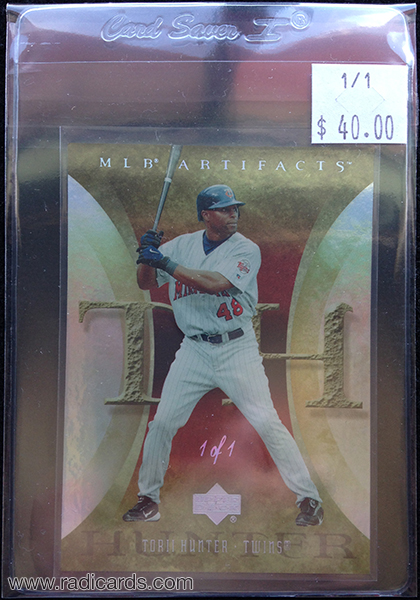 Rare Cliff Floyd Pickups
I casually collect a few low value players who aren't often mentioned in current hobby circles. One of those players is Cliff Floyd. He was a guy I remember being popular in the early 1990s and when I come across his stuff, I'm reminded of that time in my life. Strangely enough, I found three really elusive Cliff Floyd cards at the show. Each was discovered on different days in different locations and all were between $2 and $5. Here's the list:
2002 Upper Deck 40-Man Electric Rainbow #781 /40
2003 Donruss Champions Holo-Foil #35 /25
2001-02 Donruss Chicago Collection #93 /5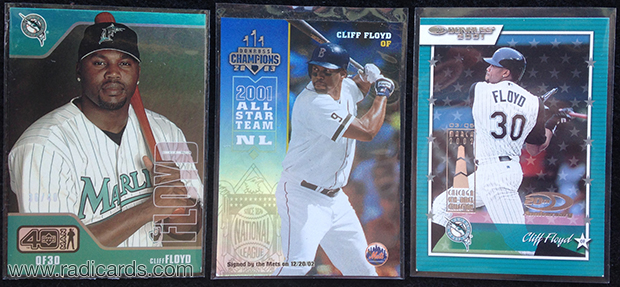 My Choice Vintage Buy
A few years back, I made it a point to make one excellent vintage buy every time I attend The National. It doesn't have to be expensive; it just has to be something I like from that era. I tend to prefer eye appeal to overall grade so I'm good with a little surface and corner wear if the centering is solid. Well, this year didn't disappoint. I found this 1953 Bowman Color Mickey Mantle and knew it had to be captured. There's merit to Rolodex holes – they put otherwise unaffordable cards in my price range and come with the same eye appeal as high grade examples. This one's gorgeous and the holes only add to its unique eye appeal.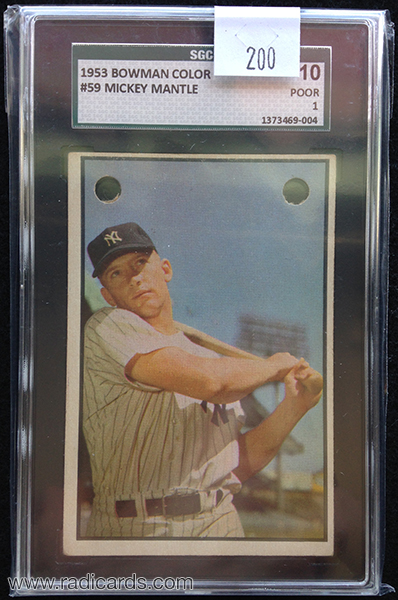 A friend and I joked about putting a string through the holes, tying the string together, and writing my name on the card for it to be used as an around-the-neck hanging name tag just like the VIP badges. I still chuckle when I think about that. Speaking of VIP badges, this year I got Jared Goff.
Other Favorable Experiences
On Wednesday evening, I sat down for round two with Tim Getsch, Founder and CEO, COMC.com. The interview is about an hour long and has been published in its own article complete with video and list of questions. Be sure to watch and listen. He and I share some fun dialogue I think you'll appreciate.
When I'm in the convention hall, I always make my rounds and say hi to all the dealers I've gotten to know over the years. Last year, the fellas at the Singles Club recognized me and gave me a few Frank Thomas cards. They're such great guys. This year, they recognized me again and I spent some time digging through their boxes and pulled a stack. While I was there, I did a little plug for them. Be sure to make it a point to visit their booth at a future National.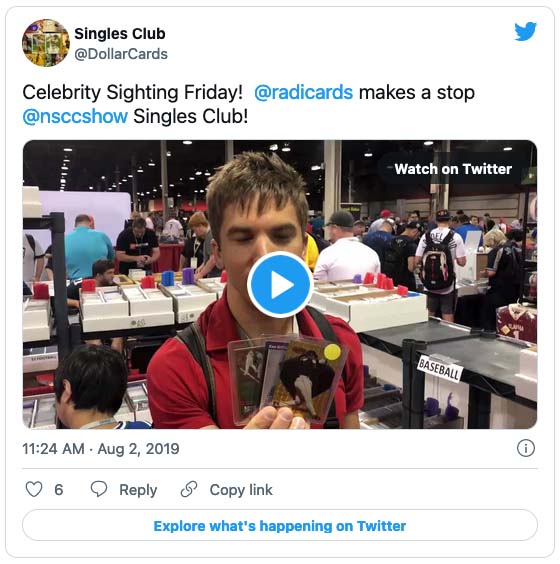 Rob Veres of Burbank Sportscards is one of the most aggressive buyers in the industry. One morning, he and I were digging through a bargain bin together and we caught up. He was there to stock up on inventory and he indicated that he comes to The National to buy whole tables. On Saturday, he bought the Singles Club's entire show inventory so they closed up shop a day early. Selling is a key goal for dealers at the show and the Singles Club does it really well.
I bumped into Rob again while leaving the convention hall one afternoon and we discussed the show. Mid conversation he gets a call from Dr. James Beckett (yes, that James Beckett). I actually saw the caller ID name, which was kind of cool. I've never met Dr. Beckett but he's a second in my social circle. Hopefully we'll meet one day.
To listen to the Dr. James Beckett: Sports Card Insights podcast, click here.
Tim Carroll was spotted in action at The National this year. If you're unfamiliar with his work, he's a talented artist who makes large mosaic replicas of trading cards out of small pieces of junk wax commons. His work is something special. I can remember being completely floored when I first saw it. It's so incredibly accurate, it's almost celestial. To view his portfolio, click here.