Have you visited our store? Click here.
Welcome to a review of Day 4 of the 2017 National Sports Collectors Convention. It was another great day at this fine event. As soon as I get into the convention center, I head right over to the booth at which I've spent a lot of time during the previous few days. I've build great rapport with the seller and he made it a point to set things aside for me during the show. I really appreciate that. As I dug through the existing bargain bins, the seller pointed to two additional boxes in another part of their table and indicated that the contents within them belonged to he and the seller next to him and that they'd like it to disappear (become completely sold) by the end of the day. He said he'd take care of me if I bought items from either of these boxes. While I was intrigued by this statement, I was curious to know how the seller defines the phrase, "take care of me" so I decided to test it.
I finished up going through the existing boxes and headed over to the two boxes in question. I riffled through them pretty fast and pulled out all of the rookie cards from the 1970s and 1980s. The total stack must have been a few inches thick when I handed it to the seller. I also had a small batch of items from the other boxes so the stack was kind of a chunk. He looks it over and quotes me a price for the brick and we settle. We discussed the value of the purchase after the transaction completed. The seller indicated he could easily get twice what he quoted me but since I'd been a repeat customer on each day of the show and that I cherry picked a rather large lot, he wanted to give me a good price, which was actually a great price.
I was happy and it was an excellent start to Day 4. After the deal, I walked around looking for more classics. I picked up a few pieces here and there to contribute to my classics collection. Here's a pic of the totality of classics acquisitions from Day 4: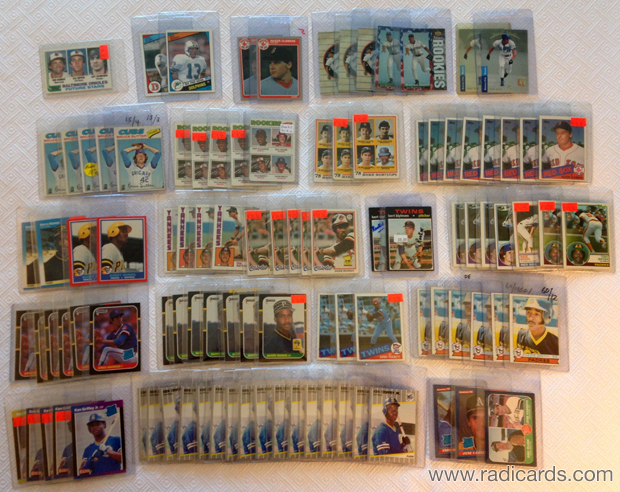 As I continued through the show, I made a point to look for more beater vintage cards for bargain prices. I was successful in my attempt and spent about 90 minutes at one particular booth that deals almost exclusively in this area. There was so much variety; it was overwhelming. I didn't even get through it all but was able to score a nice batch of excellent vintage cards that have tons of life experience.There are a few characteristics I avoid, however, such as water damage and mold. I prefer the cards to lay flat. I look for significant wear to the surface, corners, and edges. I also like vintage tape residue, pin holes and ink marks. The more variety, the better. I look for cards of hall of famers as often as possible and I'm specifically looking for the worst condition possible. Here's a pic of what was acquired in this category:
Today also yielded a variety of inserts at great prices. Much like Frank Thomas stuff I still need that I'm willing to buy, the show has been pretty dry in this area. I've seen very little of it. However, given my style of searching at shows, the bargain bins typically yield some amount of cards from this category. Nothing very high end but low to mid rares are common. As you'll see in the following pic, I'm pretty picky.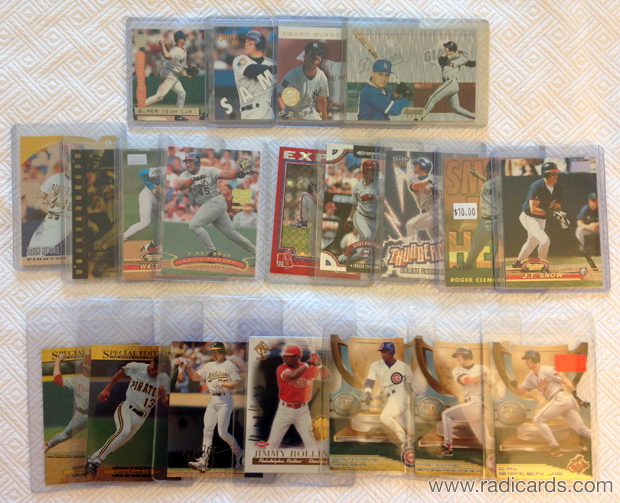 I made some new contacts today and one in particular had a piece I had never seen before. This particular piece is from the Negro League era. Finding stuff like this is exceptionally rare. Just seeing it in person might be an isolated event. This photo, from 1908, features the Chicago Leland Giants. It's the first of its kind I've ever seen. The representative granted me permission to take a pic. Enjoy!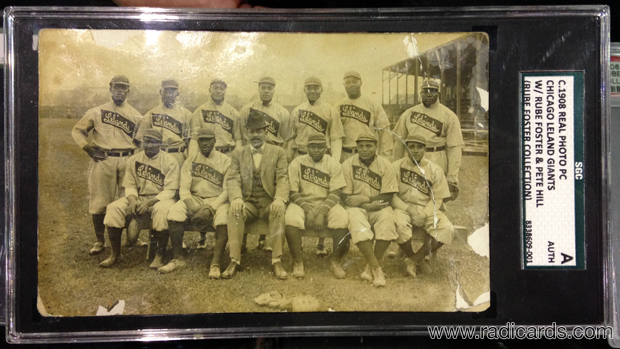 Rare vintage shares a degree of significance with rare modern in that it's historic. I say this loosely because some rare modern isn't that impressive while some is exceptionally impressive. The 1996 Select Certified Mirror Gold parallel set fall into the latter category. I was completely floored by the progress the seller made with this set. I've been after two different cards from this set for several years without any luck and this seller has managed to pull together all this in just a couple years.
Since the onset of Beckett's Black Label (Pristine 10 with all 10 subgrades), I've seen a few examples but encounters are exceptionally rare. This is especially the case with cards from the 1980s and 1990s.
When I was a young collector, I can remember the 1989 Score Football set being one of the most collected and valuable sets in the hobby. It's Score's first football release and is rich with key rookie cards of superstars and hall of famers. I've always been impressed with the player roster in the set and have respected the Barry Sanders as the cornerstone.
As I've matured as a collector, I've watched this card rise, fall and stabilize in the market. This card is commonly found on Want Lists of many card collectors. It's a staple in the hobby and given the solid green borders, high grade examples are desirable. This is my first encounter with a BGS 10 so I had to take a photo for reference. I hope you enjoy it as much as I enjoyed seeing it in person.
---
To see what's currently on eBay from 1989 Score, click here.