Have you visited our store? Click here.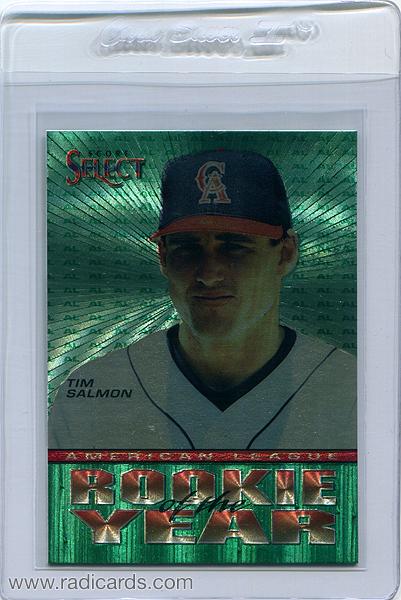 This is the Tim Salmon 1993 Select Rookie/Traded #ROY1. Tim Salmon was a big time prospect in '91 and the hobby continued to take interest in him as the '90's progressed. When he was selected as the Rookie of the Year recipient for the American League in 1993, this card was an appropriate follow up.
White it likely contains the same print run, it appears slightly rarer than the Mike Piazza from the same set. The reason being is that Mike Piazza was widely considered to be the more superior athlete. That said, you will see more of his cards surface in the secondary market. This makes sense because his cards tend to be more valuable than those of Tim Salmon.
In a way, comparing the Tim Salmon to the Mike Piazza is a lot like comparing a high grade common to a high grade star from the same vintage set. Think of this for a moment, a PSA 10 Willie Mays from a vintage set would and should be more common to find than a PSA 10 of a common from the same vintage set. This is the case because less people consider grading commons than they would grading stars and semi-stars. Additionally, this is why high grade vintage commons sell for so much; they have much lower populations. For set collectors, it can get pretty ugly when a card surfaces that they need that's almost never seen.
This isn't to say that Tim Salmon is a common. He was, in fact, a decent player and quite the hitter. But when he's compared to Mike Piazza, there's a clear indication of preferential valuation weighted heavily in Piazza's favor. Sure, there are many Tim Salmon fans, and while I can't say this with any degree of certainty, I can at least feel partially confident in assuming that there are more Mike Piazza fans. I'm a fan of both so I have no issue. I'm only speaking from a place of genuine interest in why this card is harder to locate than the Mike Piazza from the same set.
I have to mention the design of this card. It's gorgeous. I think I like it better than the Piazza because of the color combination. Green and red always work extremely well together. That and I've always been a fan of the California Angels logo from that era. Tim's face is a bit hard to make out and it's definitely not his best photo but that just adds to the mystery of this card. In a way, this card is finely woven behind the scenes. I would guess that it's often missed in important conversations surrounding rare '90's inserts and I would go even further by saying that some collectors may not even know it exists. Yes, it's that rare and that unnoticed.
To view the current eBay auctions for Tim Salmon baseball cards, click here.