Have you visited our store? Click here.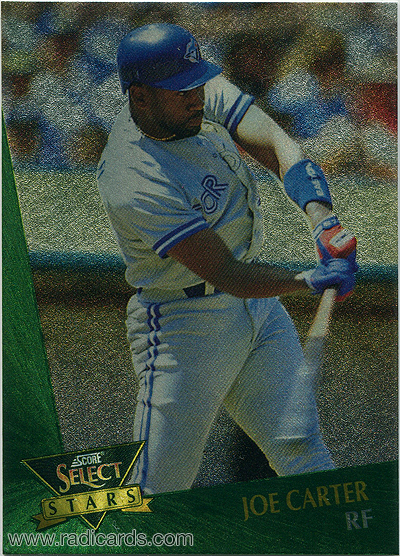 1993 Select Chase Stars baseball cards feature a signature technology many collectors have come to love. We're talking about dufex technology. It's a beautiful display of metallic rippled foil that I can't even explain accurately enough to do it justice. These cards are amazing. Every time I look at them, I'm still stunned by how pretty they are. This goes for nearly every single parallel or insert set from the 1990s that featured this same technology. 1993 Select Chase Stars was one of the first sets to feature it.
1993 Select Chase Stars is a 24-card set found exclusively in retail format at a rate of 1:18. The set features the era's top talent, which was a common theme among insert sets in the 1990s. It wasn't too hard to pick a card to be featured as the showcase for this article. I could have picked one at random and would have been happy with what was selected. I chose this Joe Carter card because of the excellent action shot and I've always liked him.
1993 was a banner year for the Score brand as it was the first year that dufex technology was used on baseball cards. I can remember first seeing these and thinking how striking they were. I can also remember how valuable they were at the time. While the prices have changed, the intrigue has not. Back then, these cards seemed too far out of reach for me as a young collector with just 5 years of collecting experience. I was already very familiar with all of the major brands and was always excited to see what was going to be released each year. It was a very fun time to be a kid in the hobby.
These days, I look back on this set and just for a moment, remember being that same kid. As an adult, I still relish the set and its design. Value has become less of a concern for me as I'm more interested in just enjoying the eye appeal and overall aesthetic. The green border sections with the "STARS" flag popping out like it does make these cards stand out. In-hand, 1993 Select Chase Stars baseball cards are brought to life and meant to be enjoyed. If you're looking to add some extra spice to your 1993 catalog, grab some 1993 Select Chase Stars baseball cards.
To see what's currently on eBay from 1993 Select Chase Stars, click here.
---
Set Information:
| Total Cards | Odds |
| --- | --- |
| 24 | 1:18 15-Card Retail Packs |
1993 Select Chase Stars
Checklist:
| Card # | Player(s) | Card # | Player(s) |
| --- | --- | --- | --- |
| 1 | Fred McGriff | 13 | Cecil Fielder |
| 2 | Ryne Sandberg | 14 | Roberto Alomar |
| 3 | Ozzie Smith | 15 | Cal Ripken Jr. |
| 4 | Gary Sheffield | 16 | Edgar Martinez |
| 5 | Darren Daulton | 17 | Ivan Rodriguez |
| 6 | Andy Van Slyke | 18 | Kirby Puckett |
| 7 | Barry Bonds | 19 | Ken Griffey Jr. |
| 8 | Tony Gwynn | 20 | Joe Carter |
| 9 | Greg Maddux | 21 | Roger Clemens |
| 10 | Tom Glavine | 22 | Dave Fleming |
| 11 | John Franco | 23 | Paul Molitor |
| 12 | Lee Smith | 24 | Dennis Eckersley |
1993 Select Chase Stars