Have you visited our store? Click here.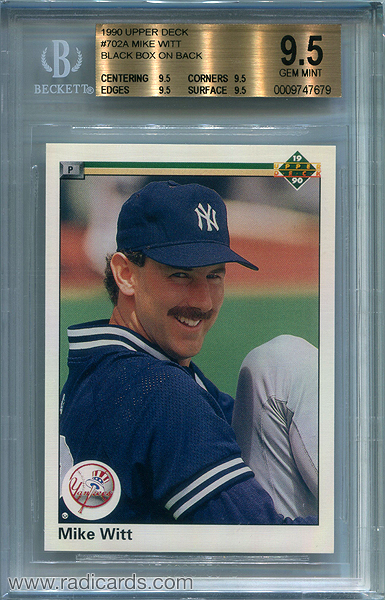 This is one of the most interesting but least talked about error cards in the entire hobby. Mike Witt was originally slated to be depicted on 1990 Upper Deck card #702. This plan was quickly scrapped for one controversial reason and almost immediately replaced with a triplet card featuring three of the day's hottest rookies from the Montreal Expos: Delino DeShields, Marquis Grissom, and Larry Walker. In retrospect, I kinda wish Upper Deck had kept Witt as card #702 because I like his photo better than three dudes standing next to each other all dressed alike. I do, however, think that adding the three Expos players was a better business move as they may have helped drive sales for the product seeing as they were three popular rookies in 1990.
Moving on. From what I've read during my research on this card is that Witt was pulled for good reason. Like any other pre-production phase for baseball cards, a photo shoot is necessary. These can happen in the early hours of the morning into the evening depending on how it's planned. The person behind the camera may either work directly with the team or be sourced on a contract basis. This is pretty typical in the commonly saturated photography industry. Something to note about the 1990 Upper Deck Baseball set is that it features incredibly clear photography with excellent action and pose shots. It's a beautiful set from the photography perspective.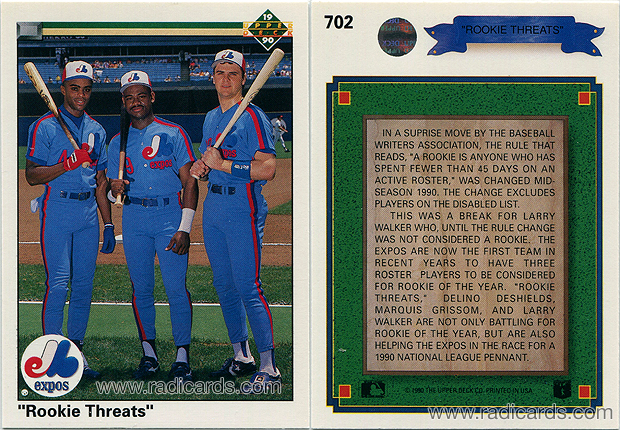 On this particular day, an attractive female photographer was on site taking photos of Mr. Witt. Like any other well-to-do adult male, he got excited in that natural way men do. There's nothing wrong with this kind of reaction; it's completely natural. It's how we meet, mingle, and marry – so to speak.
However, when you have your pants unbuttoned during the photoshoot, it becomes less than respectable. Now, I don't know why Witt's pants were unfastened (unbuttoned and/or fly down). To my knowledge, it wasn't revealing, but a photo like that certainly has no place on a baseball card. Especially one produced during the absolute prime of the market when the majority of the target audience consisted of kids.
The result was a pull and switch but not before blacking out the majority portion of the reverse side of the Mike Witt 1990 Upper Deck #702A card prior to replacement. While not intended for consumption, a number of cases containing Witt cards were shipped. It's a quick and steadfast way to save face in an effort to avoid a potentially brand image crippling situation.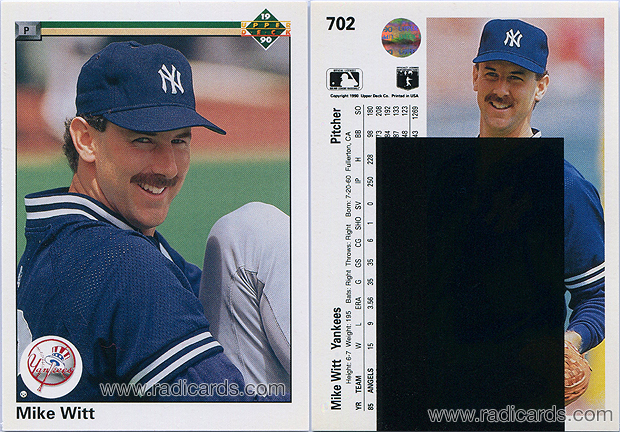 It's my understanding that few of these cards got out, maybe ten or so but probably less. That estimate used to be small until a brick of 800 copies of the Mike Witt 1990 Upper Deck #702A card was discovered in recent years and economically speaking, as supply goes up, so does availability, which means price and value goes down.
Before the brick was uncovered, however, availability of the Mike Witt 1990 Upper Deck #702A card was incredibly scarce and on the ultra rare occasions when one would surface, common end prices for raw examples closed between $350-850. A PSA 10 example surfaced on eBay in early 2011 and priced at $2700. I believe it eventually sold because after watching it for a few months, it was pulled and marked "no longer available."
I discovered the existence of the Mike Witt 1990 Upper Deck #702A card in 2008 and began researching and actively pursuing an example in 2010. In those early years, research proved to be difficult because very little was covered or even known about the card and the only image I could find was a low-quality blurry one. I decided if I'd ever get one of these into the archive, I'd document it. So here we are. I was the buyer of a raw example of the Witt card on May 6, 2013 for $346.79. It was a good day but then I got to thinking about the corresponding checklist (#800) that depicted card #702 as Mike Witt, not "Rookie Threats." I had only read of its existence.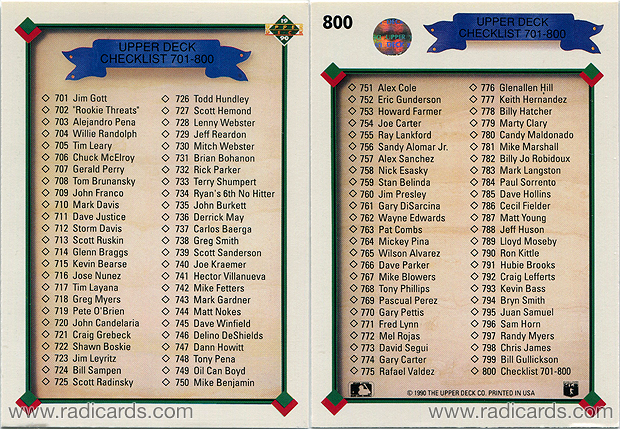 In a way the checklist was even more intriguing than the Mike Witt 1990 Upper Deck #702A card because who bothers with checklists? Even worse is that the reverse side of the checklist would be the blacked out side and who flips checklists over? Further, who would even care if the checklist had a black box on its reverse anyway? Statistically speaking, these are exceptionally rare instances. Alas, I kept an eye out and wouldn't you know it, a month later, the card in question surfaced.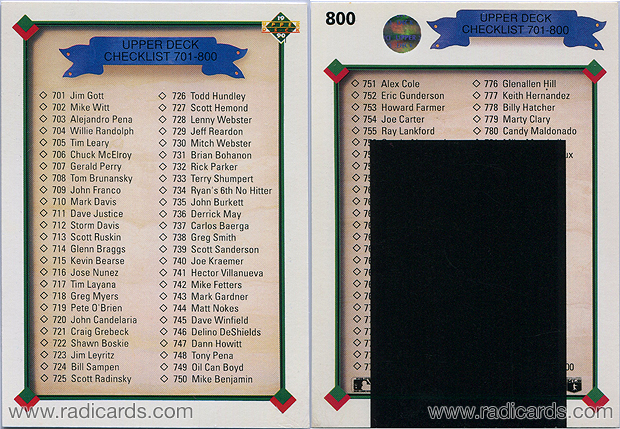 I was the buyer of this card on June 3, 2013 for $356.11. Not even a full month had passed since I acquired the Mike Witt 1990 Upper Deck #702A card so I began to think about the reasoning behind such a short span between encounters of what is considered by many to be one of the hobby's most elusive pair of cards.
Sometimes when something surfaces and performs well on eBay, lurkers may notice and take it as a signal to sell similar items shortly thereafter. That could've been the case here since these two cards are closely related.
In the years after my two purchases, an 800ct box of the Mike Witt 1990 Upper Deck #702A cards (not the checklists) was found and as a result, surface encounters became significantly more common. To give you an idea of how this impacted the market, I paid $50.98 (Auction Style) for the BGS 9.5 example you see here. While I'm glad these have become somewhat more accessible to collectors, in some way the stronger abundance diminishes desirability. This is a common theme when scarcity is eclipsed by volume.
To see what's currently on eBay from 1990 Upper Deck, click here.