Have you visited our store? Click here.
David Ortiz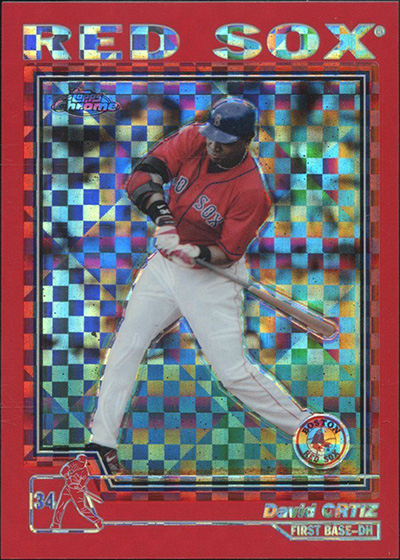 David Ortiz was drafted with the Minnesota Twins in 1997 but made his name during his time with the Boston Red Sox from 2003-16. During his 20-year career, Ortiz was on 10 All-Star teams, 3 World Series-winning teams, was a 7x Silver Slugger, WS MVP, ALCS MVP, and HR Derby Champ.((David Ortiz. www.baseball-reference.com)) Additionally, and likely most notably, he's credited for helping the Boston Red Sox overcome the Curse of the Bambino, a Red Sox losing streak that lasted 86 years and started when they traded Babe Ruth to the Yankees in 1919.
The trade happened in 1919 when Harry Frazee, then owner of the Boston Red Sox, sold Ruth to the New York Yankees for $100k to pay down debt from the purchase of the Red Sox in 1916 and help finance the Broadway play, No No Nanette.((The 'Curse of the Bambino,' explained. www.mlb.com)) The Red Sox then didn't win a World Series again until 2004 when they coincidentally played against the Yankees, which couldn't have been more perfect.
To view the current eBay auctions for David Ortiz baseball cards, click here.
---
Golden Days Era Committee Electees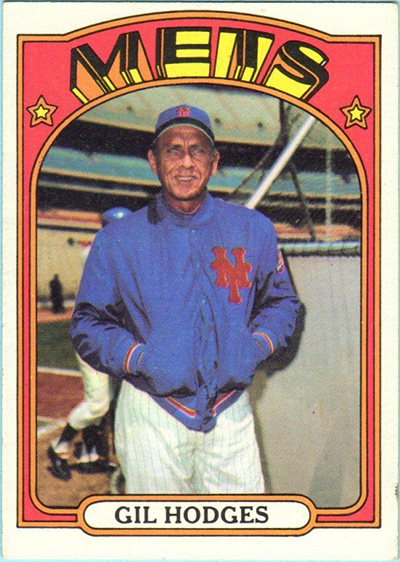 Gil Hodges
Whenever I hear Gil's name, I'm reminded of that scene in the movie, Field of Dreams, where Archie Graham first arrives at the ballpark at night and enthusiastically calls out the names of players he sees. I was a kid when that movie came out and had only been collecting baseball cards for one year. Anyway, when I first heard his name in that movie, I assumed Hodges played with guys from the Black Sox era only to be completely surprised when I saw his 1972 Topps card.
Hodges spent 18 years as a pro and in that time was an 8x All-Star, 3x Gold Glove, and was on two World Series-winning teams. He spent most of his playing career with the Dodgers and finished it out with the Mets.((Gil Hodges. www.baseball-reference.com)) Hodges then went on to manage the Washington Senators and New York Mets.
To view the current eBay auctions for Gil Hodges baseball cards, click here.
Jim Kaat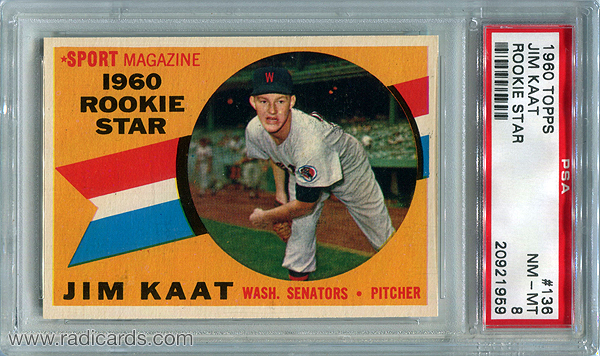 When I saw this PSA 8 example of Jim Kaat's 1960 Topps RC at the 2018 National, I had to have it. This card in this grade has risen in value significantly since I acquired the one you see here. I've always liked Jim Kaat and thought he was underappreciated by collectors. He had an incredibly productive career and I'm surprised it took so long for Kaat to make the Hall. For decades, this guy was a consistently reliable southpaw.
Kaat's MLB career spanned 25 years and in that time, he received 16x Gold Gloves making him one of baseball's all-time best fielding pitchers, was a 3x All-Star, and was with the St. Louis Cardinals when they won the World Series in 1982. He also collected 2461 strikeouts, and had a career ERA of 3.45.((Jim Kaat. www.baseball-reference.com)) Following his playing career, Kaat became known for his time as a broadcaster, calling games for the Yankees and Twins for 22 years before retiring in 2006. He's since called games for the World Baseball Classic and the MLB Network.((Kaat takes his place in the hallowed Hall. www.mlb.com))
To view the current eBay auctions for Jim Kaat baseball cards, click here.
Minnie Miñoso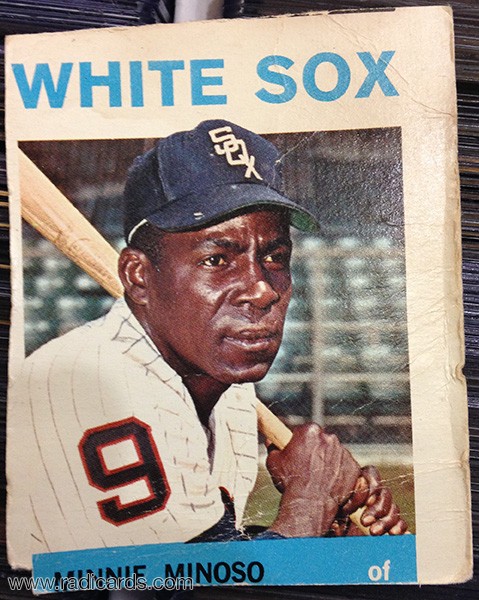 Miñoso was one of those guys who came up with the Negro Leagues but transitioned to the Major Leagues. His career spanned 20 years and he spent most of it with Major League teams and is most known for his time with the Chicago White Sox. He was a 13x All-Star, 3x Gold Glove, achieved a healthy .299 career average, and was on one World Series-winning team.((Minnie Minoso. www.baseball-reference.com))
Back in June of 2018, I visited the DFW area and my buddy Rich hosted a card show that weekend. It's there where he sold me this obscure miscut 1964 Topps Minnie Miñoso.
While difficult to notice, if you compile his time with the Major League, minor league, Cuban League, Mexican League, and Negro League, he collected a total of 4,073 hits. In 1993, at age 68, Miñoso signed a contract with the St. Paul Saints and grounded out in his only at-bat for the team. The ball and bat were sent to Cooperstown to mark pro baseball's first six-decade player. The White Sox retired Miñoso's number (9) in 1983 and erected a statue of him outside Cellular Field.((Minnie Miñoso. sabr.org))
To view the current eBay auctions for Minnie Miñoso baseball cards, click here.
Tony Oliva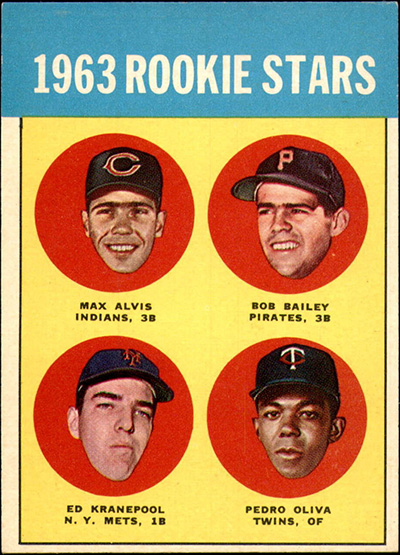 Oliva is one of those special players who spent his entire career with the same team. His career spanned 15 years and all was spent with the Minnesota Twins. He was a reliable left-handed hitter and accumulated a .304 career average. He was drafted with the Minnesota Twins in 1962 and won the Rookie of the Year award in 1964 (when he achieved enough at-bats to qualify for rookie status). He was on 8 All-Star teams (consecutively from 1964-71), a 1x Gold Glove, and received the Batting Title three times.((Tony Oliva. www.baseball-reference.com)) His name is stated as Pedro Oliva on his 1963 Topps rookie card.
A play on wet grass in 1971 created a series of knee problems that would prematurely end his playing career five years later. He was a designated hitter (DH) from 1973-75 and spent the 1976 season as a coach/pinch-hitter.((Tony Oliva. baseballhall.org))
To view the current eBay auctions for Tony Oliva baseball cards, click here.
---
Early Baseball Era Committee Electees
Bud Fowler
Known for his fielding speed, Fowler played for a series of semipro leagues over three decades in the late 1800s and played with one of the first Negro League teams in 1885, the Page Fence Giants. At age 47, he made his debut against a major league team, the Cincinnati Reds but returned to, and would finish his career in semipro ball. Cumulatively, Fowler hit .308, scored 455 runs, and stole 190 bases in 465 games in the minors.((Bud Fowler. www.baseball-reference.com))
Buck O'Neil
Navy Veteran and 3x All-Star, Buck O'Neil, debuted in the Negro Leagues in 1937 with the Memphis Red Sox but was moved to and spent the rest of his 10-year career with the Kansas City Monarchs.((Buck O'Neil. www.baseball-reference.com)) O'Neil went on to manage the Monarchs and eventually became the first Black coach in Major League Baseball when he signed on with the Chicago Cubs. In 1988, O'Neil returned to Kansas City to be a scout for the Royals.
O'Neil helped open the Negro Leagues Baseball Museum in 1991. In 2008, the Hall of Fame created the Buck O'Neil Lifetime Achievement Award, which is presented once every three years to honor someone whose extraordinary efforts enhanced baseball's impact on society and broadened the game's appeal. The first recipient of the award was Buck O'Neil. On display in Cooperstown is a life-size bronze statue of O'Neil.
O'Neil was known to sit in the same seat at Royals stadium every time he attended a game. The seat is known as the Buck O'Neil Legacy Seat, which is also red to make it noticeable in the sea of blue stadium seats. The seat is now reserved for those who make a difference in the Kansas City community.((Who is Buck O'Neil? Meet the KC baseball icon being inducted into the Hall of Fame. www.kansascity.com))