Have you visited our store? Click here.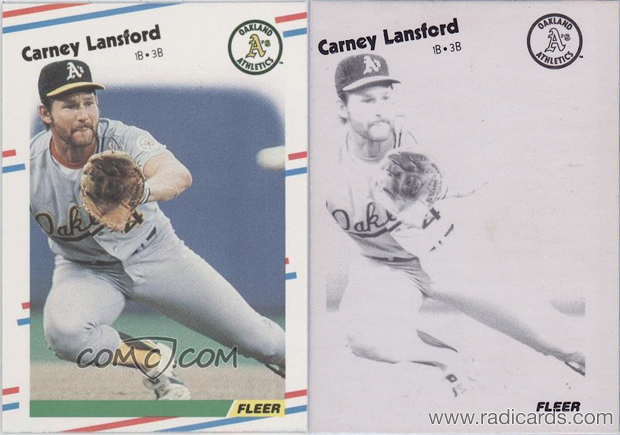 Here's another recent and peculiar find from the classic 1988 Fleer set. This is a comparison between two different versions of the 1988 Fleer Carney Lansford
. The left card features the base standard release while the card on the right features the same card but what appears to be an unfinished product. The backs of both of these cards are identical. The card on the right must have slipped through the Six Sigma process because I'm almost certain that it wasn't meant for circulation. Much like the 1991 Fleer Bob Welch
card, this card poses some potential theories:
Upon distribution during early revision meetings with the Fleer marketing committee, this card was pocketed and sold/given away or changed hands in some form and eventually made it's way to the secondary market.
This card left (fell off, taken from) the press during early phases of the printing process thereby remaining unfinished and potentially thrown out. Someone sorted through Fleer trash and found this and hence, the card entered market.
These were sold off as promos to unsuspecting buyers.
Or how about a 4th option between theory 1 and 2. Unfinished product meant to be tossed as scrap, employee thinks of making a little extra money and takes trash home one evening. Who knows?
Bottom line, this is a pretty neat variation that I just don't see too often and for that reason alone, I am a fan.
Question of the Day:
Who was our favorite prospect from 1988?
To see what's currently on eBay from 1988 Fleer, click here.