Have you visited our store? Click here.
Ahh yes, 1998 Leaf Baseball
. One of my all-time favorites. This set boasts so many stealth inserts, it can be a total mind boggle to figure out what's what… assuming you are lucky enough to pull any one of the variety of ultra scarce gems. The parallels are many strong and are listed below:
1998 Leaf
1998 Leaf Fractal Diamond Axis
1998 Leaf Fractal Foundations
1998 Leaf Fractal Materials
1998 Leaf Fractal Materials Die Cuts
1998 Leaf Fractal Materials z2 Axis
1998 Leaf Fractal Matrix
1998 Leaf Fractal Matrix Die Cuts
I would include serial numbers but for the most part, they are all over the board. Print runs depend on card number and which axis the die cutting occurred. In my experience however, the rarest of them all has to be the z2 Axis
, which have a stated print run of just 20. In addition to their significantly low print run, wood and plastic are the materials of choice for this incredibly rare parallel. The most attractive, however, are the Diamond Axis
, which have a stated print run of just 50. The beautiful deep blue sparkle etching on the fronts of these cards is just striking. If you are in the market for either of these, expect to shell out the funds because they are just getting harder and harder to locate and when they do surface, things can get pretty hairy during the last few moments of auction's end.
This product came out right around the time that I left the hobby to pursue other interests. I did not ever even see this product until this year. This is my first pack of 1998 Leaf Baseball
. I'm primarily a singles buyer so it's rare that I pick up a pack but it does happen from time to time. This pack was just a few bucks. It still floors me to know that unopened packs of this product still exist. From my observations, '90's (especially late '90's) product is drying up. Pretty soon, it will be all gone. I can only base this on my own experiences as a buyer. I've been to a lot of card shops over the years and I've seen a lot of junk wax and a lot of modern from early '00's and up but the late '90's stuff… for the most part is missing entirely. Upon asking why the gap in product range, I often hear responses to the tone of, "We can't find it" or, "We don't carry it because nobody asks for it." Whatever the case, this stuff isn't easy to locate. I'm very glad I recently found a shop that has one partially filled box of unopened packs. So I bought one!
This pack is made of some kind of rubber. Maybe not the most Eco-friendly but it doesn't stick to the cards over time. Nothing was stuck together in this pack. This material also didn't fade over time. Another added bonus includes a very light weight material that doesn't take up a lot of space.
The Packaging:
I really like this shade of brown and the lovely vintage feel of the Leaf logo on the fronts of these packs. This sort of thing would make a great poster. Also, the pack design looks like a plaque, almost like an award of some sort. Brown goes great with the white borders. This is an attractive design, at least to me.

The Base Design: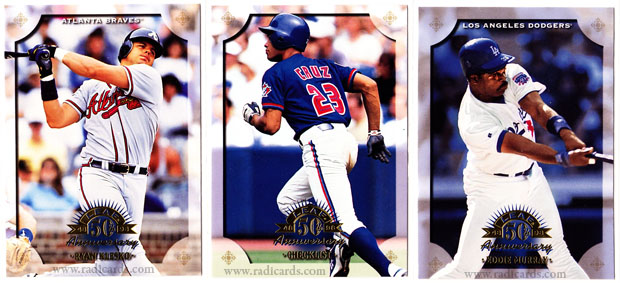 Just look at those pictures. The colors couldn't be any more full and vibrant. Even after all these years, these cards look magnificent in-hand. I really have got to hand it to Leaf for their insanely talented staff of designers. This stuff is gem! The color faded frames on these cards are just gorgeous. All this praise is appropriate if even for the simple release of a base set. In case you were wondering, you can extrapolate that with any one of the many parallels. 1998 Leaf is just one of those sets that was done exactly right. It's really too bad that this would be Leaf's last official release with an MLBPA license. At least they went out with a super hit.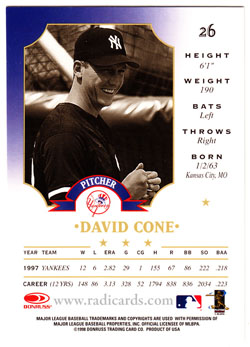 The card backs are special. The gradient top-left to bottom-right around the player portrait is beautiful. The inverted rounded corners and the gold stroke add a touch of class to an already very pleasant design. The alpine white keeps it simple while still showcasing all of the absolutely necessary facts.
The focus of this set is put on superstars, baseball's finest. With only 200 (199 due to the fact that card #42 doesn't exist), completing this set is a possibility if you are in the market for a box. With 10 cards/pack, a cool 20 packs will give you at least a healthy start. But then again, it may be a task in its own right just to find an unopened box of 1998 Leaf Baseball
if not any amount of unopened packs.
To see what's currently on eBay from 1998 Leaf, click here.