Have you visited our store? Click here.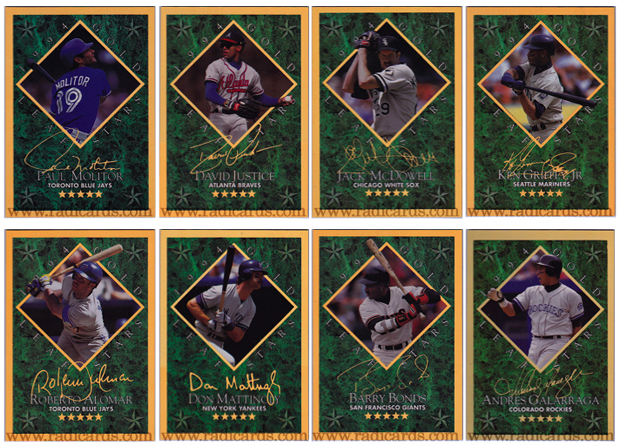 The 1994 Leaf Gold Stars
set is one of my all-time favorites. There's just something about that green marble background, the nautical stars, the player signature, the diamond picture frame and the gold holo-foil border that just leaves me in awe every time I revisit this set. So far ahead of its time.
I can remember buying packs of 1994 leaf when it first hit stores hoping, wishing to pull one of these. The odds: 1:90. The set consists of 15 cards, each serial #d to 10,000. This should give you an idea of the production rate at the time. These cards were notoriously tough pulls. In 1994, these cards fetched upwards of $100. Today, these cards can be had on the secondary market for anywhere from $2-20. Keep an eye out for 1994 Leaf Gold Stars
; they are gems.
To see what's currently on eBay from 1994 Leaf Gold Stars, click here.
---
Set Information:
| Total Cards | Print Run(s) | Odds |
| --- | --- | --- |
| 15 | 10000 | 1:90 |
1994 Leaf Gold Stars
Checklist:
| Card # | Player(s) | Card # | Player(s) |
| --- | --- | --- | --- |
| 1 | Roberto Alomar | 9 | Carlos Baerga |
| 2 | Barry Bonds | 10 | Paul Molitor |
| 3 | David Justics | 11 | Frank Thomas |
| 4 | Ken Griffey Jr. | 12 | John Olerud |
| 5 | Lenny Dykstra | 13 | Juan Gonzalez |
| 6 | Don Mattingly | 14 | Fred McGriff |
| 7 | Andres Galarraga | 15 | Jack McDowell |
| 8 | Greg Maddux | | |
1994 Leaf Gold Stars