Have you visited our store? Click here.
In this video, Kurt Bensch breaks a box of 1992 Score Series 2 Baseball
. The 1992 Score Series 2 Baseball
set features white cardstock with clear player action shots on the front and headshots on the back. It's an attractive set aesthetically as color combinations are matched beautifully. With gradients on both sides and interesting stats and descriptions on the back, these are nice and simple. Score added a series of inserts into its 1992 release with varying levels of scarcity but due to print volume, all of them are rare.
Things were starting to heat up in 1992. It was a year when more companies were including increasingly difficult cards to pull into their packs. In the case of 1992 Score Series 2 Baseball
, you have a slim chance of pulling cards from an insert set called, The Franchise
featuring baseball legends: Stan Musial; Carl Yastrzemski; and Mickey Mantle. Score also seeded signed copies of these cards into packs of its Series 2 release at what are likely astronomical odds by modern standards. Score also seeded 3000 signed copies of the 1990 Score Chuck Knoblauch
rookie card. Try your luck and grab a box of 1992 Score Series 2 Baseball
.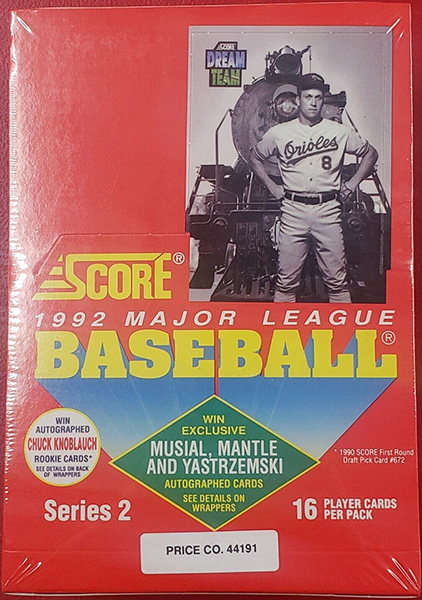 To see what's currently on eBay from 1992 Score, click here.