Have you visited our store? Click here.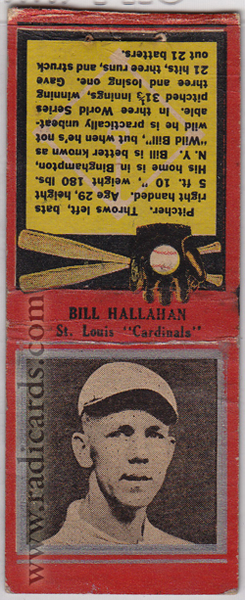 Here's another gem that has somehow survived the test of time. Released during the middle of the Great Depression of the 1930s, this article somehow withstood likely a considerable number of life threatening circumstances. As you can see with this particular example, there are noticeable stress marks. Even with staple holes and the strike surface completely removed, this matchbook still holds as a collectors item. Examples from this 1934 Diamond Matchbooks Silver Border
set are very scarce items in today's market. Even more scarce are those with the strike surface still intact. Further, those matchbooks still possessing matches. No matter, these are relatively rare items. The size is just as you'd expect, typical, perhaps a bit smaller than the average sized matchbook found in present day manufacturing.
To see what's currently on eBay from 1934 Diamond Matchbooks, click here.
---
Set Information:
During the Great Depression of the 1930s, matchbook collecting was immensely popular. At an average cost of two for a penny, matchbooks were affordable for many and as such began to feature photos and artwork to attract additional buyers. Toward the end of the 1930s, a number of sports-related runs were issued by Diamond Match Co., of New York City. The first was a 200-matchbook, baseball-themed set featuring silver frames around the player photos, which became known to collectors as "silver border." The matchbooks are about 1-1/2″x4-1/8″ (open). Sepia player images are printed on matchbook borders in either green, blue, orange, or red (although it's unconfirmed if all players have a red border variation). Each of the colors are parallels of same 200 matchbooks. If a complete red set was actually issued, the total variation run across the four colors would total 800 unique matchbooks. Player names and team names are printed on the matchbook spines with career summaries and images of two bats, a glove, and a ball on the backs. Matchbooks are often collected with the matches removed and the strike area intact. Since these matchbooks don't contain numbers, the checklist is listed alphabetically.
Checklist:
| Book # | Player(s) | Book # | Player(s) |
| --- | --- | --- | --- |
| 1 | Earl Adams | 101 | William F. Jurges |
| 2 | Ethan Allen | 102 | Vernon Kennedy |
| 3 | Eldon L. Auker | 103 | John F. Kerr |
| 4 | Delmar David Baker | 104 | Charles "Chuck" Klein |
| 5 | Richard "Dick" Bartell | 105 | Theodore Kleinhans |
| 6 | Walter Beck | 106 | Bill Klem (Umpire) |
| 7 | Herman Bell | 107 | Robert G. Kline |
| 8 | Ray Benge | 108 | William Knickerbocker |
| 9 | Larry J. Benton | 109 | Jack H. Knott |
| 10 | Louis W. Berger | 110 | Mark Koenig |
| 11 | Walter "Wally" Berger | 111 | William Lawrence |
| 12 | Ray Berres | 112 | Thornton S. Lee |
| 13 | Charlie Berry | 113 | Wm. C. "Bill" Lee |
| 14 | Walter M. "Huck" Betts | 114 | Emil Leonard |
| 15 | Ralph Birkofer | 115 | Ernest Lombardi |
| 16 | George F. Blaeholder | 116 | Alfonso Lopez |
| 17 | Jim Bottomley | 117 | Red Lucas |
| 18a | Ralph Boyle (Pic is Virgil Davis, white cap) | 118 | Ted Lyons |
| 18b | Ralph Boyle (Correct pic, dark cap) | 119 | Daniel MacFayden |
| 19 | Ed Brandt | 120 | Ed. Majeski |
| 20 | Don Brennan | 121 | Leroy Mahaffey |
| 21 | Irving (Jack) Burns | 122 | Pat Malone |
| 22 | Guy "Joe" Bush | 123 | Leo Mangum |
| 23 | Adolph Camilli | 124 | Rabbit Maranville |
| 24 | Ben Cantwell | 125 | Charles K. Marrow |
| 25 | Tex Carleton | 126 | William McKechnie |
| 26 | Owen Carroll | 127 | Justin McLaughlin |
| 27 | Louis Chiozza | 128 | Marty McManus |
| 28 | Watson Clark | 129 | Eric McNair |
| 29 | James A. Collins | 130 | Joe Medwick |
| 30 | Phil Collins | 131 | Jim Mooney |
| 31 | Edward J. Connolly | 132 | Joe Moore |
| 32 | Raymond F. Coombs | 133 | John Moore |
| 33 | Roger Cramer | 134 | Randy Moore |
| 34 | Clifford Crawford | 135 | Joe Morrissey |
| 35 | Hugh M. Critz | 136 | Joseph Mowrey |
| 36 | Alvin Crowder | 137 | Fred W. Muller |
| 37 | Tony Cuccinello | 138 | Van Mungo |
| 38 | Hazen "Kiki" Cuyler | 139 | Glenn Myatt |
| 39 | Virgil Davis | 140a | Lynn Nelson (Pic is Eugene DeSautel, no "C" on cap) |
| 40 | Jerome "Dizzy" Dean | 140b | Lynn Nelson (Corrected pic, "C" on cap) |
| 41 | Paul Dean | 141 | Henry Oana |
| 42 | Edward Delker | 142 | Lefty O'Doul |
| 43 | Paul Derringer | 143 | Robert O'Farrell |
| 44 | Eugene DeSautel | 144 | Ernest Orsatti |
| 45 | William J. Dietrich | 145 | Fritz R. Ostermueller |
| 46 | Frank F. Doljack | 146 | Melvin Ott |
| 47 | Edward F. Durham | 147 | Roy Parmelee |
| 48 | Leo Durocher | 148 | Ralph Perkins |
| 49 | Jim Elliott | 149 | Frank Pytlak |
| 50 | Charles D. English | 150 | Ernest C. Quigley (Umpire) |
| 51 | Elwood G. English | 151 | George Rensa |
| 52 | Richard Ferrell | 152 | Harry rice |
| 53 | Wesley Ferrell (Existence Unknown) | 153 | Walter Roettger |
| 54 | Charles W. Fischer | 154 | William G. Rogell |
| 55 | Freddy Fitzsimmons | 155 | Edwin A. Rommel |
| 56 | Lew Fonseca | 156 | Charlie Root |
| 57 | Fred Frankhouse | 157 | John Rothrock |
| 58 | John Frederick | 158 | Jack Russell |
| 59 | Benny Frey (Reds) | 159 | Blondy Ryan |
| 60 | Linus Frey (Dodgers) | 160 | Alexander (Al) Schacht |
| 61 | Frankie Frisch | 161 | Wesley Schultmerick |
| 62 | Chick Fullis | 162 | Truett B. Sewell |
| 63 | August Galan | 163 | Gordon Slade |
| 64 | Milton Galatzer | 164 | Bob Smith |
| 65 | Dennis W. Galehouse | 165 | Julius J. Solters |
| 66 | Milton Gaston | 166 | Glenn Spencer |
| 67 | Chas. Gehringer | 167 | Al Spohrer |
| 68 | Edward P. Gharrity | 168 | George Stainback |
| 69 | George Gibson | 169 | Albert "Dolly" Stark (Umpire) |
| 70 | Isidore Goldstein | 170 | Casey Stengel |
| 71 | "Hank" Gowdy | 171 | Riggs Stephenson |
| 72 | Earl Grace | 172 | Walter C. Stewart |
| 73 | Chas. Grimm (Fielding) | 173 | Lin Storti |
| 74 | Chas. Grimm (Portrait) | 174 | Allyn (Fish Hook) Stout |
| 75 | Frank T. Grube | 175 | Joe Stripp |
| 76 | Richard Gyselman | 176 | Gus Suhr |
| 77 | Stanley C. Hack | 177 | Billy Sullivan, Jr. |
| 78 | Irving Hadley | 178 | Benny Tate |
| 79 | Charles "Chick" Hafey | 179 | Danny Taylor |
| 80 | Harold A. Haid | 180 | Tommy Thevenow |
| 81 | Jesse Haines | 181 | Bud Tinning |
| 82 | Odell A. Hale | 182 | Cecil Travis |
| 83 | Bill Hallahan | 183 | Forest F. Twogood |
| 84 | Luke D. Hamlin | 184 | Bill Urbanski |
| 85 | Roy Hansen | 185 | Dazzy Vance |
| 86 | Melvin Harder | 186 | Arthur Veltman SP |
| 87 | William M. Harris | 187 | John L. Vergez |
| 88 | Gabby Hartnett | 188 | Gerald (Jerry) Walker |
| 89 | Harvey Hendrick | 189 | William H. Walker |
| 90 | Floyd "Babe" Herman | 190 | Lloyd Waner |
| 91 | William Herman | 191 | Paul Waner |
| 92 | J. Francis Hogan | 192 | Lon Warnecke |
| 93 | Elon Hogsett | 193 | Harold B. Warstler |
| 94 | Waite Hoyt | 194 | Bill Werber |
| 95 | Carl Hubbell | 195 | Joyner White |
| 96 | Silas K. Johnson | 196 | Arthur Whitney |
| 97 | Sylvester Johnson | 197 | James Wilson |
| 98 | Roy M. Joiner | 198 | Lewis (Hack) Wilson |
| 99 | Baxter Jordan | 199 | Ralph L. Winegarner |
| 100 | Arndt Jorgens | 200 | Thomas Zachary |
1934 Diamond Matchbooks