Have you visited our store? Click here.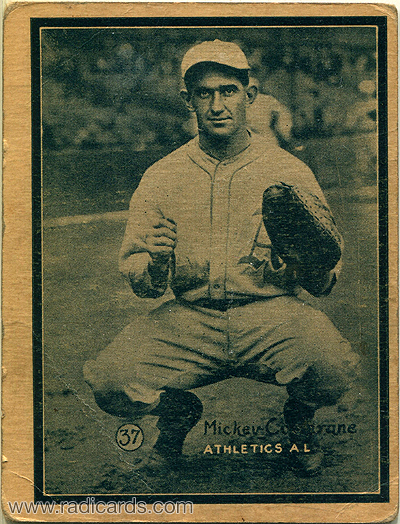 The pre-war 1931 W517 baseball card set is one of notable intrigue. It features 58 different cards, each measuring 3″x4″ with black and white fronts and blank backs. These were released as 3-card strips so individual cards had to be hand cut. For the time, this action made finding centered examples somewhat difficult. Cards from this set come in a variety of different sepia color tints. Some players are featured twice in the set with the two different cards depicting either an action pose or a portrait shot. A small number of cards are featured without the card number on the front and further, some players are featured twice playing for different teams.
The set is full of Hall of Famers including but not limited to guys like: Pie Traynor, Grover Alexander, Frankie Frisch, Jimmie Foxx, Bill Terry, Heinie Manush, Mel Ott, Lou Gehrig, Mickey Cochrane, Rogers Hornsby, Al Simmons, Hack Wilson, and of course, Babe Ruth. The list goes on and on.
In my experience, if we exclude the online option, these card are extremely difficult to find in person. Even online, while they are available, they are hard to find in top shape. I found my Mickey Cochrane at the 2012 National Sports Collectors Convention on a bargain table for just $20. While my example isn't the nicest one, it does lend itself to a nostalgic snapshot of a different time in the hobby. As stated above, these are a bit larger than your standard-sized card so optimal storage may present somewhat of a challenge. I like the off-centered profile and the rounded corners on my Cochrane and expect similar conditions should I find additional in-person examples in the future.
Pre-war era cards, such as those found in the 1931 W517 set, hold a certain interest to me in that they are exceptionally rarer than their post-war counterparts. It's also the fact that they had to endure so many life-threatening situations all these years. I can't even imagine how many of these cards were tossed out or otherwise discarded due to lack of interest or knowledge. I'd imagine this set is unknown to many due to its age and obscurity. Nonetheless, the set roster is legendary and could be respected by any collector.
To see what's currently on eBay from 1931 W517, click here.
---
Checklist:
| Card # | Player(s) | Card # | Player(s) |
| --- | --- | --- | --- |
| 1 | Earle Combs | 29 | Chick Hafey (St. Louis) |
| 2 | Pie Traynor | 29a | Chick Hafey (Cincinnati) |
| 3 | Eddie Roush (Cincinnati Uniform) | 30 | Melvin Ott |
| 4 | Babe Ruth (Throwing) | 31 | Bing Miller |
| 5 | Chalmer Cissell (Chicago White Sox) | 32 | Mule Haas |
| 5a | Chalmer Cissell (Cleveland) | 33 | Lefty O'Doul |
| 6 | Bill Sherdel | 34 | Paul Waner |
| 7 | Bill Shore | 34a | Paul Waner (NNO) |
| 8 | George Earnshaw | 35 | Lou Gehrig |
| 9 | Bucky Harris | 36 | Dazzy Vance |
| 10 | Chuck Klein | 36a | Dazzy Vance (NNO) |
| 11 | George Kelly | 37 | Mickey Cochrane (Catching) |
| 12 | Travis Jackson | 38 | Rogers Hornsby |
| 13 | Willie Kamm | 39 | Lefty Grove |
| 14 | Harry Heilmann | 40 | Al Simmons |
| 15 | Grover Alexander | 41 | Rube Walberg |
| 16 | Frank Frisch | 42 | Hack Wilson |
| 17 | Jack Quinn | 43 | Art Shires |
| 18 | Cy Williams | 44 | Sammy Hale |
| 19 | Kiki Cuyler | 45 | Ted Lyons |
| 20 | Babe Ruth (Portrait) | 46 | Joe Sewell |
| 21 | Jimmy Foxx (Jimmie) | 47 | Goose Goslin |
| 22 | Jimmy Dykes | 48 | Lou Fonseca |
| 23 | Bill Terry | 49 | Bob Meusel |
| 24 | Freddy Lindstrom | 50 | Lu Blue |
| 25 | Hugh Critz | 51 | Earl Averill |
| 26 | Pete Donahue | 52 | Eddie Collins |
| 27 | Tony Lazzeri | 53 | Joe Judge |
| 28 | Heinie Manush | 54 | Mickey Cochrane (Portrait) |
1931 W517