Have you visited our store? Click here.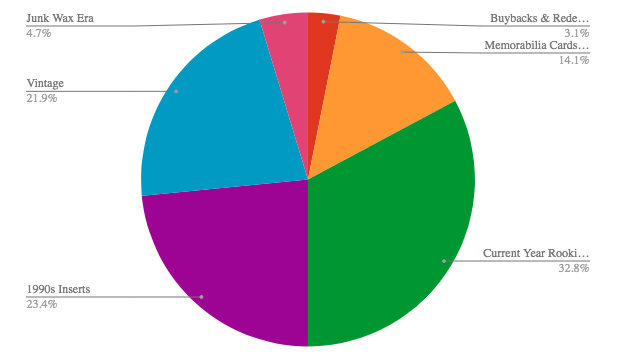 With 52 total voter submissions, our 2018 market research results indicate an interesting but not too surprising change in market trends. In 2017, the Memorabilia category came out on top with Prospecting falling right behind it. This year, Prospecting takes the lead with 1990s Inserts coming in second. Let's take a closer look at the results.
Current Year Rookies and Prospects:
32.8% of responses. This category will always be popular because it's what drives interest from prospectors. It's also fun to put together an entire Bowman Chrome run of the various colored refractors. With the continued success of the various Bowman lines and Topps Pro Debut, it's no wonder we see continuous strong market predictions in this category. We can also attribute the success to the running coverage on prospects and rookies as they perform throughout the year. For many collectors, this is an exciting place to be.
1990s Inserts:
23.4% of responses. Interest in this category continues to grow each year. As more and more memorabilia cards are pumped into the market each year and more and more of them go unsold in bargain bins, it's no wonder they've lost their luster. With dwindling interest from long-term die hard collectors, many have resorted back to their roots and now often collect the stuff they could never afford as kids. While I can confidently make that claim, I can also say this – insert cards from this era showcase some of the most beautiful designs to come out of any era of sports cards. 10 times out of 10, I'd rather appreciate a cards design than a chunk of jersey no matter how intricate the patch. The data here indicates I'm not alone.
Vintage:
21.9% of responses. Final sale values of high grade vintage cards continue to melt faces much like that of Major Arnold Ernst Toht at the end of Raiders of the Lost Ark. With rookie cards garnering the majority of interest, 5-figure+ sales are becoming more routine. I believe these figures will continue to grow as more of the high-end pieces end up in permanent collections and registry collectors get even more eager to finish their sets. Watching auctions has never been so interesting – even if I never intend to bid.
Memorabilia Cards (GU & AU):
14.1% of responses. This category is predictable. While it may not be of interest to some collectors, Mem. Cards are a staple in the hobby and are about as routine as they come. High end products continually use this tactic to draw interest and ultimately sales, which is a goal that appears to be achieved year-to-year. Collectors enjoy signed cards and intricate patch cuts, or at least that's how it looks. These strategies work well with marketing integration as they can make a seamlessly normal card a more desirable and value one.
Junk Wax Era:
4.7% of responses. As discussed in another blog post, the Junk Wax Era is generally considered to be between 1986 and 1993. While the print runs make much of this stuff hold very little value, collectors still enjoy rookie cards of guys like Jose Canseco, Greg Maddux, and Ken Griffey Jr. These are key rookie cards and they can be had for very little. Aside from that, the designs are nothing short of classic. With the tire track border on 1987 Donruss, the wood finish design on 1987 Topps, and the solid white card stock on 1989 Upper Deck, many designs from the Junk Wax Era have been used and reused in the hobby over the years. With the increasing possibility of Roid Era players achieving Hall of Fame status, many of their rookie cards, all of which are from the Junk Wax Era, are drawing more attention. This is particularly the case with high grade examples.
To see what's currently on eBay from the Junk Wax Era, click here.
Buybacks & Redemptions:
3.1% of responses. There's been a surge in Buybacks over the past 3 years. With products like Topps Archive Signature Series and Topps 65th Anniversary Buybacks, the availability of Buybacks has never been so abundant. For Player Collectors, this onset has, in some ways, either pushed your interest away or drawn you closer. Either way, you're now required to spend more money on the same card you've owned many times over. As for redemptions, there are some collectors that avoid modern wax entirely because they don't want to be stuck with the miserable situation of waiting for a redemption to be delivered – a task that can sometimes take years and with no guarantee you'll get what's stated on the card. It's no wonder this category comes in last this year.