Have you visited our store? Click here.

I had the pleasure of virtually sitting down with Jose Canseco
Super Collector, Aaron Hurrelbrinck. I'm excited to bring you this interview for two reasons, because Aaron's Canseco collection ranks amongst the best of them and because I've been bugging Aaron about doing an interview for a while now so in a way, I won! Ha! Nah, I kid. I've known Aaron since the start of Radicards® back in summer of 2010 and over the course of time we've become friends.
So Aaron, thank you for taking this opportunity to do this interview. Why did it take you so long to accept?
No reason in particular. Other than you wanted to do it via video! *Not really my thing.
At what age did you start and what got you into collecting baseball cards?
About 10 years old. Buying packs with the kids in the neighborhood from the local video rental store. Up until this point I probably hadn't had a whole lot of experience leaving home on my bike and exchanging money for goods on my own. So I guess I relate the whole experience to an exciting time in my life.
What do you like about collecting baseball cards?
The completion, the hunt, the deal, the organization, the documenting, the satisfaction, the enjoyment of sharing and friendships formed over the years. Also, the rush of a high stakes auction or desirable trade.
Why and when did you start collecting Jose Canseco?
Within the first few packs of cards I had pulled a couple Jose Canseco cards from different brands. I was drawn to the colors, his name, his style. I was talking to my Dad about my cards and my like for Canseco and he confirmed that he was one of the best by rattling off a few of his achievements; I was hooked! 🙂
What was your first Jose Canseco card, and how many unique Jose Canseco cards do you have now?
My first Canseco card was a 1990 Donruss
. Since then I have acquired it as a Recollection, an Aqueous, a Blank Back Test and a Paper Proof. Honestly I haven't counted my cards in years. Maybe 5000!? I did recently achieve a goal I had set for myself to hit 500 cards between my 1/1s, Autos, and Game Used by the end of 2015.
What are some of your favorites and why?
1st Set of 3
2009 Upper Deck Bat Barrel 1/5: Not only is this one of very few Canseco Barrels in existence: It is #1/5 AND as a bonus, it is from a BLUE JAYS gamer, which happens to be my favorite team he played on.
2012 Sportkings Spectacular Patch 1/1: I couldn't dream of a better Canseco card; not everyone is a fan of this brand but I absolutely love it. In fact I would Photoshop cards very similar to this before it was created! And the story of how I obtained it is unreal. We don't have enough time to get into it!
2015 Panini Immaculate Bat Barrel 1/1: To date this is Canseco's only 1/1 Bat Barrel card. It also happens to be from an A's gamer! The only time I had ever participated in breaks was to find this card! RIGHT before a break started I clicked on ebay and there is was, JUST listed! I had my son sitting right beside me, talk about an adrenaline rush! He is really starting to enjoy the cards too, not just opening packages 😉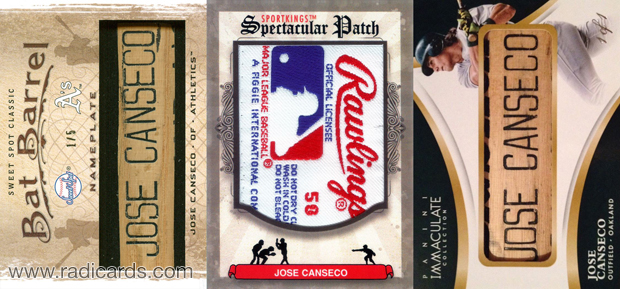 2nd set of 3
1993 Donruss Preview: My Mom brought me back up to the store to get it when my Dad couldn't talk the guy down! Love this memory and the card to go with it.
2014 Topps Triple Threads 1/1: Not a big card but it did complete a great rainbow! I landed it when I was vacationing with the family in the same place at the same time as when the product was released one year earlier when I bought some of it's counterparts.
2002 Topps Chrome Black Refractor 50/50: Not only is this card amazing to look at in person, it also happens to be his only Black Refractor and his only and lowest numbered card of him on Expos and being #50/50 it is the last of the last (time he was on a MLB team)!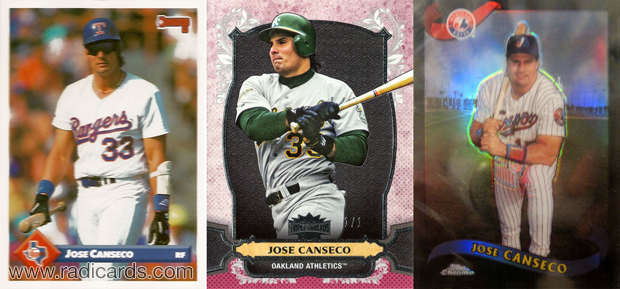 3rd set of 3
2014 Topps High Tek 1/1: Just an awesome acetate card with a great auto.
2011 Leaf Poker Stacked Deck: The best card out of the 52 card deck and what other Baseball player has a Poker card?
2014 Topps Own The Name 1/1: Dreamt of them doing a set like this for years. Glad I got the A and it happened to be the best deal in my collection at only $20!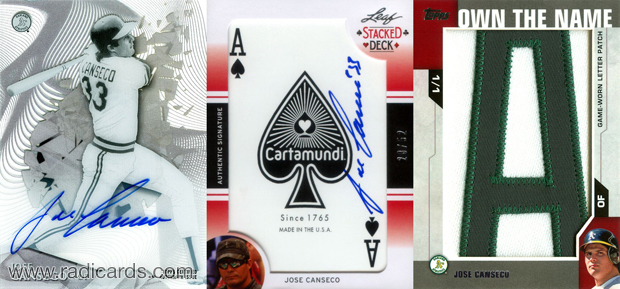 As with many extensive categories, we often have to pick a focus and stick to it. Do you have a focus in your collecting strategy and if so, what is it and why did you pick it?
I will satisfy those categories but within reason. I don't necessarily get a full rainbow of autos; sometimes I just grab one or two. I am more interested in the quality of auto on the card and patches nowadays. I try to focus on getting the best out there to the point where I will rebuy several times if I need to.
A lot of player collectors have cards that they feel were perhaps the most difficult to track down amongst all of the cards in their collection. Can you talk about 1-2 cards that you feel fall into this elusive category? Feel free to mention search duration, and any other details you feel necessary.
1996 Select Certified Mirror Gold; I am lucky to have it! I actually had passed on one years earlier for a fraction of the cost before I really knew what it was. Then there's the 1989 Score Promo; THAT was Amazing to land after years and years and years of high effort searching.
What are some cards for which you're still searching?
Nothing in particular. The things I really want I know where they are.
Do you collect anyone else and if so, who, why?
Michael Jordan Baseball cards. I am drawn to them! I had that 1991 Upper Deck Michael Jordan
baseball card when I was younger and thought it was Amazing! I started out 2015 wanting to collect his baseball cards and pretty much had them all within a few months. I would LOVE to add an Upper Deck black leather silver auto sweet spot of his.
If you weren't player collecting, Jose Canseco, who would you be collecting and why?
Maybe Mark McGwire. I have never had ANY regrets about collecting Jose Canseco, it's been an awesome ride!
Do you have any future plans for your collection, and if so what are they? Some people often mention an interest in building a website to showcase their collection(s), or creating a better system of organizing their collection, etc.
I have been known to reference my better stuff on www.canseco33.com. I have no plans for the immediate future on expanding it. Sure I have thought about it but, I have no desire at this point.
What was your favorite part of this interview?
Forcing me to think of a time when there was a lot to obtain and desire. I've managed to secure more high-end and rare cards then I could have ever imagined. Lots of great achievements and memories. It puts it all into perspective. If I could have told the 10 year old version of myself what I was getting into!
Is there anything else you'd like to say?
Nope 🙂
To view the current eBay auctions for Jose Canseco baseball cards, click here.