Have you visited our store? Click here.
Here's a quick rundown of what we've been up to over the past little while. This is a long overdue update so some of these line items may seem dated. If you were mentioned in this video, please let us know in the comments area.
1. The Forum: The Radicards® Forum has been retired. This was decided for a number of reasons:
Since its inception in last 2010, it's seen minimal use overall.
For its lifespan, it's caused a variety of headaches for us and a number of issues for users. We've spent countless hours maintaining it and have decided to sunset it.
To ensure ease of use and accessibility, we've migrated to a Facebook Group, a link to which is found in the footer.
2. The Store: A while back we announced that we're an authorized dealer of sealed wax. For a number of reasons, we've decided to go in a different direction and have sunsetted this initiative too. However, we have a bunch of new products in our store. Click on our Store link to have a look at all the new stuff.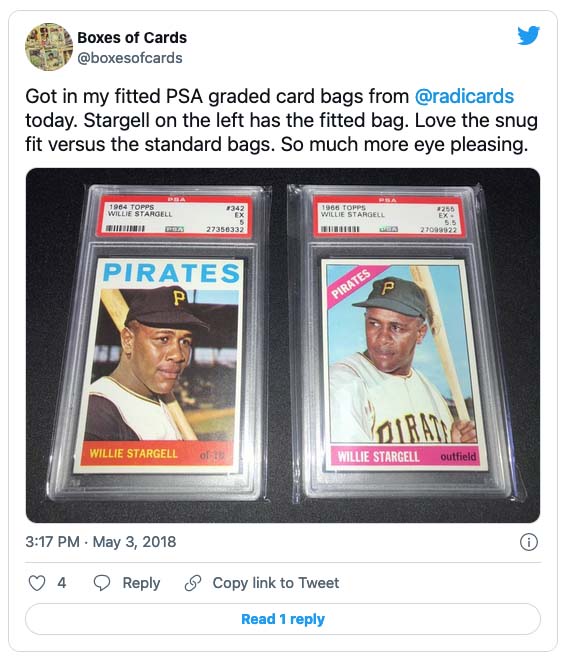 3. The Museum gets a One-Time Audit: It turns out, the dust removal option isn't at all ideal when scanning sports cards. If you have a similar option on your scanner, don't use it. If this option's enabled, your scanner won't pickup things like:
Hyphens
Parenthesis
Periods
High contrasty fonts without serifs
White buttons on black jerseys
Not every card depicting these things is impacted but the stuff that is features one of these characteristics. I've been inspecting every scan and noting which ones have been impacted. While the percentage of rework is small, it's still very annoying. Live and learn, I guess.
4. iTunes: In addition to them being on YouTube and the blog, our podcasts are now on iTunes.

5 Pinterest: We now have a Pinterest account: www.pinterest.com/radicards. So far, we're just pinning stuff we like, which includes of course, Frank Thomas cards. Please do feel encouraged to follow us.
6. Email: No more blank emails!
For years, we dealt with an issue of blank emails being sent out to senders. This issue has been fixed. You will not receive anymore blank emails when sending us messages direct through our email address.
7. Shout Outs: Thank You to the following fellas for sending me free stuff:
Mike Broxon: Thanks for the comment! I'm glad you like the site.
Cesar Carbajal: Thanks for sending me the couple Frank Thomas cards and miscellaneous packs.
Sean Fitze: Thanks for sending me the 1997 Topps Screenplays Tin (Pinstripes).
Brian Hayes: Thanks for sending me a few cards. Among them was an excellent hammered 1962 Topps Willie Mays.
Jarod Letcher: Thanks for the 1992 Front Row Frank Thomas.
Benjamin Martin: Thanks for sending me two signed cards for my 1981 Topps signed set – Garvey and Nicosia.
Chris York: Thanks for sending me the 2017 Topps '87 Topps Silver Pack Chrome Green Frank Thomas.
Ru Bin: Thanks for the 2018 Topps Photo Variation Frank Thomas you gave me at the National.