Have you visited our store? Click here.
---
Due to my weekend schedule, my Dallas Card Show attendance this time was only partial. While I was there the whole day on Thursday, I was late to arrive on Friday and I had a competing commitment on Saturday that required my attendance but was back at the show for most of Sunday. The smaller time meant I didn't get a chance to see the whole show. However, the stuff I did see was absolutely incredible and I made some amazing buys in the abridged time frame. Because my weekend had other commitments, I missed out on taking a pic for the header image, which is fine; you've seen them before and they aren't all that different from show to show. I also took much fewer pics this time. Going forward, any pics I take at the show will be stored and used for general blogging whenever needed. In any case, let's get to reviewing how well I did at this show. It was a good one!
---
Raw Pickups:
Here's the family of baseball cards discussed in the video. I'm still floored by the prices I paid for these. Admittedly, the signed Tom Brunansky card was a personal purchase and worth what I paid for it. As for the others, sometimes life exists in the clouds and in a way, I'm still floating around on those beautiful white pillows. While I'm up here, let's enjoy the beautiful sunshine.
Every card shown in the pics below was acquired for less than $1. You heard me. Here's the list: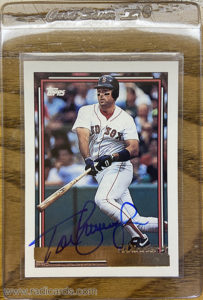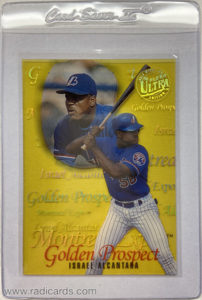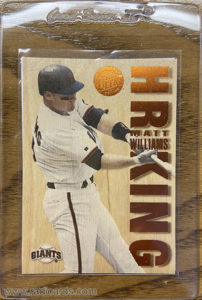 Tom Brunansky 1992 Topps #296 Gold Winners Signed

Back in the summer of 2008, I purged about 50k cards I carried through life since I started collecting some 20 years prior. All of it was comprised of commons and base star cards. I just wanted to downsize and refresh. After two deals, everything was gone. In the lot was a 1982 Topps Traded Tom Brunansky, which is a rookie year card. As research would have it later that summer, I'd regret letting this card go. Who knows why. I think it's because I saw the card's listing in a price guide and the card had more value than other common cards in the set of 1982 Topps Traded (minus the Ripken) I bought for $15 at a card show back in the mid 1990s so there was some sentimental value there. Anyway, I finally got another one about 10 years later from buying the 1982 Topps Traded set a second time (Ripken included). I don't even collect this guy but his name has since been associated with this one particular memory from all those years ago. Gosh, where does the time go; it feel like all this happened yesterday. So anyway, I bought this card as a reminder. Price paid: $0.50.

Israel Alcantara 1996 Ultra Golden Prospects Hobby #2 Gold Medallion

Back in 1996, I pulled a base card from this set, which is made up mostly of random guys who never panned out. It would be some years before I bothered to even research this set and learn the insertion ratios on them and their Gold Medallion counterpart, which were inserted into packs at a rate of 1:720 S2 Hobby packs. In the 26 years since this set was released, I've searched through millions of cards and have never come across a single example from the Gold Medallion set until now. Their incredibly impressive scarcity is likely at least partially due to the fact that the set doesn't have any big names in it so the cards just don't get the same exposure. It makes sense. Why bother with something few, if any, people care about? I care but I'm one guy. Anyway, I'm super happy to have at least one example of these 1996 Ultra Golden Prospects Hobby Gold Medallion parallels in my collection. Finally! Price paid: $0.75.

Matt Williams 1996 Ultra Home Run Kings #12 Gold Medallion

These 1996 Ultra Home Run Kings Gold Medallions have proven to be some of the hardest cards to find from the 1990s. This is one of my favorite sets from 1996. There's something about the flat bronze foil used to stamp the Gold Medallion logo onto the card coupled with the wood design that's just very appealing. I really appreciate the simplicity of these cards; they're very nice on the eyes. However, I rarely see them in the wild. The last time I saw one was at a shop back in 2010 and I bought that one too. Anyway, this one was found in a $1 box but the seller gave me a great deal on the stack I bought from him so this card was acquired for even less. While it's somewhat difficult to notice, slid behind this card is the letter from Ultra congratulating the collector on obtaining this card. I hadn't seen this letter previously so it made this purchase that much more special. Price paid: $0.75.
To see what's currently on eBay from 1996 Ultra, click here.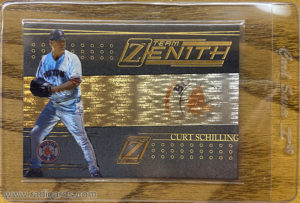 Curt Schilling 2005 Zenith Team Zenith #TZ-10 Gold /100

This is the card that prompted me to create a Curt Schilling section in my player boxes. I have some other minor inserts and I've always liked him so I thought it would be nice to have a section for him. I found this Zenith Team Zenith Gold in a bargain bin and it fit so well into my collection that I had to add it to the pile. Price paid: $0.25

Ryan Klesko 2004 Sweet Spot Signatures #SS-RK Glove /15

Okay, so I usually don't bother with cards like this but for the price, I simply couldn't pass it up. When I initially saw it, I put it back only to retrieve it just a brief moment later. Some of the design concepts of these Sweet Spot Signatures have proven to be problematic with time. The issue exists with the combination of pen stock and leather. Depending on the combination, the ink will either stand the test of time, or fade quickly. For example, pens on baseball leather tends to possess quality longevity, which is likely due to the textured surface of the baseball leather that allows the ink to settle into it better. With glove leather, however, the surface is much smoother and as such can pose long term ink issues. This one showcases that problem. The ink on this Ryan Klesko has faded to the point of vague obscurity. But again, for the price, I'll take it all day long. Plus, I like hand-written serial number that has, in fact, stood the test of time. Price paid: $0.75.
To see what's currently on eBay from 2004 Sweet Spot Signatures, click here.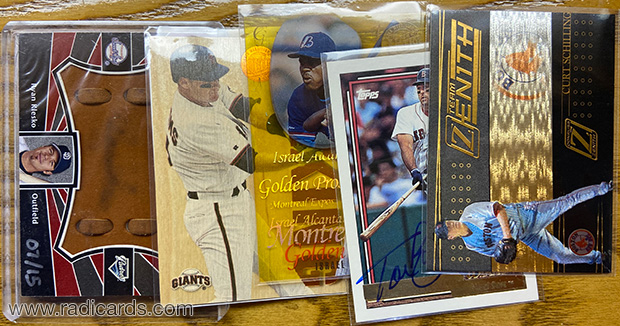 ---
Graded Pickups:
I've had a raw example of the 1994 Generation Extreme Tony Hawk since around 2008 and always wanted to have a graded one. I've considered sending mine in but grading has always been low priority so I just figured I'd buy a graded one at some point. Well, here we are. I saw this in a showcase and had to ask about it. I was expecting a higher price so I couldn't walk away without it. The seller informed me of the Dave Mirra, which was a little more given the grade but I bought that one too. Since Tony Hawk appears on a Sports Illustrated for Kids card from 1990, this card isn't a rookie card but it's still super rad! I like the mid-90s feel of the design too. As a skateboarder and general fan of action sports, these are perfect additions to my collection.
To see what's currently on eBay from 1994 Generation Extreme, click here.
---
In Conclusion:
The November Dallas Card Show represents the last big Allen show of 2022. It's been a great year for card shows and I've had lots of fun. Even though my attendance at this particular installment was only partial, I came out of it with some really great cards. While the stuff shared in this article represents my favorite pieces, I bought 400+ cards at this show. The whole block took a little while to organize, prepare, and file but all were hand-selected cherries from a few specific bargain bins.
I found one honey hole at this show that took most of my attention but the time spent was well worth it and I kept coming back to this seller's booth to buy more. He and I have built up good rapport at these shows. He recognizes me and knows what I collect so always makes it a point to share, or at least hint at what he's planning on bringing to future shows. It's really nice to make connections like this because it makes my job as a collector that much more efficient. Anyway, this seller has become one of my favorites and I look forward to going through his boxes at future shows. The point I'm emphasizing here is it's important to build connections. Be social, be respectful, see results. The world has a way of providing things when we ask for them.