Have you visited our store? Click here.

I should've taken the conventional hall corner photo on Friday instead of mid-day Sunday. You'll notice a few dealers have already left (far right tables). At least I remembered to take this photo during show hours.
This was the first time I attended the Thursday night sneak peak, which generally comes with minimal marketing. Being there the night before the show officially starts allows me to get a head start on the bargain bins. Granted, there weren't many of them on Thursday night since most of the dealers hadn't yet arrived. I spent $5 that evening and came up with a few classics from the Junk Wax era, which is a common theme in my collecting pursuits.
This show gets a little bigger every time it happens. Last time there was a breakout room for more dealers. This time, there was that same breakout room and an additional huge convention ballroom for even more dealers. It was like a super show and I expect additional growth over time.
As stated in previous articles, aside from my Frank Thomas PC, I collect items in four other categories: Vintage, Junk Wax, 1990s Inserts, and mostly obscure Graded. Here's how I did in those four categories:
Vintage:
Even with a modest budget, it's easy to find success in this category. Vintage HOFers can be had for as little as $0.25 and up. Prices are all over the board but I didn't spend more than $5 for most of the cards in the following image. Key pickups include a Robin Yount 1975 Topps RC ($10), an Eddie Murray 1979 Topps Blank Back, and ultra premium condition examples of a Rod Carew 1980 OPC and a Dave Henderson 1982 Topps RC. I'm really happy with how I did in this category.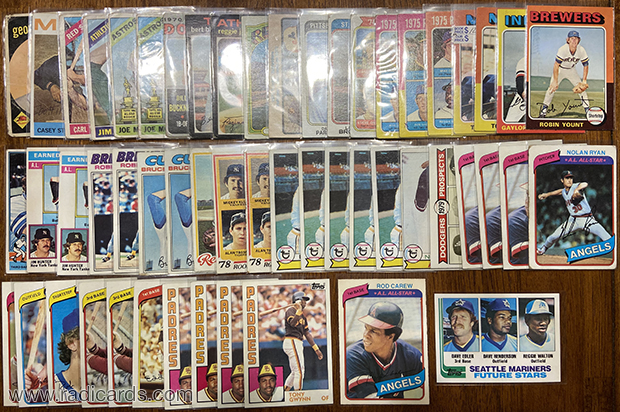 Junk Wax:
I did pretty well in this category this time; I had a harder time at the last show. I spent a lot of time digging around to pull this batch out of the show. The Manny Ramirez RCs were sitting in the same box over the past two shows so I figured I'd bring them home this time. The Alex Rodriguez RC were eBay buys but threw them in for good measure since they were sitting on my desk. Here's how I did: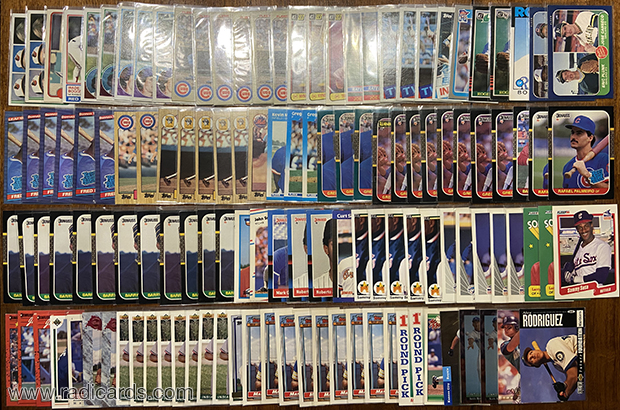 If you collected in 1990 and/or 1991, you'll appreciate these two signed rookie cards. These were found in two separate locations but I'm glad to bring them together for the perfect snapshot to a simpler time in the hobby. At one point, both of these cards were considered "hits." I'll always remember, fondly.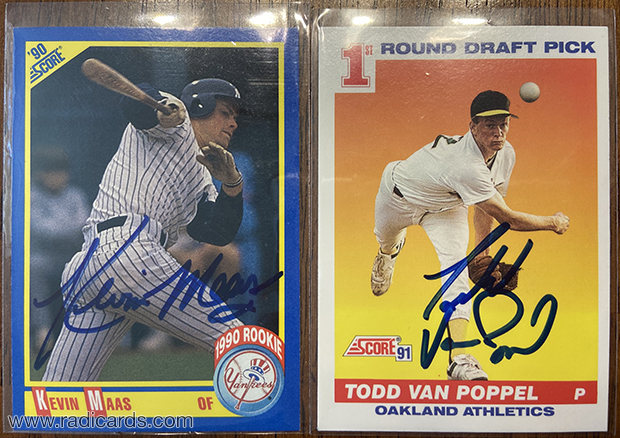 1990s Inserts & Other:
Take a moment to see what I have here. That Ken Griffey Jr. 1994 Leaf Gold Star Replacement is one of the most important cards I've ever found at a show. This item wasn't found in a bargain bin but where it was found certainly looked like one. I was about ready to pay whatever the seller wanted for that card. While this card was coupled with a stack, the sticker price was $40, which is what I'd have paid if it were purchased as a stand alone. Other notable items in this batch include a National Convention 1/1, a Roger Clemens sample card from the early '90s, and a minor league Derek Jeter card. All in all, I think I did pretty well here.
Graded:
My first big purchase of the show was a sparkled-out commemorative reprint of the Michael Jordan 1986 Fleer card for $25. Even though these were released through a Shop-At-Home television special in the late 1990s, I'd never seen them until now. A few versions exist but I only wanted one so I bought the one with a cool '90s design pattern.
I found a really clean PSA 8 example of the Ronnie Lott 1982 Topps RC. The seller had it marked at $100 and I was able to get it for $60 the following day. Like pretty much everything else, this card has come up quite a bit in just the past few months. Thing is, this card consistently suffers from centering issues. This particular example is beautifully centered and about as good as one can hope for in an 8. To be honest though, it looks nicer than some 9s.
I go through lots of low end graded card boxes at shows like this. It's common to walk away empty handed but sometimes I come out with some winners. One box had a series of minor league Juan Gonzalez cards, a Kevin McReynolds 1984 Fire Safety card, and a Mark Trumbo 2011 Topps Diamond PSA 10. My offer of $15 for the stack was accepted. Most notably was the Trumbo card for $2, which is hilarious given the hype around him back in 2011. Another dealer had minor league cards of Jeff Cirillo and Jason Kendall so I grabbed those two for just a few bucks a piece. Here's everything in one place:
Basketball & Football:
I've recently grown more interested in cards from other sports. I now look at pretty much everything. Notable pickups include a well-loved Scottie Pippen 1988 Fleer RC, an Alonzo Mourning 1992-93 Topps Gold RC, and an Anfernee Hardaway 1993-94 Stadium Club 1st Day Issue RC. Here's the run: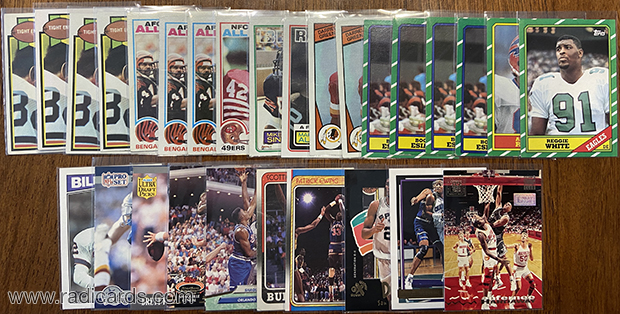 ---
In Conclusion:
As expected, the March 2021 installment of the Dallas Card Show was excellent. The show gets bigger with each passing date. What this means is that future dates are expected to feature even more dealers and attendees. Eventually space will become an issue but I'm confident the show organizer will work around it. If you haven't yet attended the Dallas Card Show, it comes highly recommended.
Other Things We Do:
Thursday through Saturday were spent digging while Sunday was primarily spent shopping our products around to dealers and building new business relationships. This is a hustle but it's part of what I do at these shows. As you might know, my company serves the B2C and B2B markets with a line of fitted and branded products. If you would like to learn more, click the Shop link in the header.
---
Image Gallery:
Here's a gallery of photos of nice things I saw at the show: