Have you visited our store? Click here.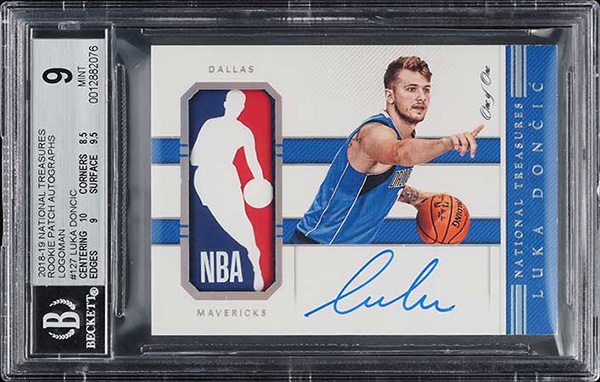 Sold: November 17, 2022
Price: $3,120,000
Back in February of 2021, this Luka Doncic 2018-19 Panini National Treasures RPA Logoman 1/1 sold in a private auction for $4.6 million and at the time, it was the highest price ever paid for a modern sports card, a term that's subjective to the current era. Admittedly, 2021 was a time when records were being set and broken in record times for many months straight. But trends like this don't typically possess long game stamina and are often tamed by market corrections on the near horizon. But that doesn't mean records still can't be broken.
Well, here we are just barely 21 months later and this card makes its way to a public auction with PWCC and, at the time of this writing, holds the record for the most ever paid for a basketball card in a public auction. No doubt this record will eventually be broken but it's nice to see such handsome prices paid for such fine trading cards.
To view the current eBay auctions for Luka Doncic basketball cards, click here.