Have you visited our store? Click here.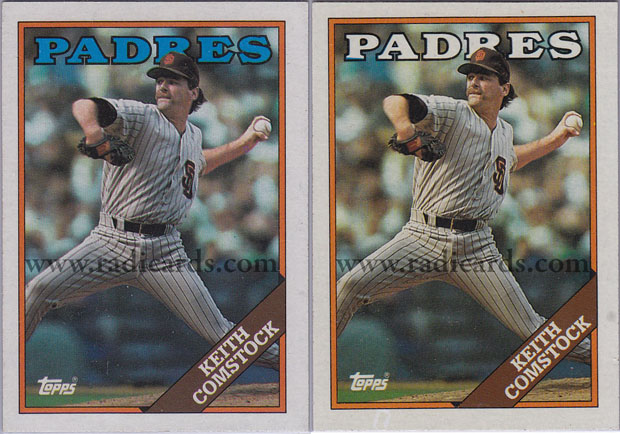 Let's flash it back to 1988, a time of hobby simplicity and print runs in the billions. 1988 Topps is special to me because it was cards from this set that composed my very first acquisition of baseball cards in 1988. To me, sentimental value vastly outweighs monetary value here. That aside, here we have a particular error that I overlooked for a very long time, I'd say the better part of 20 years. This is the Keith Comstock 1988 Topps #778A.
This was another one of those errors whose price guide signifier is somewhat ambiguous. The ERR WL signifier can be somewhat confusing if you aren't really sure that the acronym WL actually means White Letters. This color error drives its value to 40x that of its corrected counterpart (left). It's a bit tougher to pull if you're going that route. I say pick one up on the Bay if interested. An interesting fact about this card is that it's the only Comstock card listed in the entire price guide. What this means is that it's the only one that surpasses the "common" listing by possessing enough demand to actually hit the price list alongside all the major stars. I'm not saying Keith was a star, in fact, he wasn't all that good. But his talent (or lack thereof) isn't what got him listed in the price guide, it's this silly little color mishap that helped push his personal brand. Sadly, I think this is the only reason why anyone knows who Keith Comstock is at all in the hobby.
To see the current eBay auctions for the 1988 Topps Keith Comstock, click here.