Have you visited our store? Click here.

In 2010, Jason Heyward experienced his inaugural working year in Major League Baseball. That said, the baseball cards produced that year depicting his likeness showcased the "RC" symbol to signify his rookie year making them Rookie Year cards but he showed up in licensed cardboard as early as 2006.
Jason Heyward first appeared on baseball cards four years earlier in 2006 Topps Aflac, in which he actually appeared twice – on the base card and the promo. The 2006 Aflac cards qualify as his true rookie cards even though he wouldn't reach the professional level for another four years. Heyward appeared again in a variety of major releases in 2007 and 2008, and some minor releases in 2009. While interest was picking up steam during those years, it wasn't until 2010 that his cards really took off.
He appeared at a time when significant interest was drawn toward guys like Stephen Strasburg and Bryce Harper; two of baseball's most exciting talents at the time and my oh my how the interest surged. What a great time it was, the summer of 2010. The hobby boomed from the interest in these three fellas and lots of money was made both in the sport of baseball and in the hobby of baseball card collecting. It seemed like almost weekly, the SRP increased for packs of 2010 Bowman Baseball.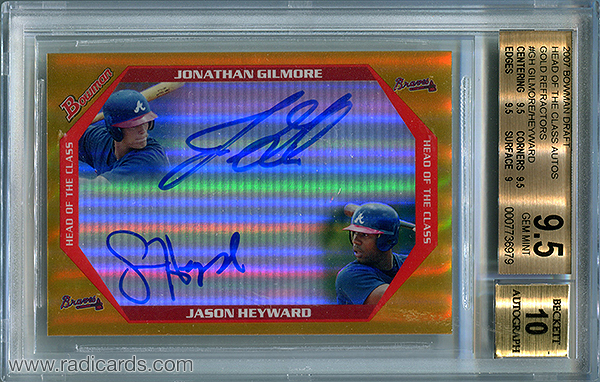 Heyward's cards would draw attention but unfortunately it wouldn't last. His draw has softened over the years due to lackluster performance and a series of trades. As of the result of the 2016 World Series, however, he now possesses a WS Ring. The upside to collectors, if you're in it for the pure joy of collecting, is that his cards have become much more affordable. The downside, of course, is that until performance improves, resale on his cards may not draw a strong ROI. As it stands, one can only hope to break even.
I don't wanna be Negative Nancy here. I'm rooting for Jason Heyward to enjoy many successful years as a professional baseball player. While his numbers haven't indicated high expectations for tomorrow, I'm not one to give up hope on a guy. The professional level is ultra competitive; I can only imagine the stress some guys experience at that level.
Anyway, here are a few Jason Heyward cards I've picked up over the past few years. I'm proud of these acquisitions and may pick up more if my interest is sparked and the price is right. As many of you know, if it's not Frank Thomas, I'm incredibly picky with what I buy. These cards made the cut and I'm glad to have them in my collection.
What do you remember about the 2010 baseball season?
To view the current eBay auctions for Jason Heyward baseball cards, click here.