Have you visited our store? Click here.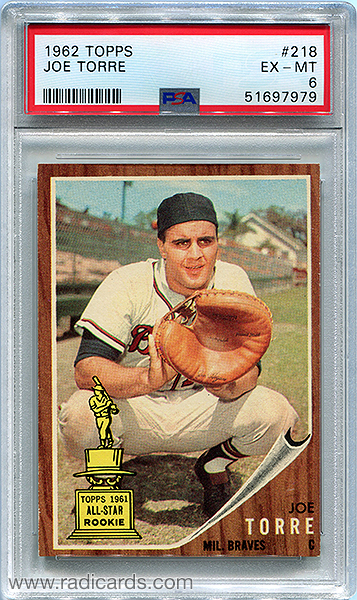 1962 Topps is a 598-card set with standard 2.5″x3.5″ dimensions. The set design features a warm woodgrain background, which has helped make the set a collector favorite. The set contains a variety of subsets featuring: World Series, In Action, NL and AL All Stars, Rookie Prospects, and Babe Ruth. A variety of photo variations exist and all cards in series 2 come in two versions – standard and green tint. The Green tint variations were caused by a flaw in the printing process that occurred early in the S2 run. Hal Reniff appears twice in this set; cards #139 (shared with Babe Ruth) and #159. High numbers (523-598) were printed in shorter supply than other cards in the set. 1962 was the first year Topps produced multi-player Rookie Cards and the multi-player Rookie Parade subset (591-598) are considered the rarest cards in the set. Cards were released in 1-card penny packs, and 5-card nickel packs (24/box). Key RCs include: Lou Brock, Gaylord Perry, Tim McCarver, Joe Torre, Bob Uecker, and Jim Fregosi (for the Angels fan).
To see what's currently on eBay from 1962 Topps, click here.