Have you visited our store? Click here.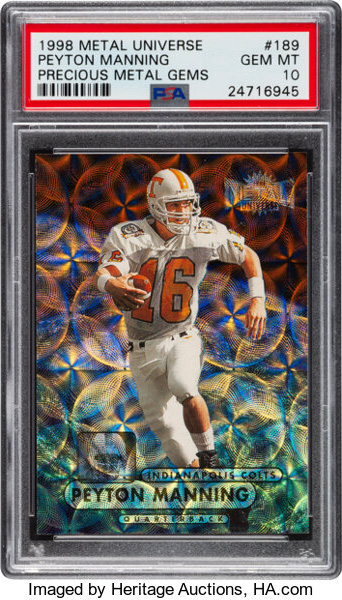 It's literally impossible to keep track of all the amazing cards that have surfaced and sold over the years so every now and then I search the web for interesting sales to share with you. In a recent search for something somewhat unrelated, I came across this amazing PSA 10 example of the Peyton Manning 1998 Metal Universe Precious Metal Gems RC. This is one of Manning's best RCs and it surfaced right around the time when the hobby was really starting to heat up and sale records were being broken on a weekly basis. Even so, when I found this listing, I was surprised by the somewhat modest end price.
The pandemic spurred all manner of strange hobby behavior from random grading companies coming out of the woodwork, to new people in the hobby spending all their money on the current hyped prospects, and endless "investment" chatter. 2020-2022 was an interesting time to be a trading card collector. These days, the dust has settled, most of the garage band grading companies have gone out of business, many of the new kids on the block have left the hobby for other pursuits, and things have pretty much returned to normal. However, new highs now exist on many key issues from the 1990s and PMGs are now landing in the stratosphere. A card I once bought for $40 in 2010 now brings well over $10k in 2023.
This Peyton Manning 1998 Metal Universe Precious Metal Gems closed at just over $10k back at the end of 2020 and it leaves me wondering what it could've brought if it were sold just one year later smack dab in the middle of the pandy spike. Given the condition sensitivity of 1998 Metal Universe PMGs, PSA 10s are super tough to achieve, which is why I'm so floored by this Peyton Manning 1998 Metal Universe Precious Metal Gems PSA 10. It's such a choice card and if listed today would likely close for a figure that would obliterate the 2020 sale price.
Sold: December 11, 2020
# of Bids: 30
Final Price: $10,500
To view the current eBay auctions for 1998 Metal Universe PMGs, click here.