Have you visited our store? Click here.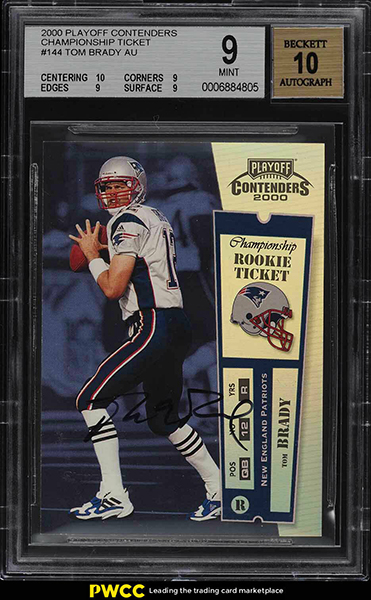 This Tom Brady 2000 Playoff Contenders Championship Ticket, while serial numbered to 100 copies, just sold for over $400k.
The Playoff Contenders stuff is the Bowman Chrome of the football market. Collectors love these cards and rightly so. They always feature excellent designs and player photos, autographs, and just a couple parallels per card making them interesting enough to draw attention without being overwhelming. That is, of course, if you have enough foresight to pick up on productive players right when they enter the NFL. Since most of us can't read the future, don't feel bad if you're late to the game with Brady; you're not alone.
Due to the design of the Playoff Contenders release, these cards are susceptible to chipping and other condition flaws, making high grades a rare commodity. This example achieved a 9, which is a premium grade for this card. It's not uncommon to find this card in lesser condition and coupled with a significantly smaller price tag. However, Tom Brady rookie cards sell exceptionally well in any condition.
Cards like this Tom Brady 2000 Playoff Contenders Championship Ticket rookie card are bringing serious attention on the auction block. Here are the results of this example:
Auction Results:
Sold: February 25, 2019
# of Bids: 118
Final Price: $400,100
Tom Brady has been a popular quarterback since day one and has since become a household name. Playing for the New England Patriots his entire career speaks of his on-field value. Among his many accolades, Brady has 6 Super Bowl championships to his name making him one of the most accomplished athletes of modern time.
To see the current eBay auctions for the 2000 Playoff Contenders Tom Brady, click here.