Have you visited our store? Click here.

This article was originally drafted exclusively for the November show but life happened and then another show took place, which I also attended. That said, I've coupled content from both shows into this article. And for good measure, some of the mail that has arrived over the past couple months has been included in the photos.
Okay, so for those who aren't already aware the card market in Texas is incredibly robust. It's like nothing I've ever seen but comes with romantic memories of hotel ballroom shows from the mid-late 1990s. Gosh, what good times. The hobby culture in Texas is one of the main reasons I moved my company here. The Dallas Card Show is like a mini National and it happens multiple times a year. What this means is I don't have to wait a full year to experience a large show. Additionally, another group organizes a variety of smaller shows throughout the year. It's just a really welcoming place for card collectors. Life is way too short not to enjoy a place like this even if nothing more than a short visit.
Last month I attended the November 2020 installment of the Dallas Card Show and saw lots of amazing things. I saw a LeBron James RC and a Pokémon card with $35,000 and $75,000 respective sticker prices! And… both cards collected lots of interest from a variety of prospects. You have to stand in awe of stuff like that even if you're nowhere near prospect status. I don't do the Pokémon thing but totally respect its market popularity and long term value potential. Some of the graphics are pretty endearing too. In overall essence and from an economics standpoint, there's really no difference between Pokémon cards and those from the 3-4 major sports – they're all trading cards.
Since I've attended countless shows over the years and given the November date was a multi-day show, I kind of had an idea of what to expect. The Delta Hotel has a large convention hall, which makes for an excellent show venue. If you've ever attended a show of any sort in a convention hall, you know that while there are food options on the show floor, the prices are often very high. While I certainly appreciate the close proximity, I was fine making a protein shake in the morning before heading out and throwing a few granola bars in the trunk to get me through the day without dipping into my show budget. This worked for me and I always made something nice for dinner upon arrival home each night. Everyone does their own thing; this is what works for me. One of the nights had me joining some good company at a local Italian restaurant but I returned right back to the venue immediately after to check out one of the vendor nights.
As a VIP attendee, I had access to some additional schedule items such as early arrivals and vendor nights. I dig the perks and am usually willing to pay a little extra for them. I attended the vendor night on Saturday, which was a fun gathering of card collectors and investors. Everyone had really nice things in that room. I stayed for a bit, took a few pics, and went about my evening. The next morning, I heard that some of the enterprising young men at the previous evening's vendor night transacted up until 7a that morning. With a show that begins at 930a, this kind of schedule would instantly turn me into a completely worthless zombie. However, I envy those who can maintain it. Everyone seemed to enjoy themselves and that's really what matters most.
If you've viewed my content over the years, you may have picked up on what I like to collect – Frank Thomas, 1990s Baseball Inserts, and Junk Wax RCs. Over the years, I've added a few items into the mix such as beater vintage HOFers, vintage baseball literature, and the occasional high grade vintage pickup. I make it a point to find a little of each at these shows. Here are some of the highlights from the two shows: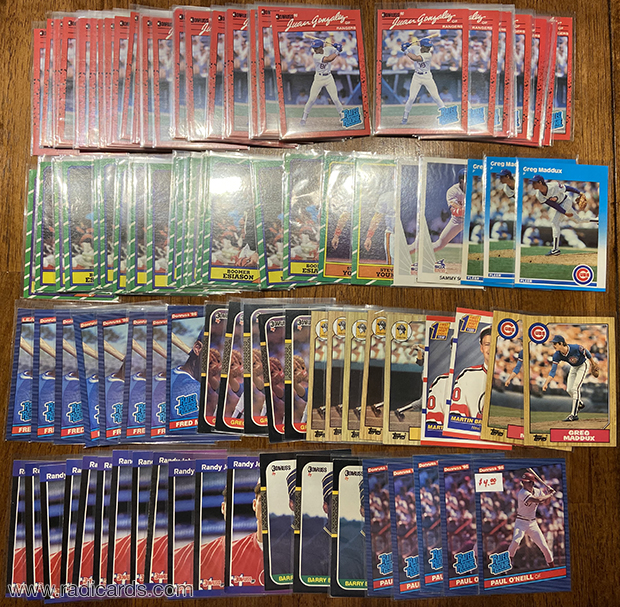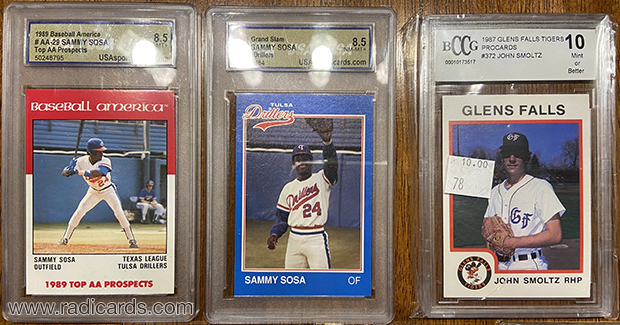 Ok, so stories about specific cards found at the November show. You ready? Here we go.
Gary Sheffield 1989 Score Young Superstars I BGS 9.5: You know that time when you overlook something at a multi-day show and then that night decide you actually want to own it? Yea, that was me with a Gary Sheffield card. On Friday I found a single-row graded card box that contained low-end or otherwise affordable graded cards. In it I found a Gary Sheffield 1989 Score Young Superstars I BGS 9.5 with all 9.5 subs. When I saw it I really couldn't believe it was available for just $5 but put it back in the box because I assumed at some point I'd grab a PSA 10 example. Well, later that night I considered the odds of including a PSA 10 in my collecting pursuit checklist and they were very small so I figured I should go back and grab the BGS 9.5. I searched for that box throughout the remainder of the show and didn't find it again until late Sunday afternoon. I was relieved because up until then I just assumed it was gone.
To see the current eBay auctions for Gary Sheffield baseball cards, click here.
Bruce Sutter 1977 Topps PSA 9: I've been collecting raw examples of this card for years. I just love the set and colors on this card; it's a classic. Over the years, I've casually looked at graded examples. Centering issues are my biggest hangup with vintage and 1977 Topps is littered with them. I'd take a crap condition vintage card with beautiful centering over one in mint condition with crap centering all day any day. Well, this PSA 9 is nicer than some 10s I've seen. The centering achieves perfection and the colors are solid. I've seen examples with slighter richer colors but this one is still really nice; I'd give color a 9 with everything else a 10. As soon as I saw it, I had to have it and the attractive price tag made it happen.
To see the current eBay auctions for 1977 Topps baseball cards, click here.
Curt Flood 1958 Topps PSA 2: As some of you might already know, this is Curt Flood's rookie card. You might also know Flood's responsible for introducing free agency into professional baseball.[1]How Curt Flood Changed Baseball and Killed His Career in the Process. www.theatlantic.com Yea, even if not a Hall of Fame player, he's a Hall of Fame person. So anyway this PSA 2, which was found in the same box as the Sheffield, caught my attention because it has superb presentation quality for being such a low grade example. The only real noticeable issue is centering but even that's not all that bad at around 70-30. Aside from that and although the other characteristics aren't perfect, it is a very strong 2. I was happy to add this for a cool $10.
To see the current eBay auctions for Curt Flood baseball cards, click here.
Honus Wagner T206 Reprint: I've picked up a couple different reprints of this famous card over the years and figured this add would be a nice complement to the collection. The seller had several boxes containing random sports memorabilia such as signed photos of players most of us have never heard of, retired bikini models from the Saved By The Bell era of the early 1990s, books, magazines, etc. It was a hodge-podge of miscellaneous sports whatever. One of the boxes contained a small stack of these so I just picked one with good presentation value and here we are.
To see the current eBay auctions for T206 baseball cards, click here.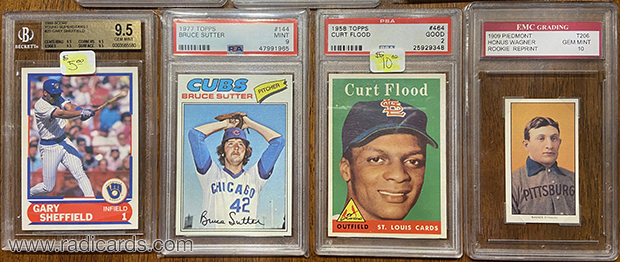 Back in early 2018, I decided to put the breaks on post-career Frank Thomas cards because, quite frankly, I just cannot keep up with all that's released every year. That said, I didn't acquire any Frank Thomas cards I needed at this show. I was, however, completely happy with the stuff I did end up buying. You can always enjoy yourself even if you're not pursuing your primary collecting goals. I have enough side projects to keep me plenty busy at shows like this anyway.
---
Image Gallery:
Here's a random batch of images I took of items I saw at the shows that I either found interesting or just plain cool. Have a look.