Have you visited our store? Click here.
2012 National Sports Collectors Convention
Baltimore, MD
8-4-2012 Day 5:
Day five was another great day at the show. Sadly, it was also the last day of the show.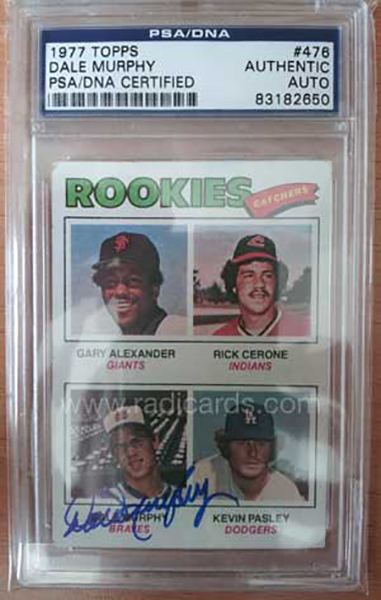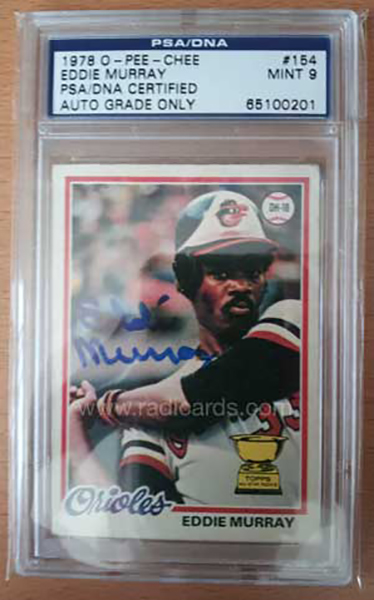 As soon as we walked in, we headed right over to the table that was said to have had a bunch of Thomas cards. I went through the meager stack that they had and picked out just one card. Due to the confusing nature of this particular release, and regardless of the fact that I think I already had it, I bought it anyways. It's the 1996 Ultra HR Kings Redemption card. This card wasn't checked off of my list because for a while there, I wasn't sure what was what with that issue. There are five different versions of that card. I am now missing just one. The search continues…

After the quick, and only Thomas pickup of the day, I immediately went over to PSA to see if my signed Eddie Murray OPC Rookie was available for pickup. Although it wasn't ready for pickup at 10a, it was at 1p.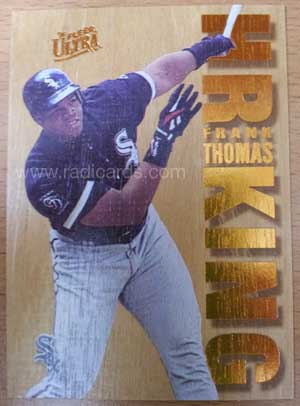 I had my eye on two cards at the show that I had discovered during previous days.
Signed copy of the 1966 Topps Fergie Jenkins RC – PSA Authenticated
Signed copy of the 1982 Topps Traded Cal Ripken – PSA Authenticated
Due to the massive size of the showroom, I was on a mission to find those cards again. I didn't make a mental note of where the dealers were when I first discovered them so I went the old fashion way of searching; I walked down each and every row one by one until I found the dealers. This strategy works every time. I am now the proud owner of these two cards.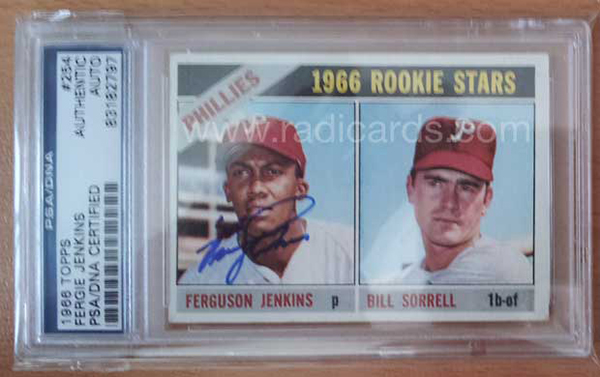 The dealer that had the Jenkins RC also sold me the Dale Murphy RC AU that I posted in a previous entry. Well, when I finally found his table again, I compared my Murphy with the other copy that he had in his display case and because the other one had a stronger signature, I asked if I could swap them out. His willingness to accommodate my request was something for which I was very grateful. Extremely pleased with my purchases, I continued to shop around.
Due to the location of the show, by default, I was exposed to many Ripken cards. If I was a Ripken player collector, this would be the ultimate place to be. Because I had already secured two very important Ripken cards, I figured I would attempt to acquire more of them. I have decided, however, to stick only with rookie and minor league cards. This is a manageable focus and a realistically feasible goal. I have rules for my new goal:
1. They must be high grade, PSA only
7's & 8's minimum for minor league cards
9's & 10's for RC's – preferably 10's
2. If signed, they must be authenticated, PSA only
Along with their signatures, minor league cards themselves must be authenticated
Signatures on RC's must be authenticated
Those are my only two rules. I may bend these rules a bit but I am at least going to try to stick to them. This is a somewhat lofty goal given that Ripken has a relentless following, and hence these cards aren't cheap. No matter, in my opinion, Ripken cards make fantastic additions to any collection. We'll see how far into this goal I can get.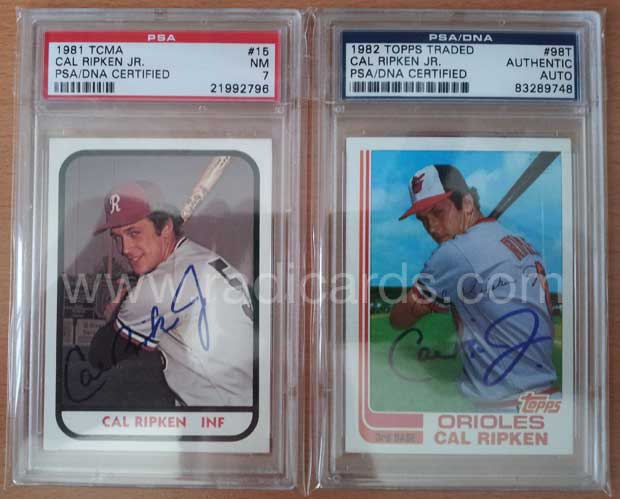 I did find a blue minor league Ripken card that I believe is the scarcest of all of his minor league cards. This particular example was a PSA 8 and the dealer wanted just under $6K for it. Still learning about this particular card, I wasn't really sure if that price reflected fair market value. Even so, I couldn't finance it with the meager budget I allotted for the show. In retrospect, however, I should have gotten that dealers contact info so that I could possibly reach out to him in the future. I consider this a lost opportunity. No matter how rare, I am convinced that I will see that card again.
As you may know, I have a soft spot for bargain bins and $1 cards. I cherry picked a short stack of autographed cards at the show. The composure is mostly '80's and '90's rookies. I would like to upgrade to authenticated autographed versions of all of my many low-end rookie cards. This is just a side project. I purchased many raw autographed cards at the show, and figured that I would sub a few a month. This will also provide me with an opportunity to learn about the many different autograph stiles and what to look for in terms of period signatures. I see it more as a learning experience more so than a total collection. There will be no end to this project; it will just be education.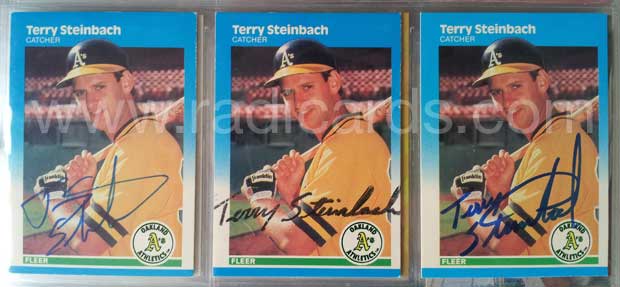 The five hour flight back to Los Angeles gave me a chance to reflect on the incredible week at the National. I saw amazing things, and made a bunch of new friends. I am already looking forward to the next time I can attend the National Sports Collectors Convention.
Until next time, enjoy collecting!