Have you visited our store? Click here.
Today was a great day for a lot of reasons. As soon as we got into the showroom, I went straight to a dealer that had some oddball Frank Thomas items. While some of them weren't terribly rare, I went ahead and grabbed them all in one batch. What was acquired there were some King-B disc proof squares, Jimmy Dean oversized proofs, an interesting '92 High 5 variation, a postcard, and a unique poster cut out card that was smaller than standard size and resembled the '56 Topps set in vertical orientation. I'm still not sure what it is but I'm always excited to find something new.
One thing about this show that I absolutely love is seeing things I never thought I'd ever see before. Sometimes I see rare or significant cards in quantity, or even extremely high grade vintage cards or modern cards. Here are some of the notable items I saw today:
I was shocked to see this many 1979-80 Wayne Gretzky
Rookie Cards all in one place. I was so impressed with this gathering that I had to preserve it with this photo.
Here's a triplet of cards that for which and at this moment in time, I'd feel at least partially confident in assuming a $40,000-60,000 valuation: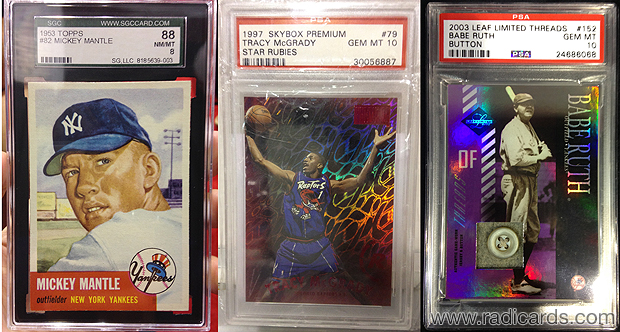 I was given a balloon by one of the beautiful ladies at Pristine Auction and it came with a clip so I figured I'd make the most of this balloon by writing the phrase, Buying Frank Thomas Cards? on it. I walked around with the balloon clipped to my bag and floating above me. This helped for two reasons: To make finding me easier to do, and to market my wants to the community around me.
I walked around the showroom and asked literally every dealer I saw if they had any Frank Thomas cards. After a while, people started to know me for this and this little balloon reinforced that. Some guys came up to me with stuff I already had and others had stuff I bought then and there. Watch the video above to see what I acquired with what I believe is at least partial help from this balloon. I think more of this kind of marketing will be implemented in future shows. Perhaps I'll just get a shirt made with a similar slogan and high contrast colors. The balloon idea was a great placeholder that did its job.
My goal for Day 2 was to quickly review as many showcases on the showfloor as possible in search of high end Frank Thomas cards. If there were cards in that room that I needed, I wanted to knock them out as quickly as possible. My method here was to do the big work first and then play with details later. Today was a success in this capacity. Watch the video to see what I acquired.
I've made considerable progress and have stayed focused, which is absolutely paramount at these shows. It's very easy to spend all of your money if you don't have a focus. Aside from Frank Thomas, I'm buying cards for sets on which I'm working, and some late '90's and early '00's baseball inserts that catch my attention. I'm not going crazy with these and only pick them up serendipitously.
Something else I love about this hobby is the strong sense of community that exists between many collectors. It's almost like we're instant friends. I've met so many great people online and in person. Thank you, Daniel and Benjamin.
To view the current eBay auctions for 2015 National Convention Promos, click here.