Have you visited our store? Click here.
The final day of the National Sports Collectors Convention is always somewhat of a somber one. In a lot of ways, I never want a convention like this to end. After nearly 40 solid hours of sorting through cards, my right forearm was in quite a bit of pain on Day 5. However, I knew the time had come for a break.
We reach the convention hall at the standard entrance time of 930a and leave by 230p to allow for enough time to get to the airport with some time to spare for a meal. In that 5-hour span, I was able to grab a few more pieces for the classics collection but for the most part, I caught up with dealers and took pics of stuff I'd probably never own. Even with the limited time, it was another solid day. Here's how it went down:
I check out of the hotel to drop my bags at the front desk (so I don't have to carry them through the show) and meet Dan at the VIP line. As I munched on an apple, I stood in anticipation of what the day would bring. At 930a, the doors open and the line walks in. A friend tipped me off the day before that Baseball Card Exchange was selling Dan Marino and John Elway RCs at its booth for just $10/ea. For two days straight, I picked up one of each of these key rookie cards.
After I grab my rookie cards, I head over to one of the dealers who indicated the day prior they'd have some Frank Thomas cards for me to see. I first had to remember where they were located. Luckily, I found them and had a look at what they had. I had everything in the box but cherry picked a small number of doubles I just plain like. The price was right so I made the purchase and carried on. I then visited a few booths as I walked for two reasons: to sift through bargain bins, and to take pics of amazing pieces. Here are those pics: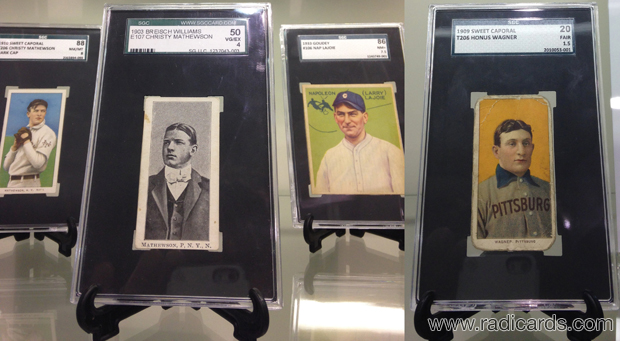 I've seen each of these cards before but am always impressed by them. I really dig the suit worn by Christy Mathewson in the second card. People seemed to dress much more formally back then. A part of me wishes that trend never stopped.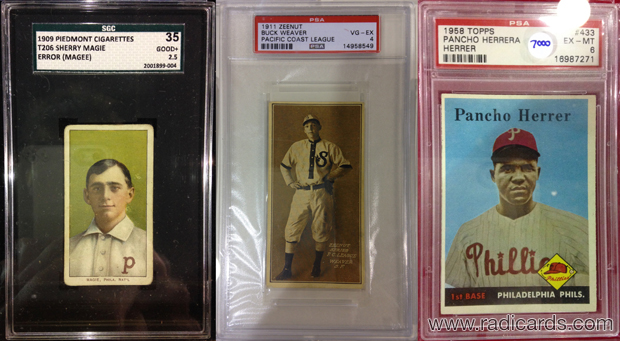 The 1958 Topps Pancho Herrera Error with the missing 'a' at the end of his last name is exceptionally rare. I became aware of this variation back in 2014 and haven't forgotten about it. It was nice to see one in person. That alongside the Magie error and this peculiar Buck Weaver card were interesting to see up close.
To see the current eBay auctions for the 1958 Topps Pancho Herrera, click here.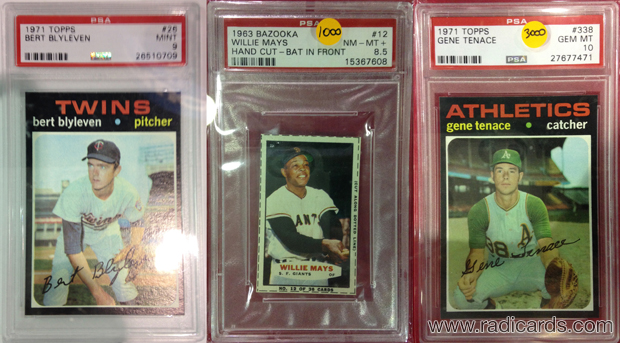 The 1971 Topps Bert Blyleven is one of my favorite rookie cards from the 1970s. This is the first PSA9 I've ever seen but then again, I don't actively search for graded examples. The Gene Tenace is a common but it being a PSA10 is a monster. I rarely see PSA10s from 1971 Topps because of the problematic black borders. The Mays in the middle was a new one for me.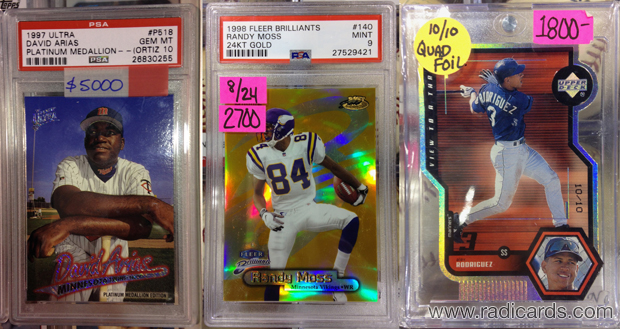 Getting a pic of the 1997 Ultra Platinum Medallion David Ortiz card was a bit of a challenge. The seller was very cagey and I felt like he saw me as a threat to his inventory. I have no idea why; I'm just a guy looking for pics of rare pieces for his website. He was nice enough to allow me this pic, which I'll gladly accept. The 1998 Fleer Brilliants 24k Gold Randy Moss and the 1999 Upper Deck View to a Thrill Quadruple Alex Rodriguez sat side-by-side in the same showcase but I had to take pics of both since they are rare examples from parallel sets I almost never see.
Here's one that floored me. BGS Black Labels are very difficult to achieve. When they're coupled with monster cards, they're highly intriguing. This is one of those instances.
You'd think base cards would be easy to find, right? This is typically what I think but this Frank Thomas base card from 2004 E-X took me many years to find. I searched everywhere for an example of what the card looks like and even that didn't return any results. One seller had an entire table run of boxes sorted by player all for $0.50 and up. I went straight to the Frank Thomas section and there it was, the 2004 E-X Frank Thomas base card for $0.50. She had two copies so I grabbed both.
At 230p, Dan and I decide to retire back to the hotel to get our bags and begin our trek back to the airport. After about 2 hours, we arrive at our gate. Our flight departs at 720p but we both preferred to arrive early than be stressed out trying to arrive on time. That said, we had some time to spare so we got something to eat and reflected on our experience at the show. Dan and I were starting to fade a bit. I had just spent the past 4 solid evenings hustling. My schedule went like this:
820a: Wake up, prep and be in line by 9a
930a: Enter the show floor and take pics and find stuff to buy for the collection and blogging
6p: Return to the hotel to eat
7p: Begin prepping blog content. This includes:

Download pics from my phone
Create and archive the storage location
Prepare pics for web: Cropping, Sizing, Touching up, Watermarking, Titling
Draft blog post, which includes written content and image uploads
Shoot video for YouTube
Download raw footage and edit it
Upload video to YouTube and embed it into the blog post
Publish and market the blog post

130-2a: Go to sleep
Our WiFi connection was super slow so I didn't immediately market blog posts when they were published. Also, this is a lot of work to do in an evening so some articles, like this one, were published a few days later.
After 4 days of just 6+ hours of sleep per night, it started to catch up with me on Day 5. This year, I managed my time quite a bit better to ensure I wasn't feeling it on Day 2 so that was nice. I had to police how I spent my time, which meant no dinners or post show meetups with friends. It was solid work from 820a to 2a each day and I loved every second of it. If only there was more time in the day.