Have you visited our store? Click here.
I love making these reviews but man do they take time. I didn't get to sleep until 215a the night prior but it's worth it.
As soon as I got into the convention hall this morning, I went right back to the location where I stopped on Day 1. The rows are conveniently numbered with the standard hundreds numerical system so I started back on isle 1300, which was a solid area. There were lots of bargain bins for me to dig through and tons of interesting pieces to photo. As I walked and found stuff to go through, I'd implement a shopping strategy. Here's how it works:
I'd find a bargain/discount bin and dig around for a minute and if the search revealed potential, I'd continue digging and see what I could turn up.
I'd find a bargain/discount bin and dig around for a minute and if there doesn't appear to be any signs of life i.e., the prices are too high, or the inventory isn't desirable, I'd stop digging and move on.
The latter situation is common but it helps me stay focused and conserve resources. I found some excellent boxes today and acquired some familiar pieces. I was fortunate enough to find a vendor who was at the 2017 National with whom I visited often and spent lots of money. This time, I knew I was gonna find some excellent pieces but intended to do the one and done thing so I dug for over 2 hours and pulled over 140 cards. We negotiated and I was on my way. Among the gems was a 1959 Topps Bob Gibson RC, which was completely hammered and way off-centered but for $10, I'd buy that card every time.
Because all the cards were in Card Saver 1s and/or toploaders, my bag got really heavy after that purchase. As I continued through the day, I found other dime boxes and continued to add cards here and there. By the afternoon, my bag was so heavy, it was causing pain in my shoulders. I don't think I bought more than 200 cards today but if you think about the weight of 200 toploader and related cases, things can get pretty hairy pretty quickly. I was still very happy to be there and had no reason to let the pain impact my ability to enjoy what I was doing.
While I walk through the convention hall, I try to look at everything that's in all the showcases. I give them a quick up-and-down to see if any pieces catch my eye. One booth had a PSA 8 example of the 1960 Topps Jim Kaat RC. I was immediately floored by the condition and centering. This card was a true beauty. I had to have it. The gentleman behind the counter indicated the collection wasn't his but the owner was on the show floor somewhere and that I should come back later. I must have stopped back by three times before I just flat out asked the guy to text or call the owner and see what he'd do for me on the card. Before the day ended, I bought the card off this proxy dealer for pretty darn close to current market value. It's a real stunner. Here it is: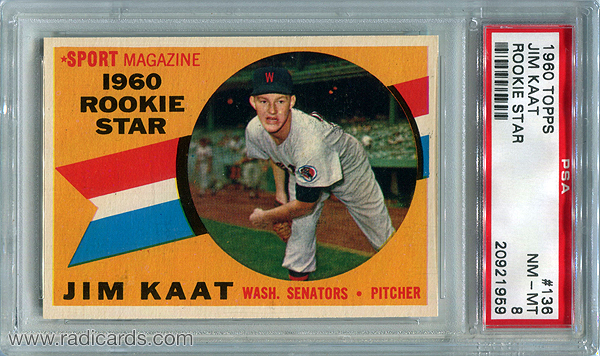 To see the current eBay auctions for the 1960 Topps Jim Kaat, click here.
I made it a point to take pics of stuff I either decided not to buy or outright couldn't afford. Granted, since the latter vastly outweighs the former, I exercised great scrutiny over which items were photo'd. I looked for stuff most of us don't see too often, you know, non-obvious stuff. Granted again, some of the obvious stuff is pretty darn cool and in those instances, I made use of the camera. Have a look at the gallery below.
Meanwhile, I bumped into a fellow hobby colleague whose graded card collection rivals some of the best among his peers. He'd just retrieved a block of cards from PSA from a re-slab submission. In that brick was a triforce of Hank Aaron RCs, a Mickey Mantle RC, and a grip of other key RCs from the 1950s-1980s. It was a really nice batch. As I drooled over his hoard, he reviewed mine and I think appreciated it as much as I did even though my batch was quite a bit lower valued.
That's one of the things I love about collecting – the ability to appreciate something regardless of value. It was nice to see this sentiment unfold in real time among two collectors who embrace this principle. Enjoy this gallery of the photos I took on Day 2.
---