Have you visited our store? Click here.

Depicted are the only four baseball cards ever made depicting Win Remmerswaal. By definition, you could say I'm an accomplished Win Remmerswaal Master Collector. I wish I could say this was hard to do but with just four cards, it's not that big a deal. The total collection is made up of the following cards (depicted from left to right):
1977 Bristol Red Sox TCMA #16 UER

This is an Uncorrected Error (UER) because Win's last name is misspelled, "Remmerswael."
Of the four cards, this is the hardest one to find.

1981 Pawtucket Red Sox TCMA #7
1981 Donruss #98
1981 Topps #38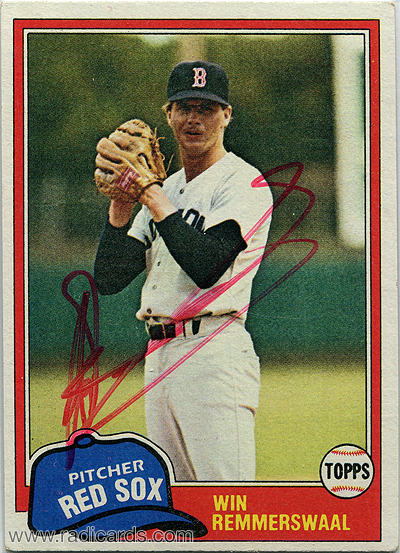 Any of these cards is exceptionally difficult to find signed. For collectors attempting to put a signed run of any of the aforementioned sets together, the Win Remmerswaal is always one of, if not the toughest card to find signed and as such consistently fetches huge premiums. Read on to learn why.
So who is Win Remmerswaal?
Wilhelmus Abraham Remmerswaal was signed by the Boston Red Sox as a free agent on November 22, 1974. He debuted on August 3, 1979 and his total professional career spanned just two years (1979-80) as a relief pitcher for the Boston Red Sox. He pitched in only 22 games and in that time, collected 36 strikeouts, and a career ERA of 5.50.1
In 1997, Win lapsed into a coma from a run-in with double pneumonia with pleurisy. He's been in a nursing home in the Netherlands ever since. Win is the second Dutch-born Major League Baseball player right after Bert Blyleven.
Due to his short career, he didn't produce many autographs and as a result of his health status, he is permanently unable to accommodate such requests making his autographed cards highly desirable to collectors.
To view the current eBay auctions for Win Remmerswaal baseball cards, click here.
You can watch the interesting but somewhat melancholy documentary about Win here.2 You'll need to adjust the settings to relay subtitles in your preferred language as needed. To do that, follow these instructions:
Click the "CC" icon (Subtitles/closed captions)
Click the gear icon (Settings)

Click "Subtitles/CC"
Click "Auto-translate"
Select your preferred language
To watch the documentary, click here.
References:
Win Remmerswaal. www.baseball-reference.com ↩︎
Westdoc – 3 november 2010 – Oud honkballer Win Remmerswaal. www.youtube.com ↩︎