Have you visited our store? Click here.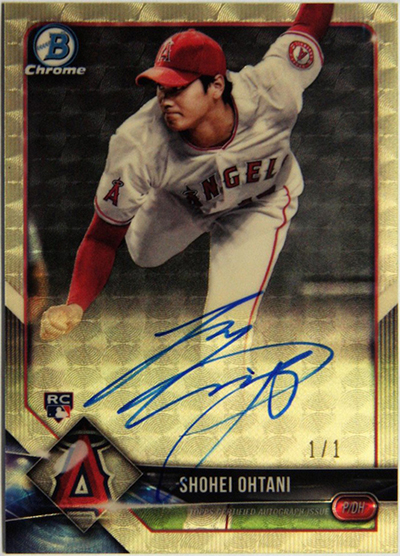 On June 8, 2018, it was announced that the Shohei Ohtani 2018 Bowman Chrome Superfractor AU had finally been pulled. We've all waited for this day for months and it's finally here. The lucky collector who pulled the card is John Muheim, a business partner at Spectrum Photography in Orangevale, CA. He pulled the card from a hobby box he purchased at HR Sports Cards and Collectibles.
June 8, 2018 is also the same day it was announced that Shohei Ohtani would be sent to the DL with a Grade 2 sprain of the right Ulnar Collateral Ligament (UCL).
Talk about bad timing. We're all hoping the Angels phenom won't need to undergo Tommy John surgery. Since Ohtani is a dual role talent, the question remains whether he'll still be able to hit during his recovery period. He throws right but bats left so his right arm isn't his dominant hitting arm, which works in his favor in this particular situation. Should Ohtani need to go under the knife, he likely won't be back until the 2020 season, which would really hurt both the Anaheim Angels and MLB as a whole, not to mention the hobby, which has really been impacted positively by his arrival.
As for collector, John Muheim – it appears he'll be sending it to BGS for grading then will decide how to proceed at that time. Regardless of the pull timing, it's a great card to have and certainly the most sought-after of all 2018 Shohei Ohtani baseball cards.
To view the current eBay auctions for Shohei Ohtani baseball cards, click here.