Have you visited our store? Click here.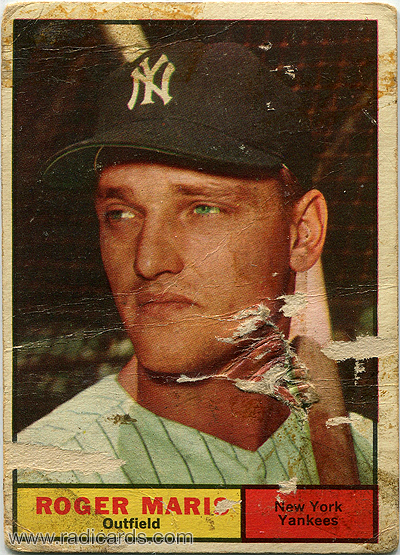 This card carries weight in the hobby for its association with the home run race of 1961 between Roger Maris and Mickey Mantle. Maris won with 61 home runs to beat Babe Ruth's record of 60 in a single season. It was a milestone event that will live on forever in the history books. This particular example of the 1961 Topps Roger Maris, however, died long ago.
So the fact that I have it means it still lives but that gnarled gash in the lower right quadrant is a grave digger. I picked up this Maris in a $1 box but I don't remember with certainty from where. I suppose that's a trivial piece of information. For $1, I'll pick up a 1961 Topps Roger Maris in any condition all day long. It's not a respectable copy but I like it. It's the tears, the gash, the ripples, the stains and various marks that make this card so incredibly unique. The stories this card could tell if it had vocals could make even the most mature of adults sit around in a circle indian style. We sit and stare enamored and engaged. We cannot look away. It has us with each passing moment. Everywhere we take our eyes is another interesting chapter to the story. This is what makes this stuff worthwhile. This is what collections are made of.
The 1961 Topps Baseball set has always been a favorite of mine. I really like the photography. Some cards even showcase paintings of the players. It's an interesting set from the design and collation perspective. With the colors of the name plate and an almost immediate reminisce of early 1960s pop-culture, I'm taken back to a time when the Twilight Zone was in its prime and Marvel Comics was about to unleash its most important characters. It's an endearing mental state and a key reason why I love the 1961 Topps Baseball set so much.
Can you think of another historical moment from the early 1960s?
To see the current eBay auctions for the 1961 Topps Roger Maris, click here.