Have you visited our store? Click here.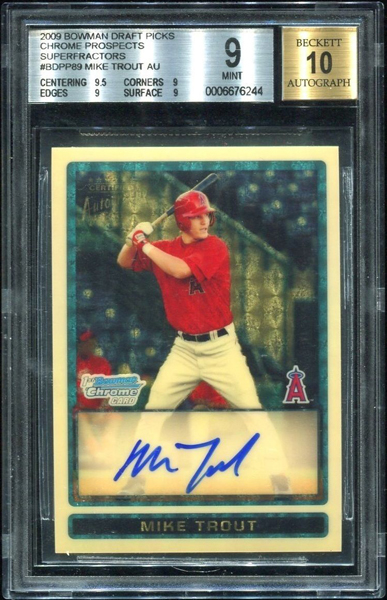 Sold: August 22, 2020
# of Bids: 20
Final Price: $3,936,000
Back in May 2018, Vegas Dave bought this card for $400,000. In just 27 months, the value of this card increased by 884%. This is the kind of market behavior that makes some of us wish we'd have participated in the sale. You have to admire Vegas Dave's ability to see a quality investment in the trading card marketplace because this is certainly one of historical ROI significance.
History has been made. Earlier this month, the Mike Trout 2009 Bowman Chrome Draft Prospects Superfractor was listed with Goldin Auctions with a starting bid of $1,000,000 and closed at a jaw dropping $3,936,000, which falls in the record price category for a modern card. If expectations are of any accuracy and things continue as they are, this card should continue to grow in value and collect higher returns every time it changes hands. This is, of course, only if the new owner ever decides to part with it.
To see the current eBay auctions for the 2009 Bowman Chrome Mike Trout, click here.