Have you visited our store? Click here.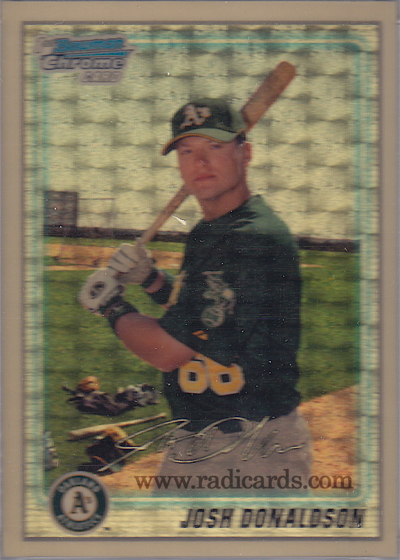 I would like to thank my new friends, James and Renee E. for having me over the other night to bust some boxes of 2010 Bowman. I opened 4 boxes of 2010 Bowman Jumbo. In that break, I pulled this card. I really couldn't believe it given the odds. These 2010 Bowman Chrome Prospects Superfractors
are seeded at a rate of 1 in every 11,000 packs and each one is serial numbered to just 1 copy. The breakdown on this product is as follows: Case contains 12 boxes, Box contains 24 packs, currently packs are being sold for $11.99. What does this mean to you? This means that in order to pull a Superfractor, you'd have to bust just over 38 cases of this product and in doing so, spend about $131,890! So who is Josh Donaldson? I guess we'll just have to wait and see…
To see the current eBay auctions for the 2010 Bowman Chrome Josh Donaldson, click here.