Have you visited our store? Click here.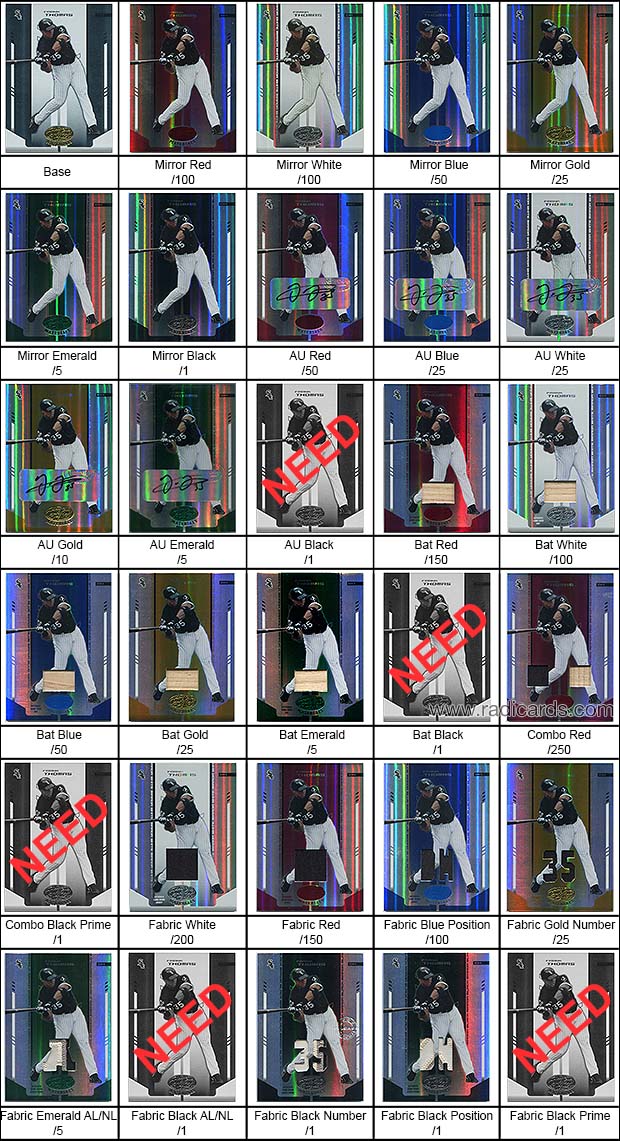 If you collected when 2004 Leaf Certified Materials was released, you may have noticed many sets with a massive number of parallels were also released that year. That theme became a staple of the 2000s. Sure, Tek brought us a few of these in the late 1990s, but nothing like what would become known in the 2000s as Mega Parallel sets.
2004 Leaf Certified Materials is a 300-card set released in July, 2004 in 5-card packs at $10 with 10 packs/box and 24 boxes/case. The set features active, traded, retired, and rookie players. The set contains a variety of parallels so if you collect a player in the set, expect to spend a lot of time on the run. There's just a lot going on here and things can get pretty ugly.
Here's my run progress for 2004 Leaf Certified Materials Frank Thomas baseball cards. I started working on this run in 2012 and set progress has slowed considerably over time. I'm now at the point where years pass between new additions and I've gotten so far into the run that all that's left are 1/1s, which I've accepted I may never see. If you have leads on any of the missing pieces, I'd love to hear from you.
To see what's currently on eBay from 2004 Leaf Certified Materials, click here.