Have you visited our store? Click here.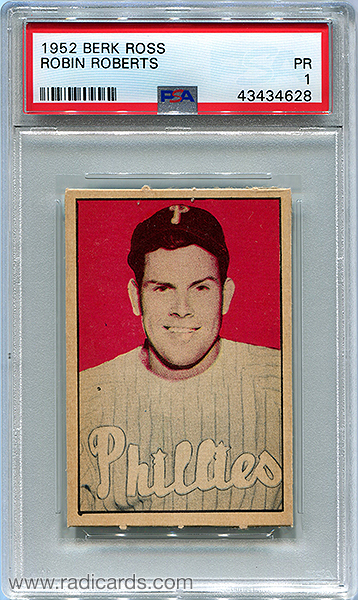 1952 Berk Ross is a 71 set (72 if you count both versions of the Phil Rizzuto) that's sized 2″x3″ with many of the cards featuring very similar, if not the same, photography found in the 1951 Bowman set. The standout card in the set is the Mickey Mantle due to its use of the same iconic image found on his 1951 Bowman rookie card. The Ewell Blackwell and Nellie Fox cards both feature swapped images of each other, and there are two unique versions of the Phil Rizzuto card, Bunting and Swinging. Key players include: Yogi Berra, Joe DiMaggio, Mickey Mantle, Willie Mays, and Jackie Robinson. The set is organized alphabetically by last name and the catalog designation is W532-2.
To see what's currently on eBay from 1952 Berk Ross, click here.
---
Checklist:
| Card # | Player(s) | Card # | Player(s) |
| --- | --- | --- | --- |
| 1 | Richie Ashburn | 37 | Mickey Mantle |
| 2 | Hank Bauer | 38 | Billy Martin |
| 3 | Yogi Berra | 39 | Willie Mays |
| 4 | Ewell Blackwell UER (Pic actually Nellie Fox) | 40 | Gil McDougald |
| 5 | Bobby Brown | 41 | Minnie Minoso |
| 6 | Jim Busby | 42 | Johnny Mize |
| 7 | Roy Campanella | 43 | Tom Morgan |
| 8 | Chico Carrasquel | 44 | Don Mueller |
| 9 | Jerry Coleman | 45 | Stan Musial |
| 10 | Joe Collins | 46 | Don Newcombe |
| 11 | Alvin Dark | 47 | Ray Noble |
| 12 | Dom DiMaggio | 48 | Joe Ostrowski |
| 13 | Joe DiMaggio | 49 | Mel Parnell |
| 14 | Larry Doby | 50 | Vic Raschi |
| 15 | Bobby Doerr | 51 | Pee Wee Reese |
| 16 | Bob Elliott | 52 | Allie Reynolds |
| 17 | Del Ennis | 53 | Bill Rigney |
| 18 | Ferris Fain | 54A | Phil Rizzuto (Bunting) |
| 19 | Bob Feller | 54B | Phil Rizzuto (Swinging) |
| 20 | Nellie Fox UER (Pic actually Ewell Blackwell) | 55 | Robin Roberts |
| 21 | Ned Garver | 56 | Eddie Robinson UER (White Cox on back) |
| 22 | Clint Hartung | 57 | Jackie Robinson |
| 23 | Jim Hearn | 58 | Preacher Roe |
| 24 | Gil Hodges | 59 | Johnny Sain |
| 25 | Monte Irvin | 60 | Red Schoendienst |
| 26 | Larry Jansen | 61 | Duke Snider |
| 27 | Sheldon Jones | 62 | George Spencer |
| 28 | George Kell | 63 | Eddie Stanky |
| 29 | Monte Kennedy | 64 | Hank Thompson |
| 30 | Ralph Kiner | 65 | Bobby Thomson |
| 31 | Dave Koslo | 66 | Vic Wertz |
| 32 | Bob Kuzava | 67 | Wally Westlake |
| 33 | Bob Lemon | 68 | Wes Westrum |
| 34 | Whitey Lockman | 69 | Ted Williams |
| 35 | Ed Lopat | 70 | Gene Woodling |
| 36 | Sal Maglie | 71 | Gus Zernial |
1952 Berk Ross