Have you visited our store? Click here.
Unfortunately, some collectors think that yellowed 1999 E-X Century baseball cards are prototypes.
They're not. Need proof? Sure, let's talk about plastic for a moment.
Known fact: Plastic ages (goes from clear to yellow) with time.
It happens for the same reason metal rusts, and apples turn brown – oxidization. Light, specifically UV, exposure speeds up this process but it happens even without it. Older plastics are especially susceptible to yellowing. While older is a subjective term, plastics used just 20 years ago would be considered old in the current state of technology. While current plastics may take longer to yellow, many still age with time. You can try to help slow the process by keeping plastic away from light exposure but stopping it completely isn't feasible, or even realistic.
While plastic is generally considered an artificial material, it's typically made of a polymer with organic petroleum compounds.1 The word Polymer is derived from two Greek words: Poly meaning Many, and Mer, or Meros meaning Parts. Polymers are large molecules made up of repeating units linked together along the chain, like beads on a necklace.
Since polymers are organically-based, they're subject to degradation over time through the process of oxidization. The degradation process can be initiated by numerous factors but the most common ones include: exposure to light, pollutants, heat, manufacturing impurities, and of course, oxygen. The degradation process causes the chemical bonds along the polymer chain to rearrange, or even break. This process ultimately changes the optical properties of the plastic causing it to turn yellow.
Unfortunately, we can't stop the aging process of plastic. We've gotten better at delaying it as technology has improved material quality but the process remains unchanged. That said, plastic just yellows with time.
1999 E-X Century Base Cards
Circling this back to the hobby, 1999 E-X Century is a 120-card set that features color action player photos silhouetted on thick transparent plastic card stock with holo-foil text. Here's an example: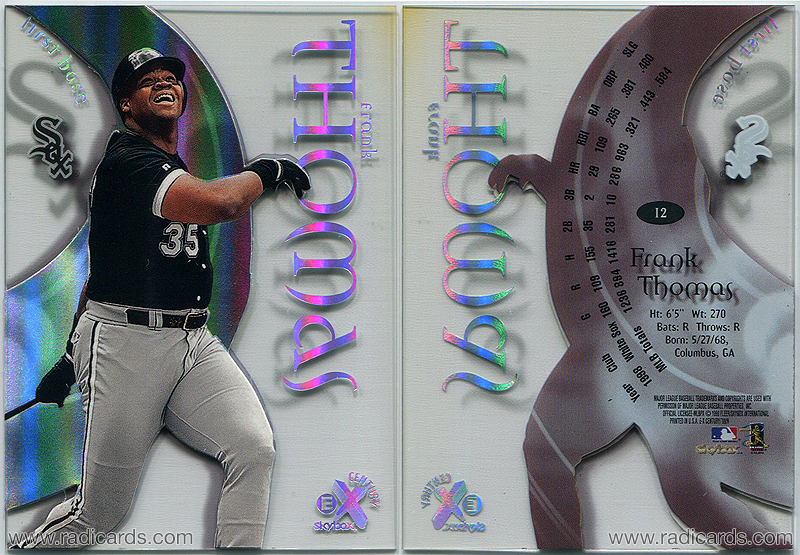 Because these cards are made of thick transparent plastic, and as with any other plastic, they're susceptible to degradation over time. The above example is clear but you can already see signs of yellowing along the top edge. Degree of yellowing varies from card to card. Sometimes, two pieces of plastic produced by the same machine will produce different speeds of degradation over time. One piece of plastic may turn yellow faster than another.2 Here's what this means for cards in the 1999 E-X Century set:
Some of those Frank Thomas cards are yellowing faster than others. If you search around the web, you'll find even more extreme examples.
This isn't new; it's been happening with cards made of translucent plastic since the concept was introduced into the hobby. An early example of this is the 1994 Studio Series Stars set. These cards can be found with the plastic color all over the yellow spectrum. Here's an example that's survived the aging process: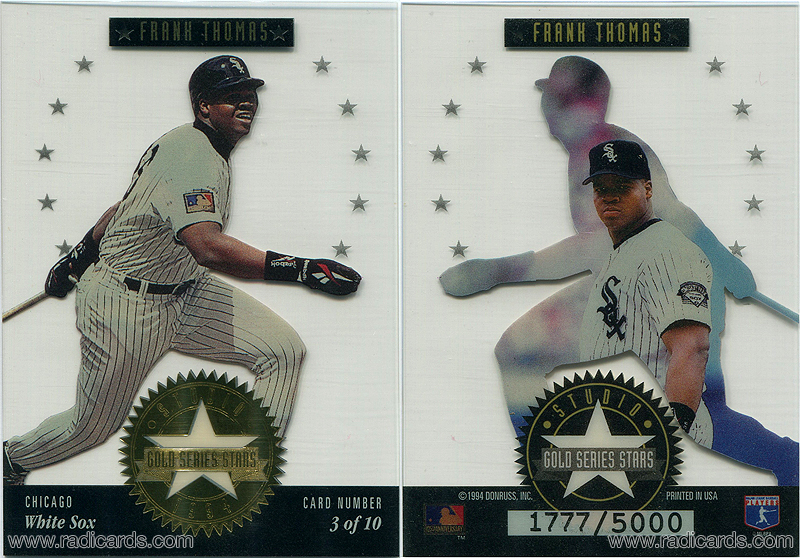 And here's an example of the same card but that showcases severe degradation: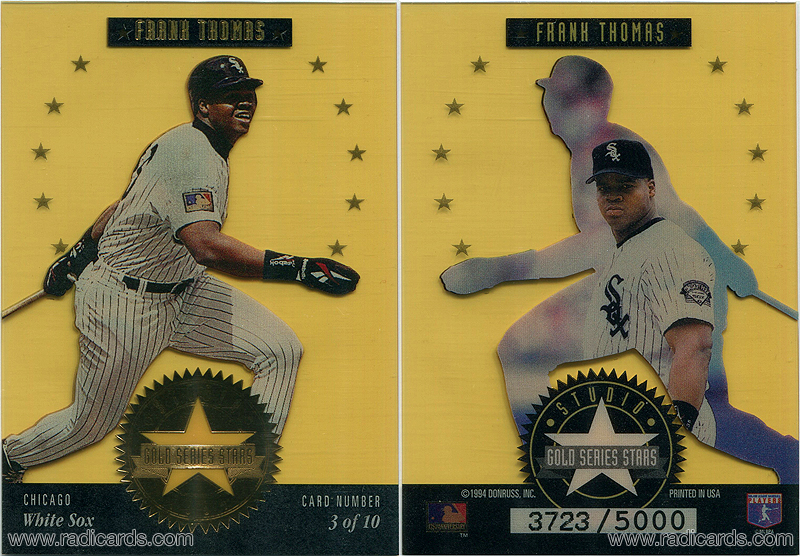 This issue happens with all plastics. The same extreme cases happen with cards from 1999 E-X Century. Nothing new here. Here's an example that's escaped the degradation process pretty well:
And again an example of the same card but with severe degradation: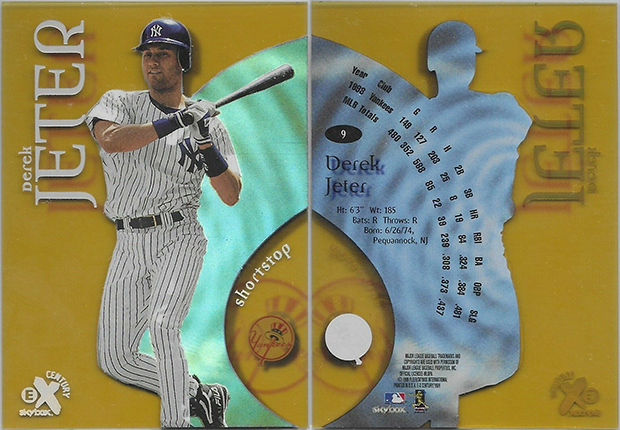 Sometimes prototypes can be identified by noticeably different design characteristics like image cropping, text placement, serial number changes, etc. The following image layers the mild yellowed version over the strong yellowed version so you can see the design among these two examples is exactly the same:
Here's another yellowed example found online: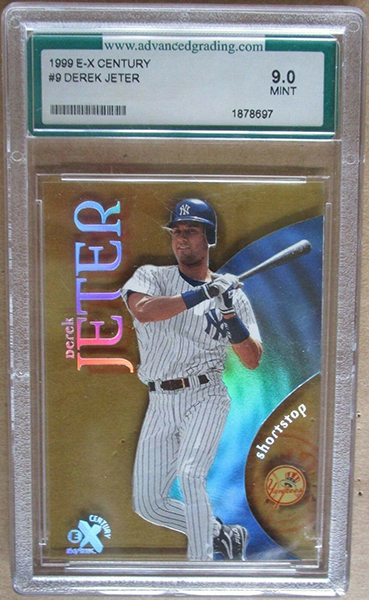 1999 E-X Century Essential Credential Parallels
As with previous E-X releases, the 1999 installment comes with two parallel sets: Essential Credentials Future, and Essential Credentials Now. To clear up any confusion about these parallels, they're printed on solid plastic card stock with sparkle-foil text. Here's an example: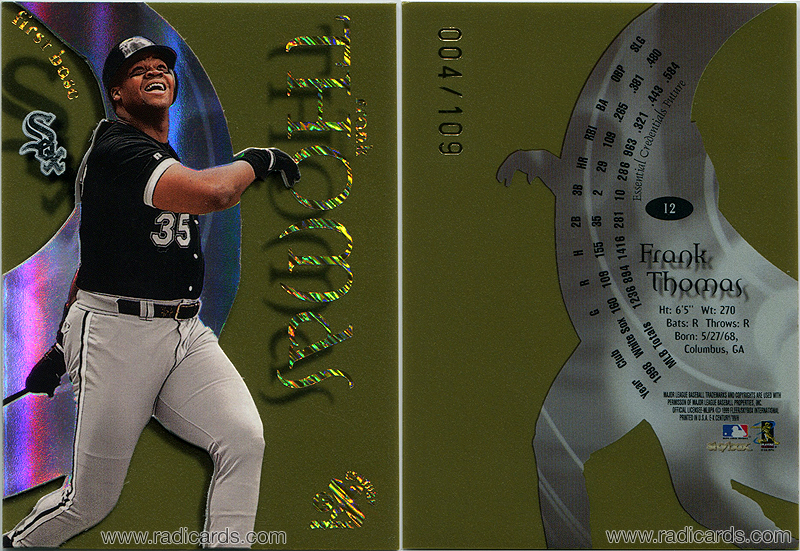 It's important here to note the text on the backs of these Essential Credentials parallels. They all state their associated parallel type in print below the statistics. See it here highlighted in red: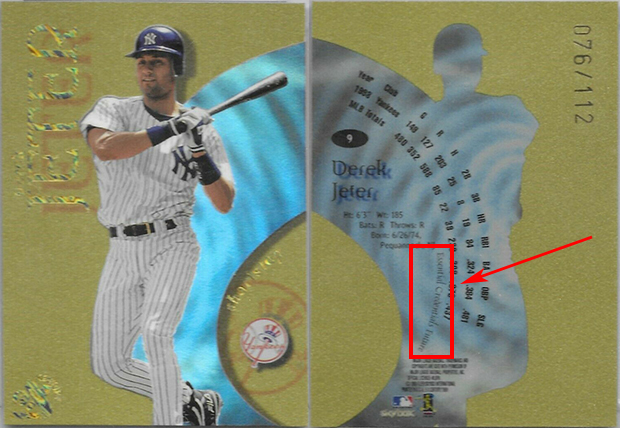 In Summary:
Before I wrote this article, I asked around to see if anyone could provide any solid evidence to support the claim that yellow 1999 E-X Century baseball cards are prototypes. I came up empty handed, which supports the notion that prototype claims are based solely on nothing more than conjecture.
Plastic yellows with time. It happens; it's not new, and it doesn't mean that yellow 1999 E-X Century baseball cards are prototypes. If you encounter a seller claiming to have a 1999 E-X Century prototype, you can safely disregard that claim because what they actually have is just an aged base card and some good old fashioned false advertising. Unless you can prove otherwise, 1+1 still just equals 2. Nothing's changed.
To see the current eBay auctions for 1999 E-X Century baseball cards, click here.
References:
Why does plastic turn yellow when it ages? www.reddit.com ↩︎
How to Clean Old, Yellowed Plastic on Retro Computers and Game Systems. www.howtogeek.com ↩︎