Have you visited our store? Click here.
Agenda Summary: Ryan waits for a table with James Hetfield. Bartolo Colon Wins record. Alternative transportation to Dodger's Stadium. Tampa Bay Rays Stadium new roof design. Minor League pilot rule. Tommy Fleetwood mis-wiring. Topps 3D. Matt Harvey baseball cards. Multi-year rookie cards. 2018 NSCC Review.
Guest: Ryan Daly
Full Agenda:
Ryan waits for a table with James Hetfield.
Bartolo Colon leads Latin American pitchers in Wins at 247 surpassing Dennis Martinez (245).[1]Colon makes MLB history as Rangers rout Mariners. www.star-telegram.com
Elon Musk's Boring Company proposes high speed underground tunnel The Dugout Loop? to transport 8-16 people at speeds between 125-150 mph to Dodger Stadium in 4 minutes for about $1.[2]Elon Musk's Boring Company pitches high-speed tunnel to Dodger Stadium. la.curbed.com
Drew McCourt, Son of former Dodger's Owner Frank McCourt, has proposed a Gondola system that would take fans from LA's Union Station up the hill to Dodger's Stadium.[3]A gondola from Union Station to Dodger Stadium? It could happen by 2022, Mayor Garcetti says. www.latimes.com
Tampa Bay Rays stadium engineers design a new roof. By aggregating fly ball data, they design a roof that would be literally untouchable.[4]Rays ballpark engineers computer-modeled fly balls to design a roof that would stay out of play. www.tampabay.com
Minor-league team wins game despite no hits or walks.[5]Minor-league baseball team wins despite no hits or walks. www.usatoday.com
The European Tour has confirmed it wired Tommy Fleetwood's winnings to the wrong Tommy Fleetwood.[6]Darren Rovell. twitter.com
Topps releases 3D set via its On-Demand format. Set features the top 100 cards from S1, S2, and Update sets.[7]2018 Topps On-Demand Set #7 – 3D. www.topps.com
The current state of Matt Harvey baseball cards.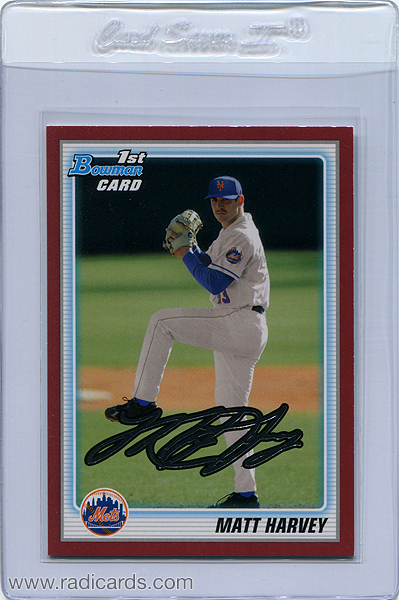 Players who have rookie cards in different years (incomplete list):
Lou Piniella (1964, 1968, 1969)
Dick Baney (1970, 1974)
Dale Murphy (1977, 1978)
Josh Hamilton (1999, 2007)
Pablo Sandoval (2008, 2009)
Jesus Aguilar (2014, 2017)
Worst offender of all – Chipper Jones (has RC themed stuff from 1991-1996)
2018 National Review.