Have you visited our store? Click here.
Agenda Summary: Ryan waits for a table with James Hetfield. Bartolo Colon Wins record. Alternative transportation to Dodger's Stadium. Tampa Bay Rays Stadium new roof design. Minor League pilot rule. Tommy Fleetwood mis-wiring. Topps 3D. Matt Harvey baseball cards. Multi-year rookie cards. 2018 NSCC Review.
Guest: Ryan Daly
Full Agenda:
Ryan waits for a table with James Hetfield.
Bartolo Colon leads Latin American pitchers in Wins at 247 surpassing Dennis Martinez (245).1
Elon Musk's Boring Company proposes high speed underground tunnel The Dugout Loop? to transport 8-16 people at speeds between 125-150 mph to Dodger Stadium in 4 minutes for about $1.2
Drew McCourt, Son of former Dodger's Owner Frank McCourt, has proposed a Gondola system that would take fans from LA's Union Station up the hill to Dodger's Stadium.3
Tampa Bay Rays stadium engineers design a new roof. By aggregating fly ball data, they design a roof that would be literally untouchable.4
Minor-league team wins game despite no hits or walks.5
The European Tour has confirmed it wired Tommy Fleetwood's winnings to the wrong Tommy Fleetwood.6
Topps releases 3D set via its On-Demand format. Set features the top 100 cards from S1, S2, and Update sets.7
The current state of Matt Harvey baseball cards.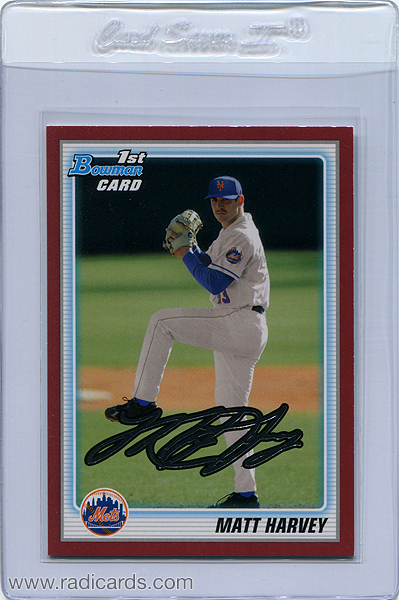 Players who have rookie cards in different years (incomplete list):
Lou Piniella (1964, 1968, 1969)
Dick Baney (1970, 1974)
Dale Murphy (1977, 1978)
Josh Hamilton (1999, 2007)
Pablo Sandoval (2008, 2009)
Jesus Aguilar (2014, 2017)
Worst offender of all – Chipper Jones (has RC themed stuff from 1991-1996)
2018 National Review.
References:
Colon makes MLB history as Rangers rout Mariners. www.star-telegram.com ↩︎
Elon Musk's Boring Company pitches high-speed tunnel to Dodger Stadium. la.curbed.com ↩︎
A gondola from Union Station to Dodger Stadium? It could happen by 2022, Mayor Garcetti says. www.latimes.com ↩︎
Rays ballpark engineers computer-modeled fly balls to design a roof that would stay out of play. www.tampabay.com ↩︎
Minor-league baseball team wins despite no hits or walks. www.usatoday.com ↩︎
Darren Rovell. twitter.com ↩︎
2018 Topps On-Demand Set #7 – 3D. www.topps.com ↩︎