Have you visited our store? Click here.
Today I'd like to feature some of the rarest cards I've ever pulled. Unfortunately, there is a common theme that occurs when I buy wax: I usually pull rare cards of nobodies! No Hall of Famers. No hot rookies. Just mediocre players on stupidly rare cards! I've got a lot of them, but I'm highlighting three today:
Neifi Perez: 1999 Metal Universe #41 Precious Metal Gems /50
Edgardo Alfonzo: 2000 Fleer Showcase #79 Legacy Collection /20
Rashard Lewis: 2001-02 E-X #50 Essential Credentials Future /11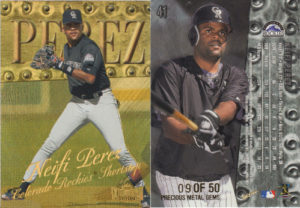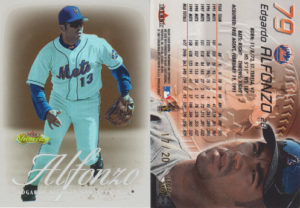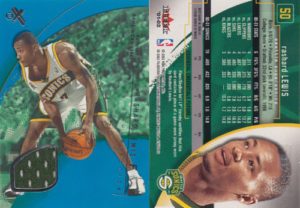 I don't mean to downplay these players careers and accomplishments. According, to Beckett these players would fall in the Common? or Minor Star? categories, so I don't feel too bad. Of course I am always happy to beat the odds and pull something special. However, it's always a mix of emotions when you read the name on the card and you've never heard of them!
If anyone out there has some rare commons to share please leave a comment! Maybe a nice Benji Gill or perhaps a John Vander Wal. Also, if anyone has the stated odds on these cards I would love to know. I searched and searched but came up with nothing.
To see what's currently on eBay from 1999 Metal Universe Precious Metal Gems, click here.