Have you visited our store? Click here.
Tom Brandy anything sells well. His rookie cards are at a different level however. His boutique rookie cards? Well, let's just say this is where things start to get really interesting. The Tom Brady 2000 Playoff Contenders Championship Ticket parallel has always performed extremely well at auction. A current sale through Lelands clocks in at over $2.2 million. For a card with a print run of 100, you have to just stand in awe of stuff like this.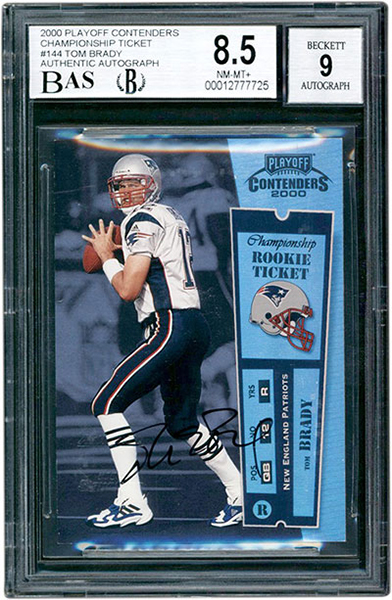 Sold: April 2, 2021
Price: $2,252,854.80
The future first ballot Hall of Famer continues to collect strong fan loyalty and it translates to big dollars in the sports collector community. This being the biggest sale of any Tom Brady card, it's no wonder it brought such a healthy figure. While I can't say for certain, I expect a future sale of this card to bring an even higher figure.
To see the current eBay auctions for the 2000 Playoff Contenders Tom Brady, click here.