Have you visited our store? Click here.
Today I saw a hockey card that left me completely speechless. No I did not buy it; I just stood in awe for a few moments as my brain processed exactly what I was looking at. I've never seen anything this good before and I'm not entirely convinced I'll ever see anything better than this going forward. I was so blown away by this card that I just flat out asked the guy what he did for a living. To my surprise, the seller was actually quite offended by my question. Perhaps you'll share the same reaction. Have a look:

Even looking at this pic alone, I'm still shocked to have seen a Bobby Orr 1966-67 Topps #35
in BGS Pristine 10 condition. I saw that 1997-98 Flair Showcase Legacy
Michael Jordan at another booth but felt it plenty worthy of being showcased next to this legendary Orr.
Someone once told me years ago, back in '08 I believe, that you'll see things you've never seen before at the National Convention. I always thought that was a silly thing to say. I've been at this since 1988; I've seen it all or so I think. Okay, okay, so that may be in some way true, but in terms of card condition, I've only seen the tip of the iceberg. Cards like this Orr fall into the category of things I've never seen.
Speaking of things I've never seen but I knew existed and always wanted to see in person. One of my favorite memories of hobbymania is that of the Stephen Strasberg 2010 Bowman Chrome Superfractor
. Man, was this a hot topic of conversation back in summer of '10. The eBay auction made headlines and the buyer quickly flipped the card due to negative reactions from the other collectors. It was all almost surreal. This was exactly the kind of excitement the hobby needs on a routine basis. It was the kind of thing I'd only remember from the hobby boom of the early '90's. I really enjoyed that summer and seeing this card in person was pure magic.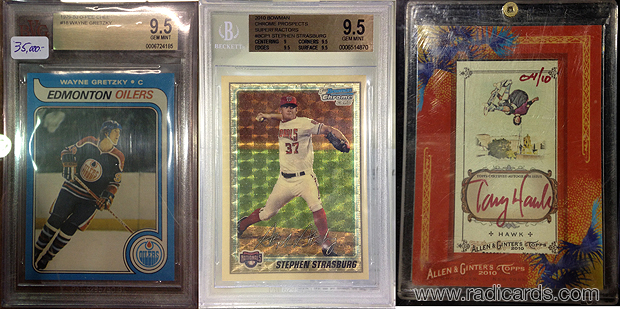 Shown alongside the legendary Strasberg is a super high grade Gretzky rookie, and an SP Tony Hawk red AU from 2010 Topps Allen & Ginter
. All of these card remind me of some great conversations and rich memories.
During lunch, Dan G. and I enjoyed a round of pizza and cold beverages at the Autograph Pavillion. While there, we bumped into a variety of industry executives so we invited them to join us at a table. There we were, eating with top guys from Beckett Media and Panini America.

We sat and talked about the hobby, the past, present, and future. I spoke to the fellas about an idea to bring back ultra scarce basic inserts that don't include any material or signatures. I also shared some of my pickups from that morning. It was a cherished good memory and I was very glad to be a part of it.
The day concluded with Dan and I, some fellow hobby buddies whom I met for the first time at this show, and a dinner at Frank Thomas's Big Hurt Brewhouse. Being in the place in person was incredible. Here's a guy, whose cards I collect almost religiously, and I'm sitting in his restaurant enjoying his delicious menu items. To top it off, I'm doing that with some really great friends. Priceless…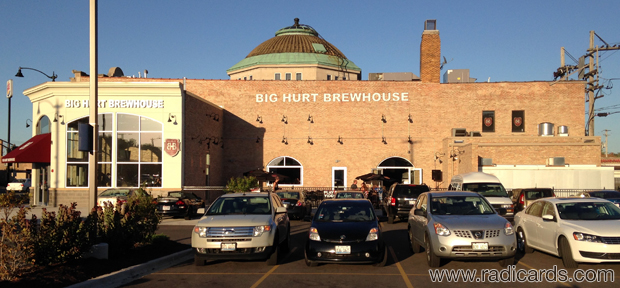 To view the current eBay auctions for 2015 National Convention Promos, click here.