Have you visited our store? Click here.
2012 National Sports Collectors Convention
Baltimore, MD
8-4-2012 Day 4:
The week is shaping up. It's been just an amazing experience. Day four was the most expensive day for me. The reason being is that I secured one of the three cards that was discussed in my Day Three entry, and bought an autograph ticket and submission fee for authentication. In the Day Three post, I shared my desire to purchase at least one of the following cards:
Signed copy of the 1954 Topps Al Kaline RC
Signed copy of the 1955 Topps Harmon Killebrew RC
Signed copy of the 1981 Rochester Minor League Cal Ripken
I asked you to help me decide which card to purchase, and thank you all for submitting your comments. I went with my instincts and purchased the '81 Ripken. After I paid, I immediately brought it over to the PSA booth and submitted the card for signature authentication and card grading. This would give me a red flip. I went this route because not only did I want to ensure that the autograph was authentic but I also wanted to make sure the card itself was authentic. Due to the busy schedule, I took a quick and dirty picture of the card. Pardon the ML sticker that's added to all PSA graded card slabs, and my watermark. It's 2a as I write this; I'll get a better pic up in a future post.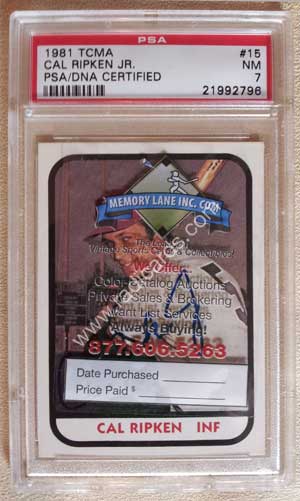 I am extremely pleased with my Ripken purchase. It ranks in the Top 5 list of non-Thomas cards in my collection.
Prior to my visit to the National, people would always tell me that I'd see things I've never seen before. I used to doubt that as a possibility. And again, I am shocked…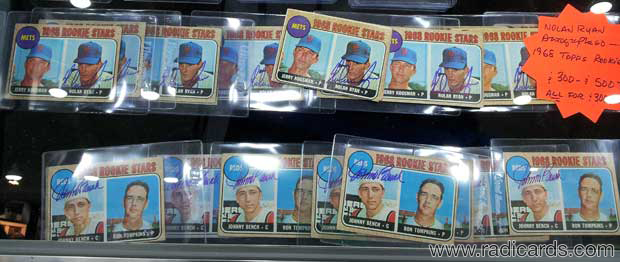 One dealer had binders of autographed cards organized by brand and year. Personally, I don't think the guy took me seriously until I started pulling out one card after another from those binders. I pulled a nice little short stack of classic underrated RC's.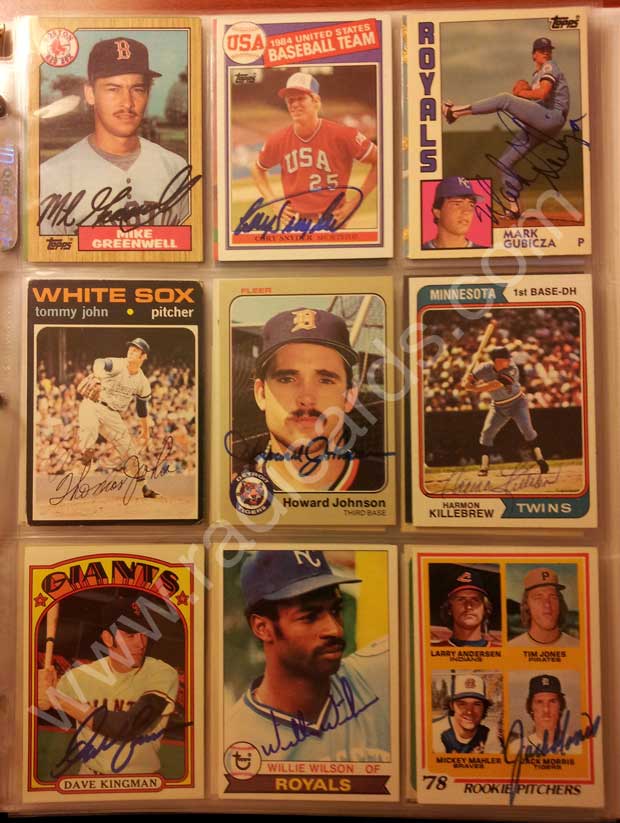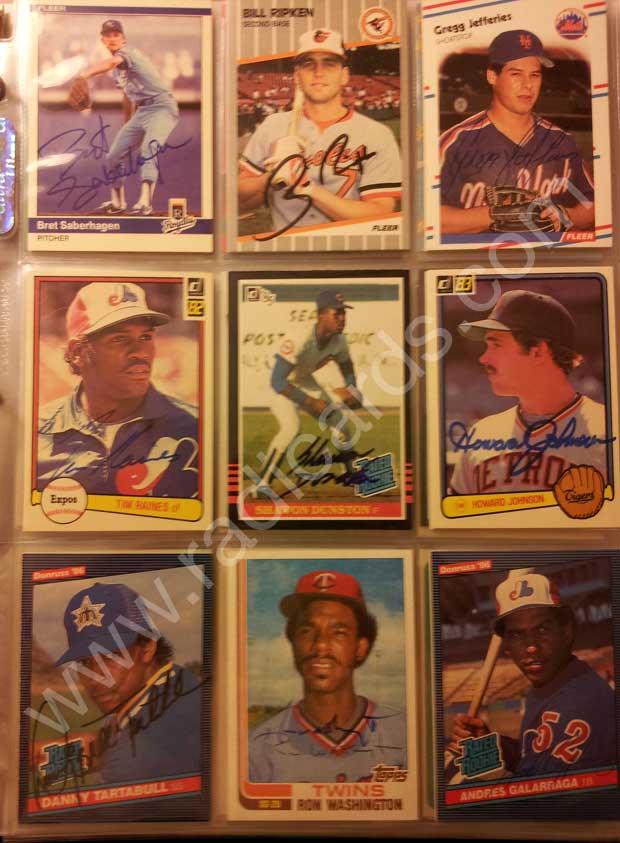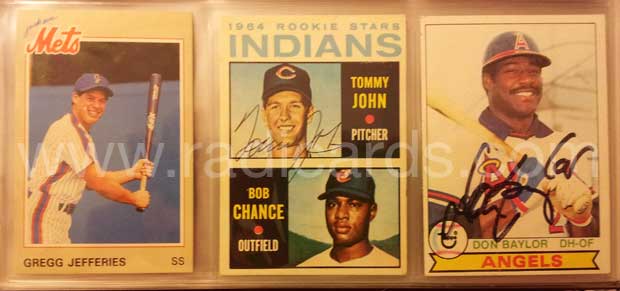 Why is Gregg Jefferies holding the bat like that!? I have to believe that that pose is a joke. The '64 Tommy John and the Don Baylor that you see above didn't come out of those binders but I figured they would make a nice addition to this segment. I am also aware that that's not Harmon Killebrew's RC but I just love that '74 card so I had to have it. The '71 Tommy John also isn't an RC but I purchased it because it was a card that I used to have as a small boy and it reminds me of my early days. The '71 Topps John was my first vintage card as a young collectors, and one of my first exposures to vintage cards.
Here's one I thought was just fantastic:
I purchased my autograph ticket, had my 1978 Topps Eddie Murray OPC RC signed by Mr. Murray, and sub'd it to PSA. If all goes well, and I am able to pick it up tomorrow, I will post a scan of that card in my Day 5 entry. I'm really excited that I got this card signed. Speaking of subbing cards to PSA, I am thinking about subbing all of the AU cards that I purchased this week. We'll see what I do with that idea.
Scavenger Hunt update. I am now 13/18. I purchased the 1989 Fleer Bill Ripken for a few bucks. See above. Let's have a look at the list so far.
Baseball player holding non-baseball sporting equipment
Cheapest, oldest card (any sport)
Best facial hair (any sport)
The fattest baseball player
Player with funkiest non-uniform clothing
Player wearing hat backwards (can't be Griffey, and can't be a catcher)
Player holding a broken bat
Pitcher in the batting position (at the plate)
Best card purchased for under $1 (Derek's discretion)
Older player (must be active, and can't be a manager; any sport)
Any 1998 Ryan Leaf RC
Any 1989 Fleer Bill Ripken Obscenity card (black box included)
1987 Topps #18 Dick Howser card
Any card that is serial numbered first or last in the print run (ex. 001/250 or 250/250)
Any card showing a star Quarterback getting sacked
Any card showing an obscene gesture (not Bill Ripken)
1990 Leaf Kevin Maas RC
Any Howard Johnson card from the 1980's
Something tells me that this is as far into the list that I'm going to get. I have looked at 100's of thousands of cards while I have been at the show. I sometimes feel that I may have even viewed over a million cards at this show. I really don't know. No matter, I am hard pressed to believe that I'm going to find the remaining five cards on this list. I was looking for a Jaime Moyer to accomplish the Oldest Player feat but I don't think he's active anymore. We'll see though; I still have one more day.